Hey, just so you know ... This post includes affiliate links. That means if you use them to make a purchase, I may earn a commission. You can read my full affiliate disclosure HERE
Homeschool moms are amazing at making due with what they've got. And I bet that you've got a smartphone. Have you tapped into the full potential on how to use your phone to make homeschooling easier? Check out these mom hacks for using your smartphone for homeschooling.
All these tricks come from a thread in the Techin' Your Homeschool Facebook group when I asked …
What are some things you can do with your smartphone
that others may not realize?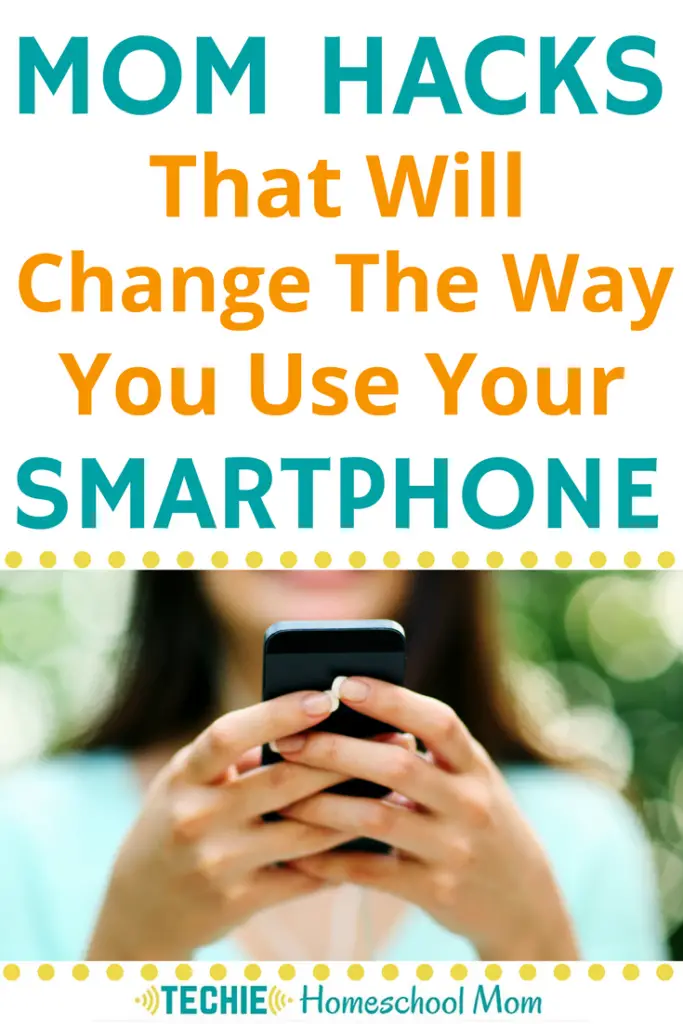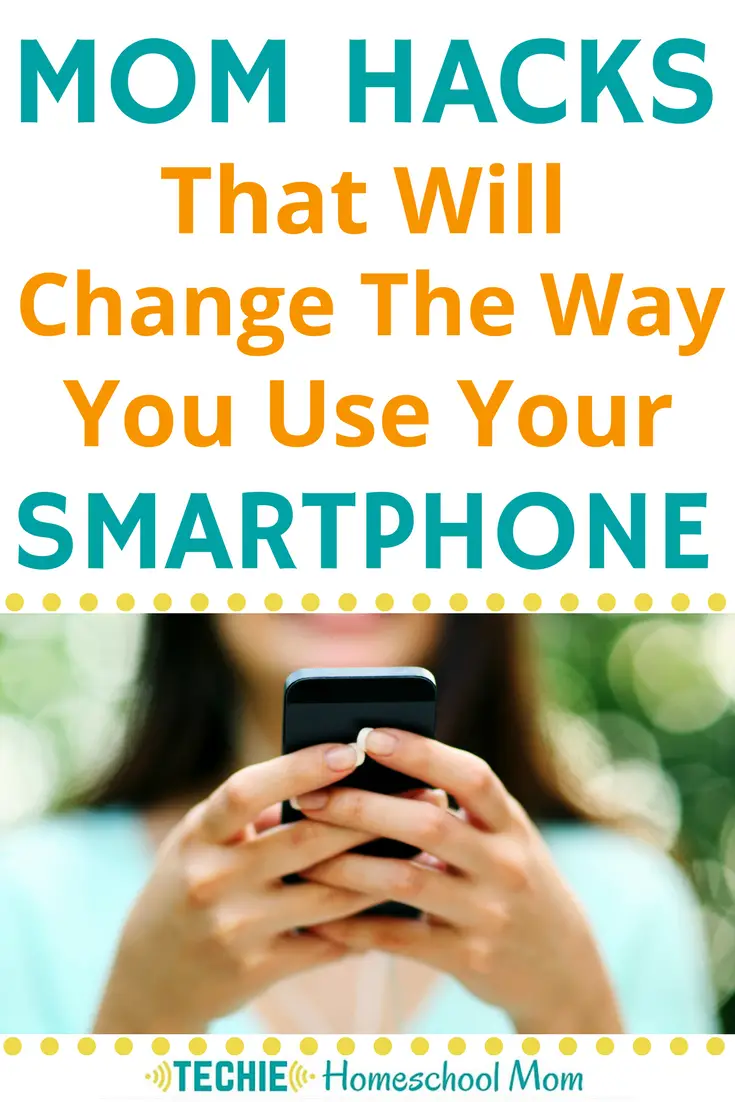 Smartphone Hacks for Homeschooling
"I use my smartphone to magnify things. Just turn on the camera and zoom in. Comes in handy for my aging eyes when I need to read a tiny serial number on something. Or when a child wants to see an insect up close." – me!
"Used the alarm, on my husband's phone, to remind him that I love him. Typically, I set the alarm up for his general lunchtime a couple of days a week. His phone has a place to put a note in and so I had typed in the above message." – Devonne
"I use various scanner apps to scan documents to upload and send as pdf's. Even to my financial team. It's a lot quicker than loading each individual into my actual scanner/copier." -Monique
"I use ours as a flashlight to find lost things under the couch." – Jean
"I turn on my Hotspot so that my kids have Internet access on their devices when we're out of Wifi range." – me
"I use it as a scanner to scan in completed worksheets or drawings to upload to OneNote for our required homeschool portfolio." – Judith
"I can never remember when an address in my address book was updated, so I snapped pictures of address labels from all my Christmas cards I received and saved to an album on Google. Since pics contain date information I'll know how up to date the address is." – Christie
"I use location-based reminders for many tasks – remind me to swap the laundry when I get home, drop off a donation when I drive by Goodwill, use a gift card when I arrive at a certain store, order a specific dish at a restaurant." – Kelly
"As glasses… my 10mo broke mine the other day so I was blind while I waited on hubby to come home and fix them and I needed to see something that I couldn't get close to, so camera!!!" – Krysta
"Audio record sermons at church. Especially if I have a wiggly child or chatty friend sitting nearby!" – Cristy
"Store all of the crazy card numbers for the library cards, etc. with Cardstar" – Angela
"I have a Christmas List app so when my kids are nagging for something at store I can save it and record price. Then if I go back and purchase it, there's a place for a note for where I hid it…lol!" – Amanda
"I've been using an App called Mvelopes that is like the envelope system of cash management, but no cash required. That never worked for us because we'd forget the cash at home. It syncs with my bank to categorize purchases. When I'm shopping I can just check the app to see if I have funds available for that type of purchase." – Beth
"I take pictures of my daughter's medication labels (she has several) so i always know strength, etc. And when kids want something we take a picture so they can add it to a birthday list." – Betsy
"I have Siri help with conversions for recipes." -Kelly
"Our wifi router with the security code on the side is down in the storage room of our basement. I took a picture of the code and pull it up every time we get a new device, or have guests over that need the code." – Amanda
"After baby #2 was born, I had a hard time moving (c-section), and big sister was always jealous of baby snuggles. I heard "come look mom!" so many time that it physically hurt. If she couldn't bring the special thing to me, I would send her there with my phone to take a picture. ?? She'd come back with some crazy pics…. but she's also learned to take great photos (for a 5yo). Now, we do the same when I'm cooking, or holding a sleeping baby". – Amanda
"I use aNote for my brain. It's set up like a notebook or file system so I save customized lists for every store I frequent, I keep my notes from church, quotes, projects (like graduation plans, parties and even all the details when we moved and we were picking out flooring and stuff, my digital dream board, goals and so much more!" – Tricia
"I use the PhotoMath app to automagically check my son's math homework". – Kelly
"I have my kids compose my texts. I think predictive text is one of the best spelling and reading instruction tools out there. As my kids type the texts, I see them use their phonics skills to figure out the beginning sounds of words, then identify the correct spelling in the predictive text box. Eventually, they know how to spell the word themselves." – me
"I use Merlin Bird ID & PlantNet for identifying birds & plants on walks, in yard, at Costco." – Gwendolyn
Tell me, how are some ways you use your smartphone that other homeschool moms may not know about? Which of these mom hacks do you want to try?
Recommended Reading for Techie Homeschool Moms:
 The Tech-Wise Family: Everyday Steps for Putting Technology in Its
 Hands Free Mama: A Guide to Putting Down the Phone,
 Hands Free Life: Nine Habits for Overcoming Distraction, Living Better,
 Parenting in the Age of Attention Snatchers: A Step-by-Step Guide
 Apps All Parents Should Know
Related Posts

Want some techie homeschooling tips and inspiration delivered to your inbox? Sign up here for weekly-ish emails from me.
Techie Homeschool Mom is a participant in the Amazon Services LLC Associates Program, an affiliate advertising program designed to provide a means for sites to earn advertising fees by advertising and linking to Amazon.com. You can read my full affiliate disclosure HERE.