Teaching Kids How To Stay Safe on the Internet
Hey, just so you know ... This post includes affiliate links. That means if you use them to make a purchase, I may earn a commission. You can read my full affiliate disclosure HERE.
"Mommy, why is the sky blue?" "Daddy, where do people go when they die?" These are two examples of tough conversations parents have with their children every day. It's a daunting task navigating these childhood inquiries, which are fairly tame compared to the ones technology throws at parents today. But, even though you might feel a bit clueless about all things techie, you need to be proactive about teaching your kids how to stay safe on the Internet.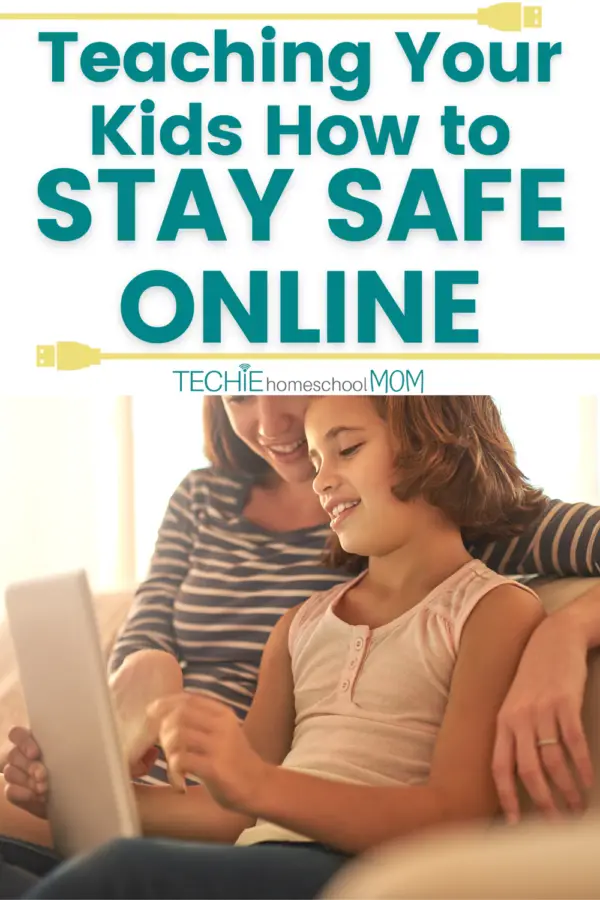 Online safety is one of those topics that can be hard for parents to talk about with their children. A recent survey shows 54 percent of parents worry more about online sexual predation than any other online threat, but only 37 percent of them talk to their kids about it.
Computer viruses are techie things. Online sexual predation is a scary subject to tackle, but if you don't talk to your kids about online safety, they may get bad information somewhere else. With that in mind, here are a few tips and strategies to kickstart the conversation.
Tips for Talking about Online Safety with Kids
Be Open and Honest
Young children just aren't able to grasp certain concepts before their brains fully develop. Sometimes it's best to say, "I'll explain when you're older." But when it's possible, be honest about what online dangers are out there. Explain what cyberbullying is, what motivates others to do it, and how to avoid it. Be proactive. Don't just wait for them to ask. Look for opportunities to talk. Online threats are real, and parents should arm their children with the knowledge to protect themselves.
Be open with your children about their questions and the feelings they have. Don't overreact. Keep the situation relaxed and safe. You both will feel more at ease, and they will retain more information because of it.   
Use Creative Analogies to Make Connections
"What's a computer virus?" your 7-year-old asks. "It's like…" Your mind goes blank. "Hmm, let me see…" One answer to this dilemma is to use your own creativity to find suitable, age-appropriate analogies your kids can connect with. When children can apply analogies to what they already know, their understanding will skyrocket. So, computer viruses could be like the flu virus or other bug that makes you sick. Your tablet can get "sick" just like you can, only it gets infected by computer viruses. It can spread that sickness to others.
You can also connect identity theft to dressing up for Halloween. Explain how identity theft is like dressing up as another person so you can steal their bag of candy. These analogies connect cybersecurity concepts to things your child already understands.  
Show, Don't Just Tell Them How to Stay Safe Online
It's easier to discuss online safety when you're actually demonstrating how to stay safe on the Internet. Look for opportunities to model good online habits. Your kids learn best when you show them what you mean rather than just telling them. For example, while explaining what a pop-up ad is, visit an actual website, find an ad, and illustrate how to close it properly. Cyberthieves often use pop-ups and links to send users to dangerous websites where they can infect your computer. Here are a few additional activities to support your conversations about internet safety.
Visit your child's favorite YouTube channel while you explain

how you can get a computer virus. Show them where the comments section is, what a link looks like, and where clicking on a video ads take you. Explain how cyberthieves use these exits to trick you into leaving YouTube so they can infect your computer.

Open your browser and take them on a tour of its interface. Show them the address bar, bookmarks, extensions, and the search results.

You can even

create their own user account for a browser like Google Chrome. That way, only their websites are available when they login to the browser. CLICK HERE to learn how to create Google accounts for your kids in this sample lesson from Techie Homeschool Mom's Guide to Digital Homeschool Organization.

Help them

create strong passwords

for their social media, online gaming, and other accounts.
Make Conversations Frequent
Given how much technology is part of our lives, It's easy to find opportunities and reasons to teach your kids how to stay safe online. That's good because the more times you bring up the topic, the more it will stick. Nothing builds long-lasting habits like repetition, but don't go overboard with constant warnings and reminders. Wait for experiences to present themselves. Don't force it. You won't need to.
Your child will remember what you teach them about online safety if you present it in different contexts. Online safety at home, at the library, and at Grandma's house all reinforce the same notion: online safety isn't just for home, it's for everywhere. Again, use your creativity and find ways to connect with what they already know. For example, when it comes to sharing personal information, the online and offline rules are the same. What you don't tell strangers at the park also applies to a chatroom.
Draft an Online Safety Contract
Productive conversations sometimes require formal agreements. Consider drafting a Rules for Online Safety contract that outlines your expectations and your child's promises. Read all of the rules together and have them sign it. Use the contract as a memory aid and to hold them accountable. The goal is to make them responsible for their own online safety. A contract will remind them of that goal.  
Use Online Learning Resources
Library books, online videos and games, and government websites designed for kids can help them learn. Your own rules and expectations are reinforced when your child learns the same lessons from third-party sources. You can find helpful online Parents Guides to Cybersecurity that cover common terms, social networking, parental controls, and more.
"Mommy, what is the internet?" "Daddy, what's a cyberbully?" Armed with these conversation guidelines and tips, you're now prepared to answer both of these and many more questions about online safety. Don't be part of that 37 percent of parents who shirk from the responsibility of teaching their kids how to stay safe on the Internet.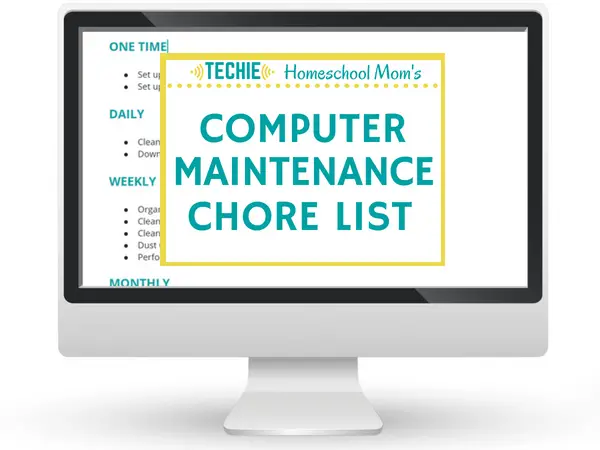 Want to keep your computers running hassle-free?
Download a list of 20+ routine tasks that will keep your computers working great.
Sign up to receive Techie Homeschool Mom's Computer Maintenance Chore List
Best Parental Control Devices and Software
KoalaSafe Family Friendly Wireless Router with Parental Controls

Circle with Disney – Parental Controls and Filters for your Family's Wireless Devices

Norton Security Premium – 10 Devices

Kaspersky Total Security 2018 5 Device/1 Year

Tell me, how do you teach your kids to stay safe on the Internet?
Related Posts

Want some techie homeschooling tips and inspiration delivered to your inbox? Sign up here for weekly-ish emails from me.
Techie Homeschool Mom is a participant in the Amazon Services LLC Associates Program, an affiliate advertising program designed to provide a means for sites to earn advertising fees by advertising and linking to Amazon.com. You can read my full affiliate disclosure HERE.