Hey, just so you know ... This post includes affiliate links. That means if you use them to make a purchase, I may earn a commission. You can read my full affiliate disclosure HERE
One easy way to start techin' your homeschool is to let you kids search online. But, to us digital immigrants, that seems scary. We've heard enough about the horrors of the Internet that we know it's not 100% safe. But we may not feel confident in teaching our kids to search safely.
But consider this…neither is the real world. Just like you teach your kids how to stay safe in the physical world, you need to teach them how to stay safe in the digital world.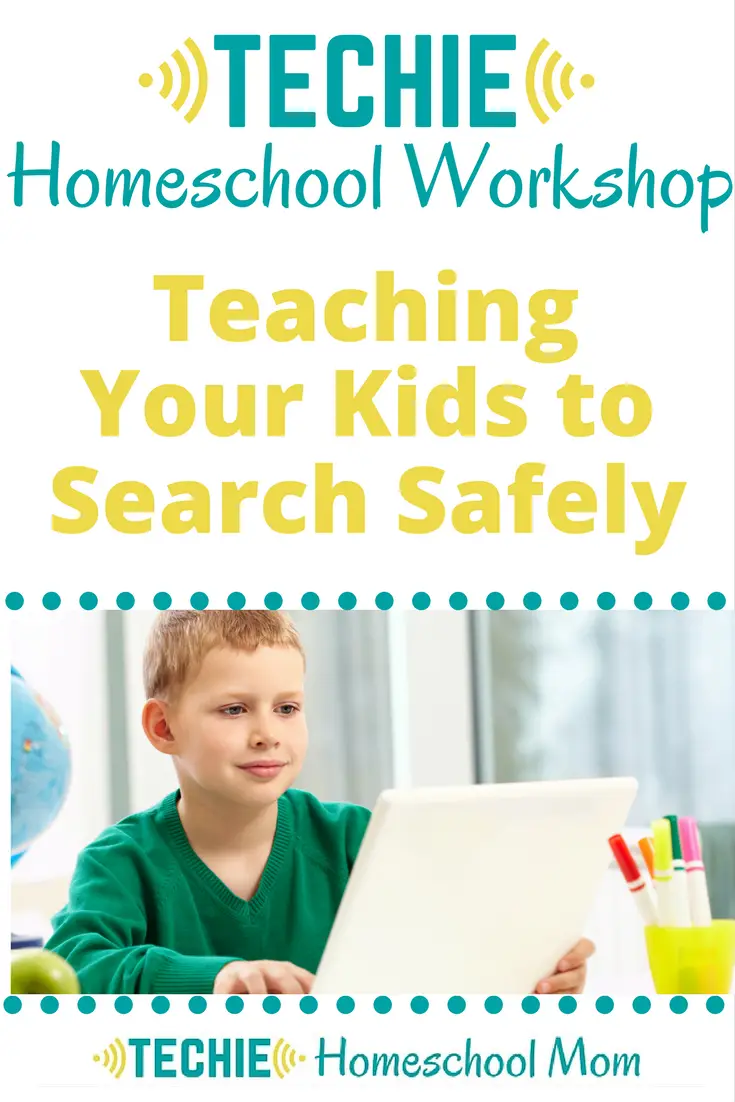 I'm going to make a bet that you don't let your kids loose in strange places, right? You don't arrive at a new park or new mall and say, "OK, kids. Go have fun and I'll pick you up later?"  You keep them close until you're comfortable with the environment. Once you feel a place is safe, you've set some guidelines for behaviors and your kids have demonstrated that they can make wise choices, you loosen the grip. Your kids then have more freedom to safely roam in those trusted places.
Same goes for the Internet.
You need to proactively find trusted places, or websites, for your kids to explore unrestricted.  You don't have time to be with every child every minute they are researching online.  And you would be doing them a disservice if you don't let them search at all. A happy medium is to designated those trusted websites where you kids can roam freely, then set up systems to teach your kids how to use those approved sites.
3 Ways to Search Within Trusted Sites
In a recent Techie Homeschool Workshop, I shared 3 methods for searching safely within trusted sites.
Create a bookmark folder with links to the approved sites, then teach your kids how to use the search function within the trusted websites.

Search by a website URL, press SPACE, then add search words. Teach your kids how to read the search results.

Set up a custom search engine for any website using your omnibox. 

Open the website & copy the website URL
Right-click, select "Edit search engines"
Add the website, designate a keyword, and paste the URL but put "?s=%s" at the end.

If that doesn't work, search within the site, copy the URL and replace the search term with "%s"

Teach your kids to type the designated keyword in the ominbox, SPACE or TAB, then their search words
This video teaches you more about these ways to teach your kids to search safely.
Download a summary of these tips, plus pointers on searching safely in typical search engines,  for future reference. 
Related videos…
Tell me, what steps have you taken to teach your kids to search safely online?
Recommended Reading for Techie Homeschool Moms:
 The Tech-Wise Family: Everyday Steps for Putting Technology in Its
 Hands Free Mama: A Guide to Putting Down the Phone,
 Hands Free Life: Nine Habits for Overcoming Distraction, Living Better,
 Parenting in the Age of Attention Snatchers: A Step-by-Step Guide
 Apps All Parents Should Know

Want some techie homeschooling tips and inspiration delivered to your inbox? Sign up here for weekly-ish emails from me.
Techie Homeschool Mom is a participant in the Amazon Services LLC Associates Program, an affiliate advertising program designed to provide a means for sites to earn advertising fees by advertising and linking to Amazon.com. You can read my full affiliate disclosure HERE.