Hey, just so you know ... This post includes affiliate links. That means if you use them to make a purchase, I may earn a commission. You can read my full affiliate disclosure HERE
I have a confession. As techie as I am, I'm not fond of eBooks.
Reading eBooks doesn't seem natural to me. I've always loved books. The library is one of my favorite places in the world…all those choices of words and illustrations! And I've strived to pass that love of books onto my children with at-home shelves full of books and trips to the library.
With the advent of eBooks, I've had to change my perception of "book". I've considered what it is that I love about books.  Is it the rich language? The new worlds I enter? The characters I meet? The actual feel of holding a book? That smell of ink and paper? Or even the comfort of doing something I've done my whole life? And honestly, my answer is ALL OF THE ABOVE.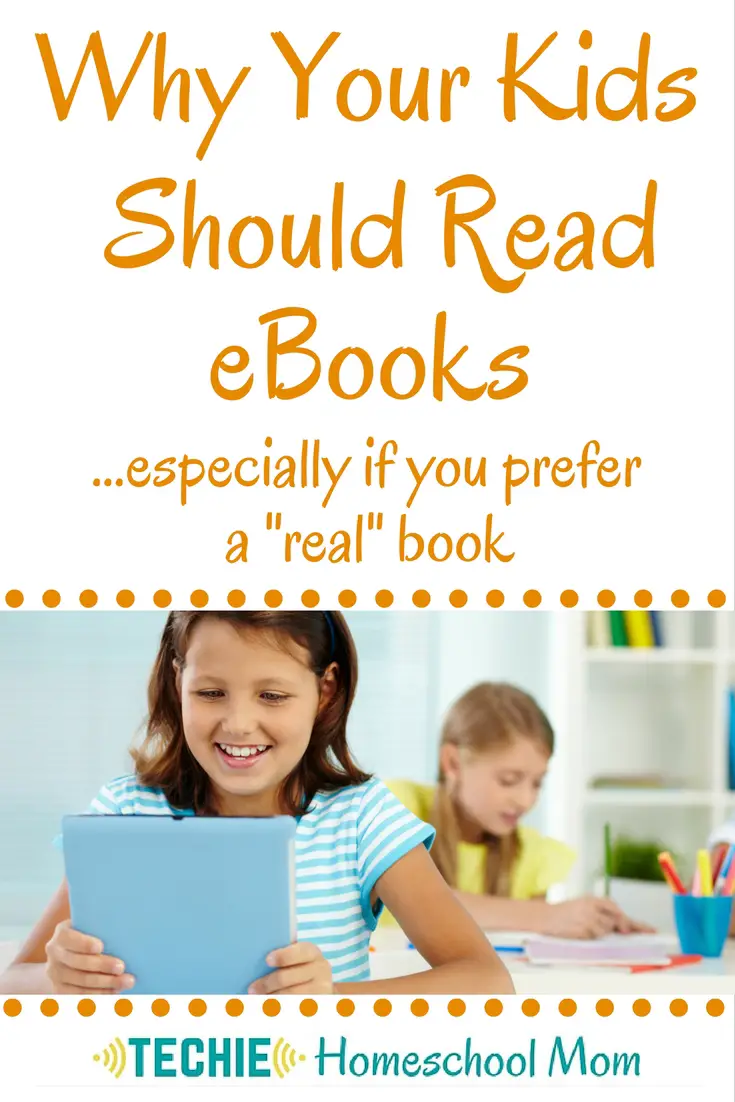 But my kids are developing a different definition of "book" as they read electronically. And guess what….that's OK. I realize that they are still being exposed to the power of words, traveling to new places, and relating with interesting characters. My kids are developing reading comprehension, plus exposing themselves to writing styles to model. It just "looks" different than the way I grew up reading.
So, should I keep my kids from reading eBooks? Absolutely not! Bottom line is that I want my kids to read….anyhow, anyway. I want them to develop a love for words. I want them to learn about new places and people. And if it happens by looking at a screen…so be it.
My friend, our kids are digital natives. Technology is and always will be a big part of their lives. And even though it's not "natural" to us digital immigrants, we need to guide our kids toward using tech in healthy and productive ways. One way is getting comfortable with them reading eBooks instead of printed books.
[Related Post: Are You Homeschooling for the 21st Century?]
My family's favorite source for childrens' ebooks is Epic!. I'm totally impressed with the selection. With thousands of fiction and non-fiction books, there is something for every kid 5-12 years old. Epic! recommends books based on a child interests (which you share when you set up your child's account) and keeps a reading log of their progress. The kids can read on the computer and mobile devices in a safe controlled environment.
I love receiving emails that share with me what my kids have been reading.  I can even send them book recommendations and notes of encouragement through the app.  And, Epic! comes in handy when we need a new book for silent reading, or a resource for a homeschool project.
I could geekily go on and on about Epic!'s awesomeness, but you really need to check it out for yourself. You can try it for free, but if you're like me, you'll realize the $4.99 monthly fee is totally worth it for Epic! Unlimited (and your kids are going to fall in love with it too!).
How do you feel about eBooks? Do you prefer them or the "real" thing? How about your kids?

Want some techie homeschooling tips and inspiration delivered to your inbox? Sign up here for weekly-ish emails from me.
Techie Homeschool Mom is a participant in the Amazon Services LLC Associates Program, an affiliate advertising program designed to provide a means for sites to earn advertising fees by advertising and linking to Amazon.com. You can read my full affiliate disclosure HERE.