Hey, just so you know ... This post includes affiliate links. That means if you use them to make a purchase, I may earn a commission. You can read my full affiliate disclosure HERE
In today's tech-focused society, many parents are on a mission to find ways to draw their child away from their technology and get them to engage in other ways. While there is certainly merit in spending time together without the distractions caused by our devices, there are also plenty of ways you can actually use technology to strengthen your bond with your child through your smartphones, tablets, and computers.
Not sure how technology can help you grow closer? Try out some of these ideas.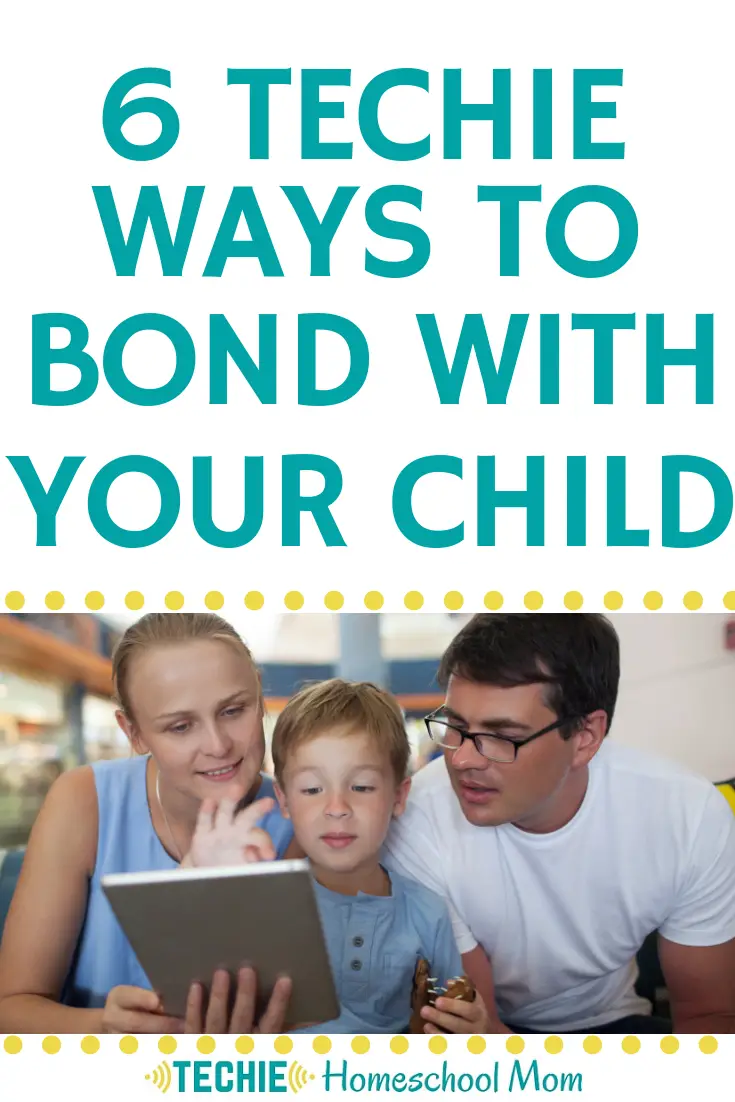 Sure-Fire Ways to Bond with Your Child (that involve a screen)
1) Play video games together.
Many parents might balk at the idea of grabbing a controller or mobile device and joining their child for a video game session, but this can be a great way to score some quality time and bond with your son or daughter. Get them to show you the ropes and explain how the game works, then enjoy a little friendly competition or collaboration – depending on the game! You might be surprised to see how much fun you have.
Check out THIS LIST for fun apps you can play together as a family.
2) Share an e-book.
I won't go so far as to say paper books are becoming a thing of the past, but e-books have definitely claimed their spot in the market, and for good reason – for a small charge, you can download virtually any book you'd like to read right to your tablet or computer and have it instantly available. When it's time to share a bedtime story or read an evening chapter of a book, cuddle up with your tablet and read together. Use the features built into your e-reader, like the highlighter, to mark passages you love or want to revisit later.
I share more advantages of reading ebooks (besides bonding with your child) HERE.
3) Make a movie
Using your smart phone's video camera, work with your child to make a short movie! Take a documentary-style approach and record your family going through their normal routines, or go all-out and create a script, characters, and a story to tell! Once you're done filming, have fun with an editing program on your computer to add in sound effects and fun visuals – then invite the whole family to watch!
You could even try a stop-motion movie. My daughter and I set up scenes with her Legos and brainstorm a storyline.  She then creates the movie with StopMotion Studio. Even though I can't be involved in the entire lengthy process, we have fun together dreaming up the story.
4) Listen to an audiobook or podcast
I love sharing classic stories with my kids (and now that they are older, they discover new stories and share them with me!). Using audiobooks, we can visit new worlds without the risk of me falling asleep reading aloud. We discuss the themes of the stories, questions we have and our favorite characters. One bonus is my kids and I can listen while we do other things. We enjoy coloring or building Legos with a story playing in the background. Or we listen in the car.
Lately, we've been preferring podcasts over lengthy books. We can finish one in an afternoon of driving to and from sports. Or in the half-hour of family time before bed. You can find a list of kid-friendly podcasts HERE.
5) Find Youtube channels to enjoy together.
If it's been a while since you've looked at YouTube, you might be surprised by the sheer amount of well-curated content you'll find there. From cooking shows and DIY instructions to celebrity vlogs and kid-friendly programs, you can search for – and find – virtually anything you want to watch. Spend some time surfing YouTube with your little one and see if you can find a fun new channel to watch together.
Want to make sure your kids stay safe on YouTube? Check out THIS POST to learn how to set up parental controls.
Discover 100+ YouTube channels to use for homeschooling.
Download your sortable list to find videos for your lesson plans.
Sign up to receive Techie Homeschool Mom's Ultimate List of YouTube Channels for Homeschooling
6) Communicate often.
Communication is key to staying close and forging strong family bonds. If your child has a cell phone, don't be afraid to text often. It's an easy way to check in, make plans, offer encouragement, and get information. And when the kids are at a slumber party, off at summer camp, or visiting Grandma for a week? Use Facetime or another video chatting platform to stay closely connected.
One of my daughters finds it easiest to express her feelings by writing. In the past, we had a notebook that we passed back and forth when she wanted to vent. Now, we use Messenger Kids. When upset, she can take a self-forced chill time in her room and message me as she processes her emotions.
Board games and family dinners are still great ways to connect and stay close as a family, but with the rise of technology, it's important to find ways to embrace the tools at our disposal and use them to our advantage – not push them away. These are just a handful of ways you can make technology work in your favor and use it to grow closer with your children.
Tell me … what ways have you used tech to bond with your kids? Leave a comment and let me know!
Related Posts

Maker Lab: 28 Super Cool Projects: Build * Invent * Create * Discover

STEM Starters for Kids Science Activity Book

STEAM Kids: 50+ Science / Technology / Engineering / Art / Math Hands-On Projects for Kids

The Everything STEM Handbook: Help Your Child Learn and Succeed in the Fields of Science, Technology, Engineering, and Math

STEM Starters for Kids Technology Activity Book

STEM Labs for Middle Grades, Grades 5 - 8

Want some techie homeschooling tips and inspiration delivered to your inbox? Sign up here for weekly-ish emails from me.
Techie Homeschool Mom is a participant in the Amazon Services LLC Associates Program, an affiliate advertising program designed to provide a means for sites to earn advertising fees by advertising and linking to Amazon.com. You can read my full affiliate disclosure HERE.