Apps You Need for Your Next Family Game Night
Hey, just so you know ... This post includes affiliate links. That means if you use them to make a purchase, I may earn a commission. You can read my full affiliate disclosure HERE.
People complain that technology isolates people, but it certainly doesn't have to. Yes, there's potential for isolation, but we can combat that by teaching our kids healthy tech habits.
As the first generation of digital moms, we need to figure out ways to guide our kids towards healthy habits and attitudes about electronics usage. One way to do this is offering screen time that brings families together, such as for family game time or a special family game night.
Why not try giving a techie edge to your family game night once in a while by playing apps instead of board games or cards?
You can even involve family members who live far away, or encourage your kids to connect with friends when they can't be together.
Every family is different, and I honestly would much rather play a board game over an app…not going to lie!  But, my kids have a blast playing multi-player apps, and I think it's important to play with them every once in a while. Not only does it help me stay in tune with what they are playing, but it shows them I value them and care about the things they enjoy.
And while I don't think they should completely replace board games, there are some benefits to the multi-player apps!  They…
take up less space
are more portable
don't have crucial pieces to lose
are less expensive than board games.
My kids have discovered a few game multi-player apps they like. And, wanting to learn more about how we could incorporate these into our family game time, I went on a quest to find more games that we could all play together.  Feel free to use my list to find games for your family's techie game time as well!
Now, we have not yet tried all of the apps on the list, but it's a place to start. Take a look and decide which ones you want to try by reading reviews or watching a gameplay on YouTube.

You could even get the whole family involved in the research, helping your kiddos discern what would be good games to try. Then plan a family game night when you will play the games together.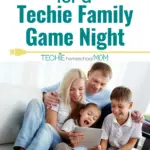 As I researched, I discovered four different multi-player modes, and they vary by game.
Play on the same mobile device, all at the same time (you'll get really cozy)
Pass-and-play on the same device (one player takes a turn, then passes the devices)
Play on multiple devices locally (all on the same WiFi network or through Bluetooth).
Play online with multiple devices (set up an account for each family member and invite to play)
Apps You Can Use for Family Game Night
Here are 25 game apps that would work great for a family game night. I'm familiar with the physical version of some of lots of them, so I'm confident my kids will like them.
I'm including links for you to find these on Google Play, the iOS App Store and Kindle Store. That way, no matter what device you use, you should be able to find the app.
If the links don't pull up, try searching for the game title in your chosen app store.
Tell me, what multi-player apps do you use for your family game night? Leave a comment to let me know.
Low-Tech Favorites for Family Game Night
Codenames
Scattergories
Carcassone
Prime Climb
Coup
Trekking The National Parks
RELATED POSTS:

Want some techie homeschooling tips and inspiration delivered to your inbox? Sign up here for weekly-ish emails from me.
Techie Homeschool Mom is a participant in the Amazon Services LLC Associates Program, an affiliate advertising program designed to provide a means for sites to earn advertising fees by advertising and linking to Amazon.com. You can read my full affiliate disclosure HERE.