Hey, just so you know ... This post includes affiliate links. That means if you use them to make a purchase, I may earn a commission. You can read my full affiliate disclosure HERE
STEM – that 21st century academic subject that integrates Science, Technology, Engineering and Math. For the past few years, STEM clubs and STEM classes have been popping up all over the place as we try to prepare kids for a tech-reliant future. We homeschoolers need to keep up with the trend and make sure we teach STEM concepts to our kids. One easy way to do that is to add some of these STEM-inspired games into your family fun schooling.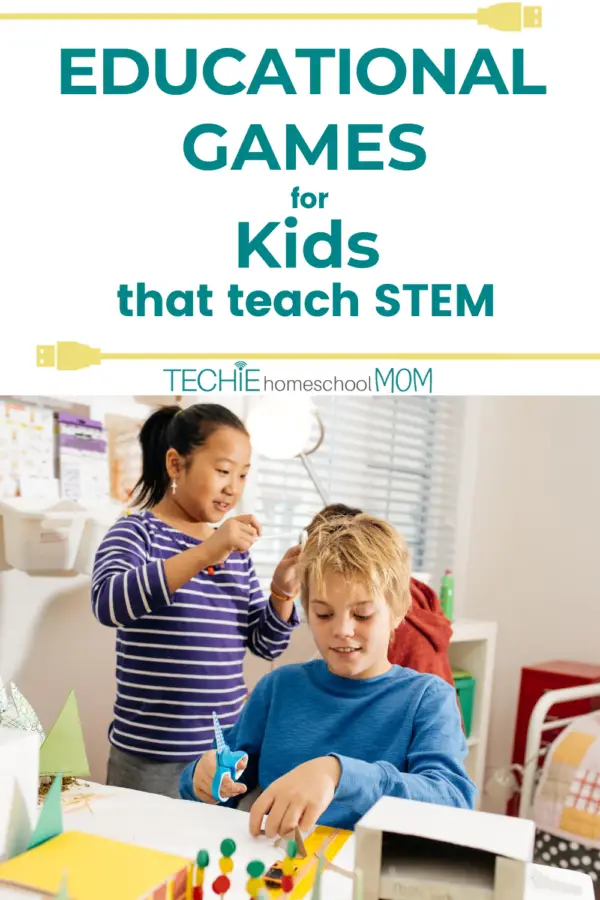 Educational Science Games
Totally Gross: The Game of Science tests your knowledge of wacky science facts and presents you with hilarious challenges. This unique, game is perfect for a family game night filled with fun, and education.
Science Explosion presents you with two fun and educational games in one! Discover the different fields of science in an exciting way.
This game is sure to pique the interest of your budding scientists. It's filled to the brim with fascinating scientific facts, and it presents a fun way to learn them.

This is a fun board game to push your brain to the limits and test your logic skills.
This game is fantastic for teaching basic and advanced chemistry concepts. Valence is full of new things to learn and will have anyone who plays it walking away with a smile.
With this game, you can discover the wonders of quantum physics while playing a lead scientist on an orbiting space laboratory. Antimatter Matters is an excellent source of entertainment for your aspiring scientist.
This chemistry-based card game is entertaining for all ages and great for long car trips.
Technology Board Games


This game will teach your child the basics of computer programming while providing them with fun.

Roborally will provide great fun for your technology and robot- loving-kid.
If your kid wants to learn more about computer coding, then this game will allow them to do that without the use of a screen. Robot Repair is just one of a series of three board games that teach computer coding in a unique, fun way.
Fun Math Games for the Whole Family
Make math fun with this challenging card game. Great for learning the basics of math your elementary school aged children will need.

Imagine Scrabble, but with math problems. This game will present a challenge to both adults and kids alike. Put your math skills to the test!
Although math can sometimes seem like a chore Prime Climb will make it fun. Not only that but with this game multiplication and division becomes as easy as combining colors.
Games for Future Engineers
This game is sure to bring a lot of silly fun to your family game night. Not only that, but it will challenge you to think like an engineer and calculate chances.
Engaging and entertaining, this game will put your young engineer's brain to work. Their hand-eye coordination, and cognitive skills will be put to the test with Suspend.
Tell me, what STEM-inspired games do you like to play with your family?
Check out these books filled with educational STEM Activities
Maker Lab: 28 Super Cool Projects: Build * Invent * Create * Discover

STEM Starters for Kids Science Activity Book

STEAM Kids: 50+ Science / Technology / Engineering / Art / Math Hands-On Projects for Kids

The Everything STEM Handbook: Help Your Child Learn and Succeed in the Fields of Science, Technology, Engineering, and Math

STEM Starters for Kids Technology Activity Book

STEM Labs for Middle Grades, Grades 5 – 8

Related Posts

Want some techie homeschooling tips and inspiration delivered to your inbox? Sign up here for weekly-ish emails from me.
Techie Homeschool Mom is a participant in the Amazon Services LLC Associates Program, an affiliate advertising program designed to provide a means for sites to earn advertising fees by advertising and linking to Amazon.com. You can read my full affiliate disclosure HERE.