Hey, just so you know ... This post includes affiliate links. That means if you use them to make a purchase, I may earn a commission. You can read my full affiliate disclosure HERE
If you're a homeschool parent looking for a great unit study to use with your children, you may have come across UnitStudy.com (formerly Unit Studies by Amanda Bennett). Since they are digital files, this homeschool curriculum is a viable option for techie families using the unit study method of homeschooling.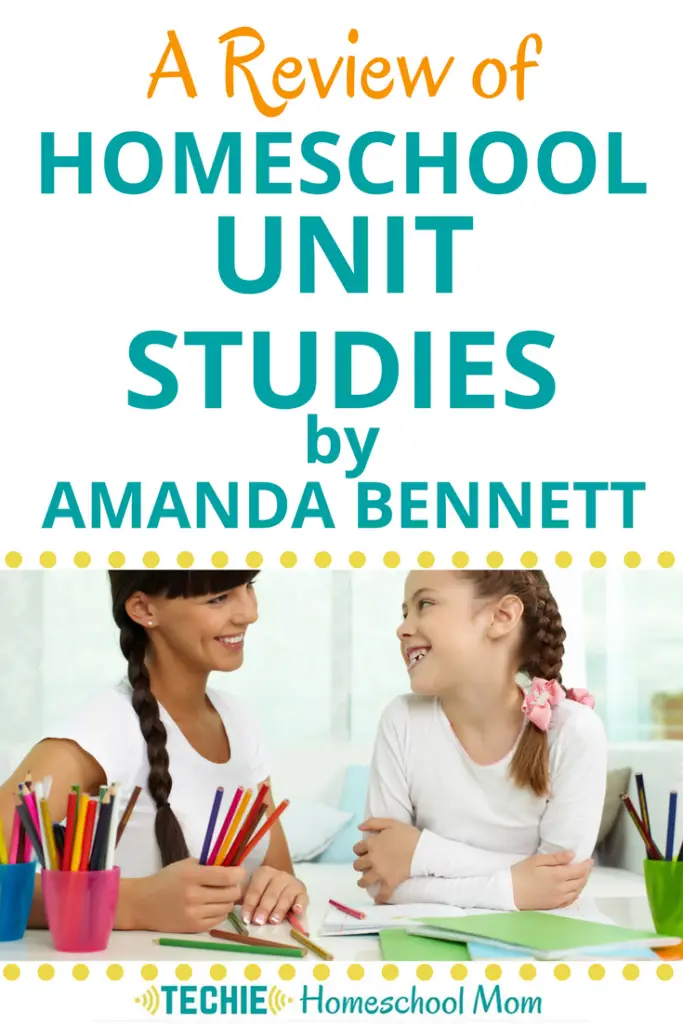 We tried a Download 'N Go Unit Study a few years ago. I usually create our own unit studies (prompted by my kids' interests). However, it was a busy season in our family business and I needed something already put together that didn't require much prep for me. The unit study did the trick (but I will admit I couldn't help adjusting it and customizing to my kids' learning styles).
What does an Amanda Bennett Unit Study Include?
When you purchase a unit study from UnitStudy.com, you'll download a PDF document – a digital file that you can open and read on your laptop, or another device. The program outlines book lists and activities that you can do to study the topic addressed in the unit study.
As your family's "teacher", you'll need to read over the plans for each day and chose which activities to include, and which books to read. Then, you'll want to collect materials, books, and other resources for each day and project.
Reasons to Use Download 'N Go Unit Studies
Unit studies are created to be adaptable for an age range of kids, so you can determine what best fits the needs of your family. There are also a wide variety of activities to choose from, giving you lots of flexibility.

One of the benefits of unit studies (which is certainly a part of Amanda Bennett's products) is the ability to study a wide range of subject – such as science, history, writing, and more – under the heading of one topic. You can pick a topic that is of special interest to your student.

Once you purchase this document, it is yours to keep forever. You won't need to make additional purchases for other children down the road or the next time you want to teach this subject.
Limitations of Amanda Bennett's Unit Studies
You'll need to decide if you want to print these unit studies or keep them as digital files. It may be easier to read and take notes on a printed page, but some Amanda Bennett's unit studies are over a hundred pages long. Also, you can't "click" on a printed page to access links.

Since Unit Studies by Amanda Bennett are PDF files, they are static documents. They do not change and evolve over time. This document depends highly on internet links, and you may eventually find that the links don't work or the recommended books are no longer available. However, they are updated as needed and you can re-download the updated file. 

While they are packed with information, navigating an Amanda Bennett unit study can be somewhat cumbersome. There is a table of contents, but in some units, they aren't hyperlinked (in other words, you can't click on items in the menu to take you to the proper page). Finding the links you need for a particular lesson will either involve lots of scrolling or lots of copying and bookmarking in advance to prepare.
My Final Thoughts
If you're considering using homeschool courses from UnitStudy.com, you'll need to think about what works best for you as a homeschool mom. The vast majority of titles on the recommended book list may be an excellent option. And the units contain lots of great activities.
However, it may also be overwhelming or unfeasible for you to sort through all those titles and chose the ones that will be a good fit for your family.
To see the full selection courses Unit Studies by Amanda Bennett, CLICK HERE.
Do You Love Homeschooling With Unit Studies?
Sign up for the Online Unit Studies Sampler
5 Free Lessons for Homeschoolers
You'll also receive weekly emails with techie homeschool tips, ideas and inspiration.
Recommended Reading for Techie Homeschool Moms:
 The Tech-Wise Family: Everyday Steps for Putting Technology in Its
 Hands Free Mama: A Guide to Putting Down the Phone,
 Hands Free Life: Nine Habits for Overcoming Distraction, Living Better,
 Parenting in the Age of Attention Snatchers: A Step-by-Step Guide
 Apps All Parents Should Know
Related Posts

Want some techie homeschooling tips and inspiration delivered to your inbox? Sign up here for weekly-ish emails from me.
Techie Homeschool Mom is a participant in the Amazon Services LLC Associates Program, an affiliate advertising program designed to provide a means for sites to earn advertising fees by advertising and linking to Amazon.com. You can read my full affiliate disclosure HERE.