We're a TaeKwonDo family, and the saying at our dojahng is "The family that kicks together, sticks together."
I'm stealing that line and altering it to "The family that clicks together, sticks together". (Really nowadays it should start "The family that swipes together…" but all I could come up with as a rhyme is "…gripes together" and that totally goes against the point I'm trying to make.)
My friend, how often do you hear people complain that technology isolates people? Comments about how when someone is staring at a screen they're not interacting with the people around them…they're in their own little cyber-world?
I'll admit that there's potential for isolation, but that's not how it has to be. We can combat that problem by teaching our kids healthy tech habits.  As the first generation of digital moms, we need to figure out ways to guide our kids towards healthy habits and attitudes about electronics usage. And one way to do this is offering screen time that brings people together.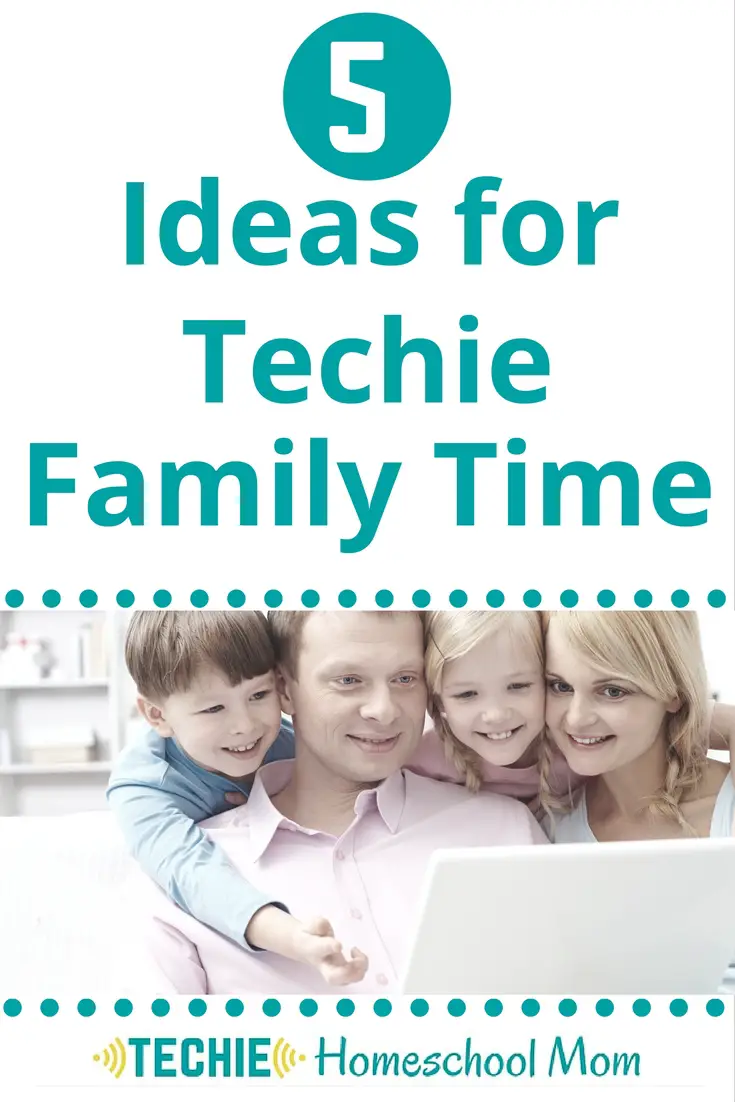 5 Activities for Techie Family Fun
YouTube Karaoke – Check out The Karaoke Channel or Sing Sing Karaoke to find your favorite tunes. Each channel has playlists to help you narrow down the choices of songs.  Don't have mics? More reason to belt it out. Figure out a way to stream the words onto your TV so you've got them big. You can stream the videos to your Smart TV or through your gaming system. Or simply hook up a laptop through an HDMI cord.
Go Geocaching – Geocaching is a great outdoor activity that gets you exploring and searching for the hidden "treasure" (aka "cache"). It's techie because you need to use a GPS to find the prize. We had our first geocaching adventure last weekend and now we're hooked. To get started, visit Geocaching.com.
Techie Family Game Night – I don't know why, but knocking each other's opera singing tenors off the stage really gets the giggles going. You should try out King of the Opera. I wrote a blog post with "25 Apps for Family Game Time". You can check it out HERE.
Go on a virtual vacation – Crowd around your computer and travel the world with Google Maps. Let everyone choose a place they would like to visit, then search and explore. Use "pegman" to walk the streets. And check out the image gallery.
Good ol' Family Movie Night– This has been a weekly tradition for our family for years. A time of the week that we all come together for a shared experience, and yes…it involves a screen. We eat our standard dinner of grilled chicken strips, cheese sticks, apples and popcorn as we watch. VidAngel has been our lifesaver in recent years now that we have teenagers AND younger kids. With VidAngel, we can watch movies that appeal to the older kids, but filter out things we don't want the younger girls seeing. And at $1 a pop…score!
How about you? What's a techie activity your family enjoys doing together?
Need some help managing your family's screen time?
Download a set of tech time guidelines and tailor it to your family's needs.
Sign up to receive Techie Homeschool Mom's Family Tech Time Guidelines

Want some techie homeschooling tips and inspiration delivered to your inbox? Sign up here for weekly-ish emails from me.
Techie Homeschool Mom is a participant in the Amazon Services LLC Associates Program, an affiliate advertising program designed to provide a means for sites to earn advertising fees by advertising and linking to Amazon.com. You can read my full affiliate disclosure HERE.