Hey, just so you know ... This post includes affiliate links. That means if you use them to make a purchase, I may earn a commission. You can read my full affiliate disclosure HERE
"What's the main bit of advice you would give your younger homeschooling self? 
And it got me thinking about my younger homeschool self and considering what I wish I had known about homeschooling way back when.

I time warped back 13 years. My oldest daughter was in 2nd grade and I had a preschooler, toddler and newborn. I was anxious and doubtful because I didn't know if I was doing this homeschooling thing "right". 

I felt that I needed to check off the boxes of all those things kids are supposed to learn at that age.  

In my heart, I knew that I wanted my kids to learn through play. And explore the things they were interested in. And to use real-life as our training ground.

But, in one short moment, I had an epiphany that changed my life (and my kids' lives). What I realized was …
There was no how and no way that our education at home needed to look like what was going on in that building down the street. We weren't home "schooling". We were home "learning." And that learning could (and should) look different than traditional education.
It was a turning point and changed the whole dynamic of our home education and family life. From there we shifted to less book work and more play. Less sit down work to more out-in-the-world exploration. Less checking off of boxes and more inquiry into our curiosities.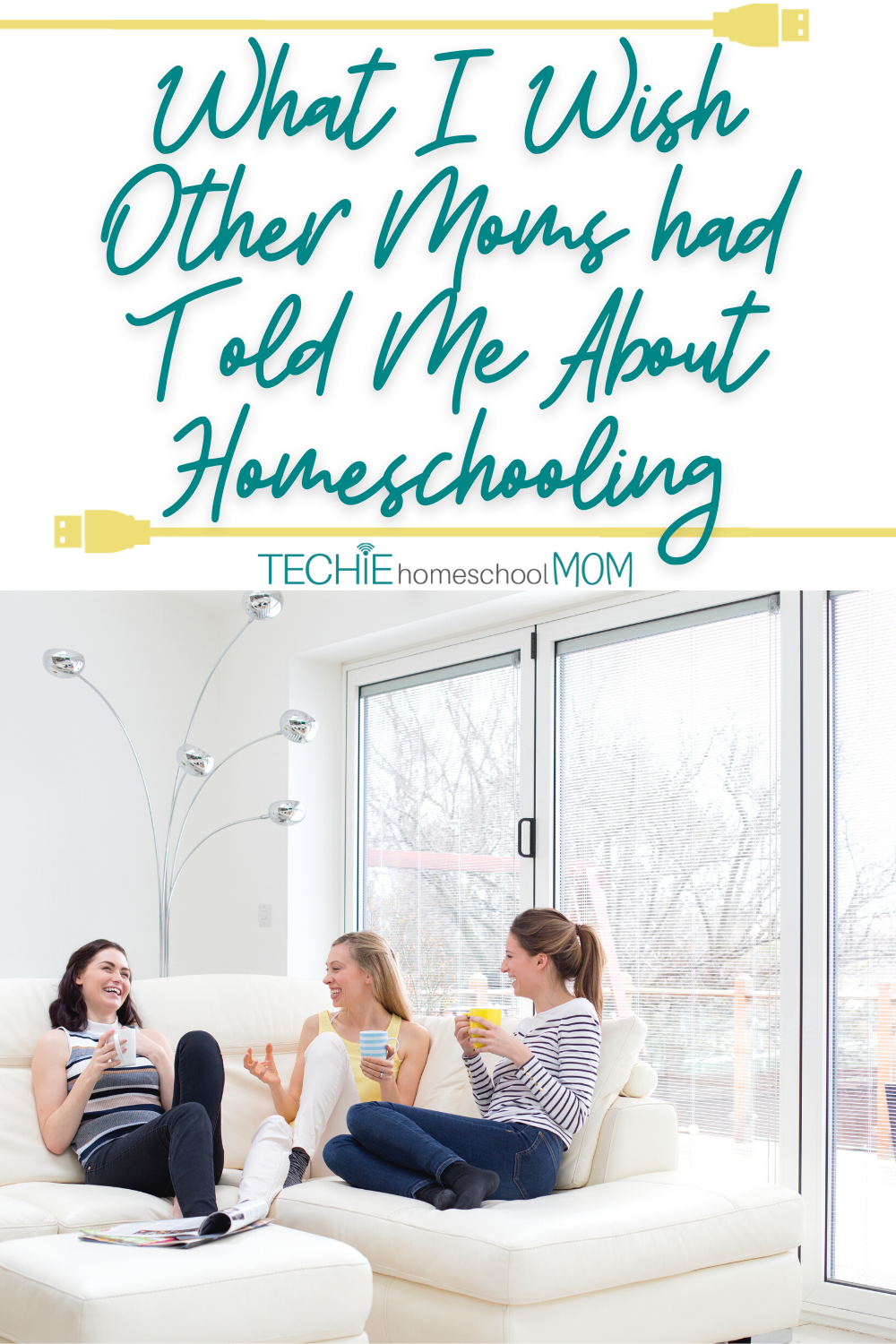 And Mike & I were able to come up with a 3-point mission statement for our family's home education. 

Lots of other homeschool moms answered that question on Facebook as well.  They advised their younger selves to…

Do less book work and more experience based activities in the beginning!

 

Relax. You taught them to talk, walk and poop in a toilet. If you can do that you can figure out algebra.

 

Become an expert in your kids — how they learn, what they like, what makes them tick. Then help them learn that way. Don't look for a box or curriculum to do that…make it.

 

Say yes to the field trips more often, even when it's a logistical challenge!

 

Don't stress out. Learning happens when you least expect it.
…and more (You can read all the great advice HERE).
Now, I don't know how far you are on your homeschool journey. Or what your style or method of home education. But, I do know that out of the thousands of people who will read this, these words will encourage at least one of you.
Is that one person you?
Tell me, which bit of advice is touching you? And what advice you would give your younger homeschooling self? Leave a comment below.
Related Posts:
[Divider]
Want some techie homeschooling tips and inspiration delivered to your inbox? Sign up here for weekly-ish emails from me.
Techie Homeschool Mom is a participant in the Amazon Services LLC Associates Program, an affiliate advertising program designed to provide a means for sites to earn advertising fees by advertising and linking to Amazon.com. You can read my full affiliate disclosure HERE.