Hey, just so you know ... This post includes affiliate links. That means if you use them to make a purchase, I may earn a commission. You can read my full affiliate disclosure HERE
"They're always sitting in front of a screen. That's all they want to do. I'm tired of nagging them to get off. Things are so different than when I was a kid. I wish they would just play or read a book or do something unplugged."
Sound familiar? Those are the words in my head. And the conversation I have had with many of my friends. And the complaint I read about online. It's a big issue for us moms, trying to figure out how to guide our kiddos' media consumption and electronics usage. And to balance the good of technology with the bad.
Living in a tech-driven world is not all evil, so why do we struggle so much with our kids being "plugged in all the time"?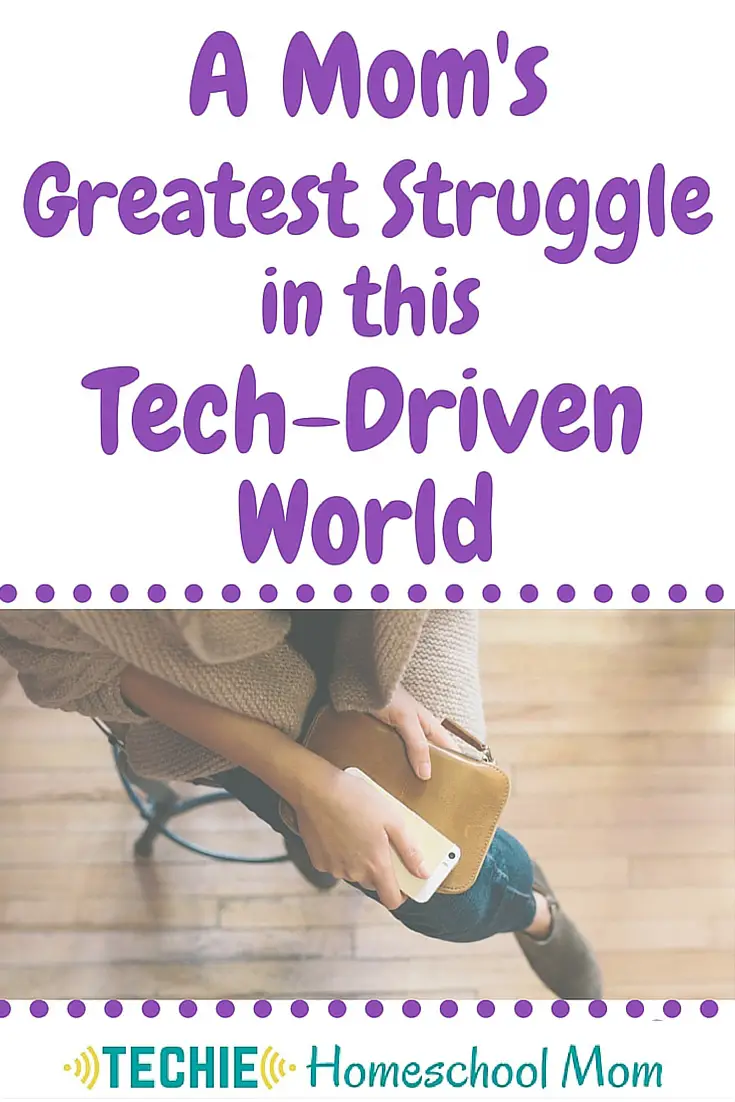 Well, I have a theory. It's not anything backed by scientific research or piles of data. It's just a little thought from my brain…and my heart. My friend, I have concluded that the source of our frustration with our kids' tech usage is, simply, our ignorance. I'm not saying we are "ignorant" in a negative and derogatory way. It's just that we don't know how to tackle the issue of how much screen time is OK.
What We Don't Have
You see, we don't have an example from past generations to guide us. Think about it…we can go to any older more experienced mother and ask, "How did you make sure your kids stayed healthy?" Or "What did you do when your child disobeyed?" Or "How did you manage your children's schedules?" But, we can't go to a seasoned mom and ask, "How did you handle your children's screen time? How did you guide them towards developing healthy tech habits?"
Nor can we look to our childhood experiences for insight. Since the development of the Internet in the 1990s, things have changed drastically. And you have to admit that technological advancements have changed a lot of things in our world for the better.
I'm glad that my girls have all the opportunities available in our tech-driven world. I consider how much more they can do than I could as a kid. I could have never discovered what to do about a sneezing guinea pig. Or edited a photo 50+ ways then shared it with 50+ friends. Or played a word game with my aunt who lives 3000 miles away. Or stayed home from school to learn whatever I want. [Related post: How We Homeschool]
I am a digital immigrant
mothering five digital natives.
"The post-millennial "digital native," a term coined by U.S. author Marc Prensky in 2001 is emerging as the globe's dominant demographic, while the "digital immigrant," becomes a relic of a previous time.
The digital native-immigrant concept describes the generational switchover where people are defined by the technological culture which they're familiar with.
Prensky defines digital natives as those born into an innate "new culture" while the digital immigrants are old-world settlers, who have lived in the analogue age and immigrated to the digital world."
Source: www.cnn.com
We, have the "privilege" of being the first generation of mothers to raise "digital natives."
We're the first generation of moms battling the "too much screen time" war.
We're the first generation with children having access to all the information in the world right in their back pockets.
We're the first generation with children texting and messaging and chatting with "friends" in an instant.
We're the first generation with our own mobile electronic "plugged-in" devices in our homes and cars and purses.
What We Need to Do
My fellow digital immigrants, we need to figure out this "raising digital natives" thing. We need to direct our kids so that they grow into responsible digital citizens with healthy habits and valuable skills to contribute to our world. Let's start talking about how we are going to do that.
I want to know your thoughts and experiences as a digital immigrant. Comment here or connect with me on social media (buttons on the right) so that we can start a conversation. And be sure to share this post with your friends who need to get in on this conversation.
Tell me … do you think my "theory" is accurate…that we struggle in this tech-driven world because we're the first generation to mother "digital natives"? What has been your experience as a "digital immigrant" raising a "digital native"? Let's start talking.
Need some help managing your family's screen time?
Download a set of tech time guidelines and tailor it to your family's needs.
Sign up to receive Techie Homeschool Mom's Family Tech Time Guidelines

Want some techie homeschooling tips and inspiration delivered to your inbox? Sign up here for weekly-ish emails from me.
Techie Homeschool Mom is a participant in the Amazon Services LLC Associates Program, an affiliate advertising program designed to provide a means for sites to earn advertising fees by advertising and linking to Amazon.com. You can read my full affiliate disclosure HERE.