My Techie Mistake and
Its Effect On My Daughter
I feel like I've messed up a little bit with my youngest daughter. Born in 2008, she is the truest digital native in our family. She has never known life without Google, smartphones, and apps. 
For the first few years of her life, I loved that I could hand her my phone or tablet to keep her occupied. I mean, how cool was it that she could pop bubble wrap right on the screen or complete a jigsaw puzzle with a few swipes? As a tech lover, I was in awe of all the new ways she could learn.
In hindsight, I wish I had done things differently. And, I suspect that you can relate. As the first generation of parents raising digital natives, we're still figuring this all out.
And, due to this experience, I'm not a huge fan of kids young kids using lots of it, especially for home education.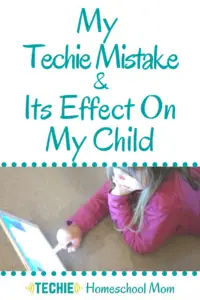 Here's why…exposing kids to lots of colorful, flashy and interactive apps when they're young acclimates them to that sort of experience. My daughter considers lots of non-techie learning opportunities "boring" and expects all the bells and whistles. She's not receptive to watching a non-animated, but still very interesting, documentary to learn about something. She's not interested in reading books with lots of text because she is used to being more visually stimulated.
I wish I had encouraged more exploration of her physical world, touching, smelling, tasting, hearing and seeing everything around her. Holding crayons and pencils. Pouring real ingredients into a real bowl to make a cake. Dressing up real dolls. This is all foundational for fine and gross motor skills development and for gaining a realistic understanding of reality.
Also, little ones need to experience the people around them. I'll admit it…I was quick to plug my daughter in so that I could tune her out. Fussing at the store? Give her the phone. Older sisters need help with homeschooling? Put her in front of a show (educational, of course). I now wish I would have been quicker to train my daughter's character instead of just distracting her so easily.  She expects things to be more "on demand" than her sisters did at her age. She's not as quick to go through trial and error to figure things out. And it seems harder for this daughter to find things to do when she's unplugged.
Mind you, I recognize that part of my daughter's attraction to electronic devices is part of her design. She has always demonstrated strong spatial reasoning and math skills. Someday, she'll probably be programming apps or building computer networks. She is  wired to be techie (just like her mom), but I wish I hadn't been so quick to hand her my smartphone when she was younger.
Keep in mind, my attitude about tech and younger kids isn't based on any scientific research…it's just something that's been weighing on my heart, based on my experience. I want to encourage you to find a balance that works for your family. [Related Post: Why I Stopped Managing My Kids' Screen Time]
These thoughts are part of the reason that I've designed Online Unit Studies for kids mid-elementary age and up. Some families have asked me if I'll create any units for younger kids and my answer is "No". Sure, your younger ones can join in to watch videos and do the hands-on projects, but I encourage you to supplement the digital projects with some non-techie activities for them.
You may think this is counter-intuitive to the fact that unit studies are great for teaching multiple-aged kids. But. remember…. your older kids can work independently with Online Unit Studies. That gives you a chance to connect with the younger ones. All the kids are learning the same things, but you'd just have a few different activities for the younger set.
I'd love to know your thoughts about tech for younger kids. Am I totally off base or have you had a similar experience? Leave a comment and let me know. 


Want some techie homeschooling tips and inspiration delivered to your inbox? Sign up here for weekly-ish emails from me.
Techie Homeschool Mom is a participant in the Amazon Services LLC Associates Program, an affiliate advertising program designed to provide a means for sites to earn advertising fees by advertising and linking to Amazon.com. You can read my full affiliate disclosure HERE.