A Customizable Homeschool Student Planner for Independent Learners
Hey, just so you know ... This post includes affiliate links. That means if you use them to make a purchase, I may earn a commission. You can read my full affiliate disclosure HERE.
As a homeschool mom, one of my goals is to guide my kids to be independent learners. I want them to take responsibility to keep track of what needs to be done without needing to nag them. I want them to learn how to manage their time to get the job done. So, naturally, I want them to use a homeschool student planner on their own, not use a planning method dictated by me.
Because, you know… life skills.
But, over the years, as my kids have become more independent, I've gotten lazy about making sure they're really doing the work. It was easier back in the day when I was right beside them, doing more "teaching" and "directing". But nowadays, I'm more of a facilitator of their home education.
This is, until I fall into homeschool mom freakout mode – you know, the one where you worry that you're not doing enough and that your kids aren't going to be prepared for life. And end up homeless bums.
So, I crack the whip and try to dictate my kids' learning schedule and make life miserable for everyone (and undo all the strides I've taken towards developing independent life-long learners)
That's why I created this homeschool student planner page for my kids.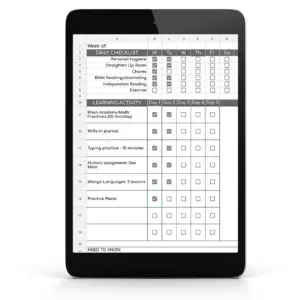 You see, we have a relaxed learning flow in our home, fully embracing the "eclectic homeschool" label. And lots of that learning happens online. My kids know that they need to follow the sequence of their online courses (or the few workbooks we use). So, this handy checklist helps us avoid the "I forgot to do my math today" situation.
I just give my kids their list weekly and they check off their daily routine and learning activities for the week.  They've got space to write in other "To-Do"s that come up throughout the week.
And I don't need to nag. I can just look at their list anytime. Although, I got smart and made one of the items on the list "Report to Mom when you're done". This puts the responsibility on their plate because…
Again … life skills.
I'm sharing this life-saving (or at least mom-child-relationship-saving) planner with you.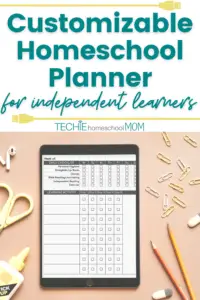 How To Use the Digital Homeschool Student Planner
I made this planner template in Google Sheets, so it's fully customizable. I can change the daily tasks to whatever I want. And it lives in my Google Drive folder for easy access from any device.
Then, I edit each week to add general assignments. If you need to get more detailed with what lessons to complete each day, then this wouldn't work for you. Instead, you'll want Homeschool Planet. 
Once I've got it updated, I print it (since that's what my kids prefer, although it can be used digitally as well).
This is how we use the digital student planner …
So, what do you think? Would using a digital student planner like this benefit your family?
I've made our little planner page into a template so you can use it as well. You just need to  SIGN UP HERE and I'll email you a link to the spreadsheet. Click the "Copy" button. It will save to your Google Drive and then you can change and/or fill in any parts you need.
You'll find three different forms in the file.
"4 Learning Days" – use this if you homeschool four days a week
"5 Learning Days" – use this if you have a five-day learning schedule
"Daily Sheet" – I made this to print on the back and have my kids to make daily to-do lists. They don't, but maybe yours will.
The best thing about this planner is that it's fully customizable. You (or your kids) can make it your own with personalized colors and fonts. And if you're a spreadsheet whiz, you can even customize it more.

Tell me … what things do you do to encourage your kids to become independent learners?
Related Posts