There's value in learning what curriculum other families use for homeschooling. I learn about new products or get some confirmation about a resource I was considering. I can also discern what won't work for the learning styles of my kids. And I can decide on the best resources to reach our goals for home learning. [Related Post: How I Answer When Asked "Why Do You Homeschool"]
Even though we homeschool year-round, I usually evaluate our plan in August and rework our home learning routine. So, I thought I'd share our new home education plan with you in case you need some ideas for your family.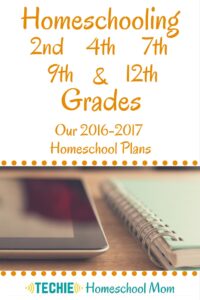 A few things to consider….
In the mornings, the girls (remember, I only have daughters) work on the courses that are specific to them….either by grade level or interest.

In the afternoons, we do our "family learning"…those things that we all do at once.

My 14-year-old is developing into a more independent learner, so I don't expect her to participate in all our family learning time. As long as she's productively pursuing her interests and talents, she's on her own.

My 17-year-old is enrolled in online college courses, so she's totally on her own for learning.
[Related Post: How We Homeschool – Our Daily Routine]
Our 2016-2017 Home Education Resources
Alexa (2nd grade)
Karissa (4th grade)
Lara (7th grade)
Julia (9th grade)
Mikayla (12th grade)
2nd year of Community College, pursuing an Associates Degree in General Studies and Certificate in Event Planning
How about you? What homeschool materials are you using?

Want some digital learning tips, plus free and discounted Online Unit Studies? Sign up for Techie Homeschool Mom's email list.