Best Video Editing Apps and Tools for Kids
Hey, just so you know ... This post includes affiliate links. That means if you use them to make a purchase, I may earn a commission. You can read my full affiliate disclosure HERE.
If you have a future videographer on your hands, I've rounded up some of the best video editing apps and tools for kids. Do you have an aspiring YouTube star? Or wannabe TikTok king? Maybe your kids are into stop motion videos or want to make a full-length movie! Video editing programs can be complicated and expensive – some even require special computers to even make them work well. But, there is a new generation of apps that have democratized the editing field and made it much simpler. 
How simple? So simple even kids can use them! 
Here are some of the best video editing apps and tools for kids. The apps will be grouped into approximate ages for use as some may require a little more technical know-how, manipulation, and reading.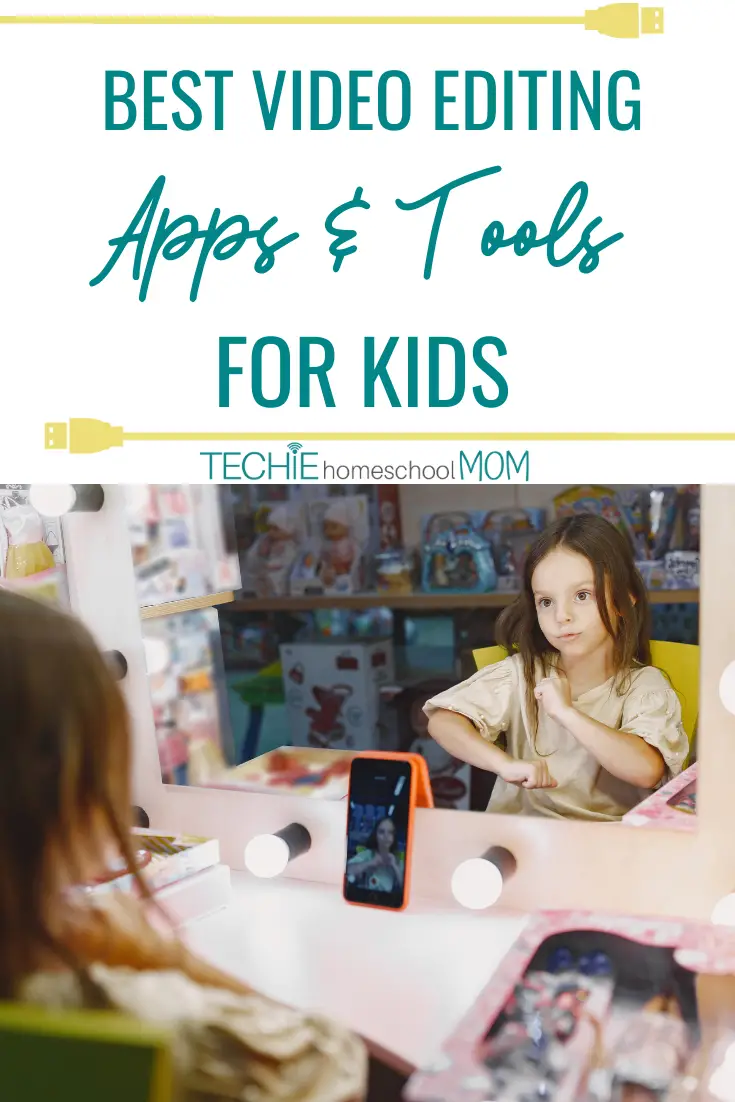 Best All-Around Video Editing Apps
These are some of the best video editing apps on the market. While they're not targeted to any age group specifically, they are simple enough that most kids are 12 and will be able to pick them up and with a little bit of playing around figure out how they work. None of the apps listed are ranked in any order, rather they're presented with the good and bad of each. 
This app is a good video editor for kids and adults as its interface is straightforward and user-friendly. You can edit your footage, merge several clips, or create slideshows from pictures with music. There are such simple video editing tools as cutting and cropping clips, changing video speed, adding text and filters, and many more advanced features. This video editor also allows you to work with audio and record a voiceover. Besides that, you can choose music from the built-in library of the app.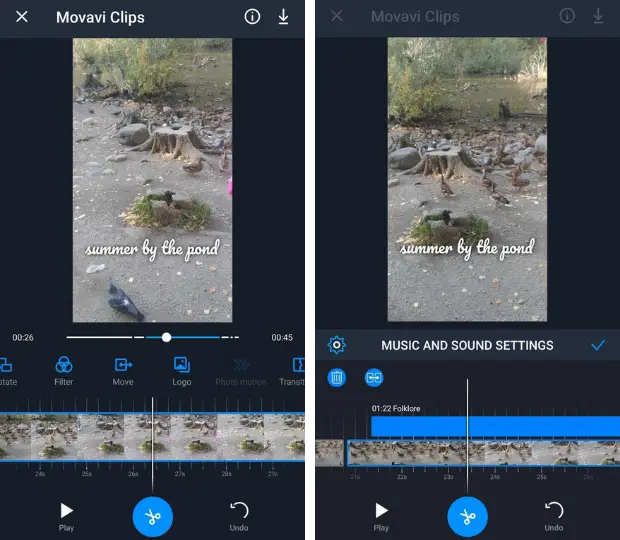 Available for: iOS and Android
Price: Free with paid upgrade options
This is overall a good app for anyone that is a beginner. The app has templates that can be used and then media drag and dropped in. Users choose to import their own footage or shoot video in the app. Then choose a theme, music and duration of the video. The app then edits and assembles the final product. Users don't have a lot of control over the final product. 
Available for: IOS and Android
Price: Free with paid upgrade options
For teens that have social media accounts they are creating content for InVideo is one of the best options to look into. You can start from scratch or use one of the hundreds of templates they have available, swapping out your own information. There definitely is a learning curve with this app however it gives you a lot more freedom to adjust and play with various editing tools and effects.
Available for: IOS and Android
Price: Free Trial and then $15/$30 Plans
This app touts itself as the alternative to Apple iMove and Windows Movie Maker. It can be used both on a desktop and mobile device. Filmora has a lot more functionality and options which is good but also means there's more to learn. For kids that are really into film and film editing it's a cool app to play with. 
Available for: IOS and Android
Price: Between $49.99 and $158.87 a year depending on your choices. 
If you've got a Mac product you won't have to pay extra for this program which is already a plus. The program has plenty of simple editing tools, filters, special effects and soundtracks. It also has a limited number of templates available so kids can drag and drop what's requested and will have a film created in no time! 
Available for: IOS and Mac products
Price: none – standard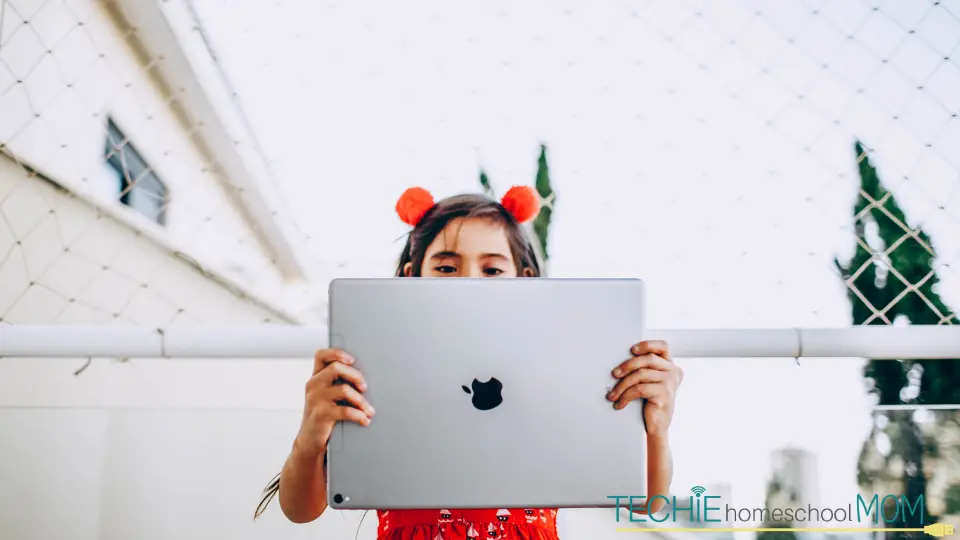 This free video editor works online in your browser, so you don't need to download any apps or software. You can upload your own videos or images, or get started with any of their hundreds of free templates. This editor also makes it easy for kids to work on projects together. The best part is that the free option has tons of easy-to-use features, and there's no watermark or ads.
Available for: iOS, Android, and desktop
Price: Free, with upgrade options
Best Apps for Younger Kids (under 10)
While some younger kids might be able to hop on and navigate those slightly more difficult apps, there are other options that have kept the theme in mind. 
This app uses a lot of visual imagery to help users determine what to do next to work on their video (instead of requiring a lot of reading). It also has auto stabilizing capabilities which is important – especially if you've ever seen a 7 year old handle a camera!) Of course there are more advanced features that they can build up to as they age. 
Available for: Windows
Price: All basic features free. Lifetime Pro License $15.99
This is a creative storytelling app that is perfect for kids who want to create their own video but to make it animated. Toontastic lets them do just that. Design the characters, build their world and even set them up in themed situations. It's not quite the same as shooting a video and editing it but it can help young kids learn about storytelling and the components of a film in an easier and engaging way.
Available: Google Play Store, Apple App Store
Price:  Free
This app lets you take existing content, tweak and edit it to create a video you'll love. It's a bit easier to use than some other apps especially if you're using your phone as opposed to a desktop scene. 
Available: Apple App Store
Price: Free to $19.99 a month
Conclusion
Take the guesswork out of resources to use for your kids who love all things video and video-making. Give the apps mentioned above a try and watch their passion soar!
Recommended books for kids who love video editing
Have you found some awesome apps not listed above? Put them in the comments below!

Related Posts

Want some techie homeschooling tips and inspiration delivered to your inbox? Sign up here for weekly-ish emails from me.
Techie Homeschool Mom is a participant in the Amazon Services LLC Associates Program, an affiliate advertising program designed to provide a means for sites to earn advertising fees by advertising and linking to Amazon.com. You can read my full affiliate disclosure HERE.