Hey, just so you know ... This post includes affiliate links. That means if you use them to make a purchase, I may earn a commission. You can read my full affiliate disclosure HERE
Making decisions about kids and smartphones is a new thing for our generation as moms. We know that our phones ( when used in a healthy way) make our lives much more efficient, but we're torn about whether our kids really need a phone of their own. And when they need them.
I addressed the question of  "When Should I Buy a Smartphone for My Child?" in a previous post. But more decisions loom after you decide you should, in fact, get a phone for your child.
…What kind of phone should you get?
…Where's the best place to buy? 
…What apps do your kids need?
…And how do you manage their cell phone usage so they stay safe?
I've had the experience of setting up three children with their first mobile phones, so I've gained some insight. Plus, we talk about kids and smartphones periodically in the Techin' Your Homeschool Facebook group, and I've gleaned the advice of other families. Hopefully, this advice will help you as your child matures to having their own phone.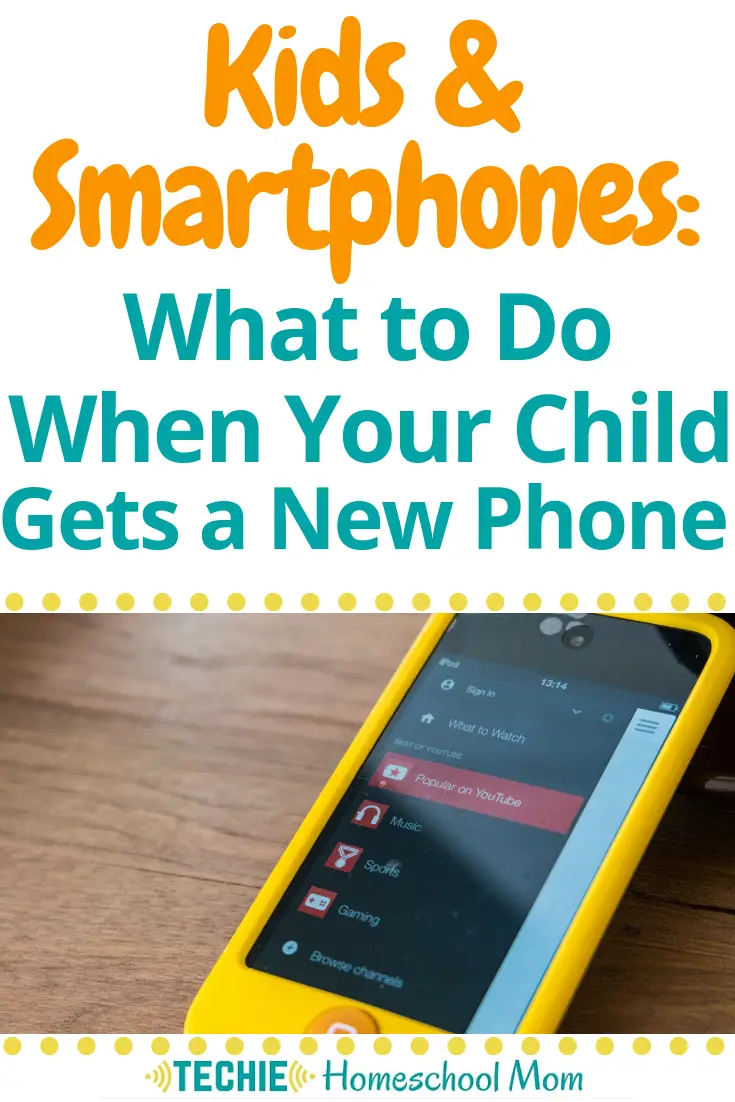 What's the best mobile phone for kids?
This is something that will vary based on your family's preferences and needs. However, I recommend the following three guidelines:
Buy the cheapest option that fits your needs
There's no need to spend $500 on your child's first phone. If you have an old phone that still works, that can be perfect until you can upgrade. You can also buy refurbished phones. (Check out this article: How to Save Money on Your Family's Mobile Plan)
Stick with a familiar operating system
I recommend buying everyone in your family phones with the same operating system. Not only will it reduce or eliminate a learning curve, you will also find it easier to use family communication apps that are only available on specific operating systems.
Get a phone with the right amount of memory
If you want your child's smartphone to be solely for important communication, consider getting a smartphone with limited memory. That way, they won't have the memory space to add a lot of extraneous things like mobile apps. If they are using the phone for more than that, consider getting a phone with more memory.
Where to get your child's first phone?
Obviously, there are a thousand different places you can shop for a new phone, both online and offline. Gone are the days when you had to go to a place like AT&T to buy a phone. These days, you can even find them at the pharmacy. However, my best recommendation is Gazelle. 
Gazelle is the nation's leading consumer electronics reCommerce site, providing an easy, fast and safe way for consumers to get cash for their used electronics or buy certified pre-owned devices. Gazelle pays you cash for your used gadgets when you're ready to get new ones – cash you can use towards a new certified pre-owned device on Gazelle. In essence, Gazelle rewards people for approaching consumption in a smart, environmentally responsible way. Rather than discard a device you no longer value or use, Gazelle provides original owners with an opportunity to exchange it for cash and then put that cash towards a certified pre-owned device.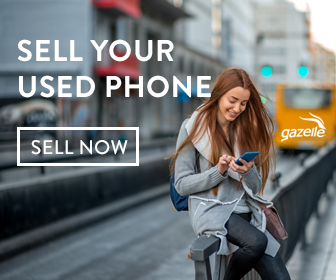 I like what Gazelle stands for with the recycle and reuse twist. And know that I can get an affordable device. They limit their selection to certain brands of phones, which makes the buying process less overwhelming. I prefer purchasing from them over my phone service provider.
When it comes to getting a phone for my child, though, we usually hand down a device from my husband or I. Then we get to choose a more recent current generation phone from Gazelle. It's a little easier spending more when it's my phone vs. a kid or teens'.
How to Set Up Your Child's New Mobile Phone
Of course, you'll need to refer to the phone's user manual when setting up a specific model however, experience has taught me these few tips:
Involve Your Child in the Set-up Process
Most likely, your children will be getting new phones for the rest of their lives, so setting up a new phone is a necessary life skill. They need to understand the process and will learn best by doing. Who knows … your digital immigrant may be able to teach you a few things.
Turn on automatic wifi connection
This will ensure that your child's device will connect to your home wifi network automatically instead of you having to enter the password every time.
I learned the need to do this the hard way. When my daughter got her phone, she used 2 GB of data in 5 days because her phone wasn't finding wifi networks, even in our own home.
Add family communication apps
Being able to communicate and organize things with your family is key. So, each family member needs to have the apps you use installed on their phone.
For example, our family uses Facebook Messenger to send messages to each other. And I keep track of our family schedule with Google Calendar. Shopping lists are saved in Google Keep and I share homeschool assignments via Trello. This means, all those apps need to be installed on all our family members' phones.
Add tracker/monitoring apps
I recommend adding some type of tracking or monitoring app like Life360 Family Locator.  With it, you can easily use your phone to find out where your child is. You may also want to install an internet safety app to protect the phone's data and your child from malicious online activity. You can learn more about internet safety tools HERE.
Setting Phone Usage Guidelines for Kids and Teens
Next, you need to your kids about smartphone usage and to set some healthy guidelines. Here are a few family standards I recommend:
Having a smartphone is a privilege, not a right
Remind your child that having a smartphone is not a right to which they are entitled. It is a privilege that you are extending to them. And that privilege can be revoked at your discretion.
It's for communication, not status
Although having a cool, new smartphone can be exciting, impress upon your child that it does not reflect on who they are as a human being. Kids (teens especially) can get really caught up in comparing what they have (or don't have). This can lead to self-esteem issues and even bullying. Help your child to understand that their cell phone should have no bearing on how they feel about themselves (or others).
Do not ignore calls from parents
If you feel like you need to, remind your child to always answer calls from you. After all, one of the benefits of them having a mobile phone is that you are able to reach them when you need to. When they don't answer the phone, it can cause stress as you worry about WHY they aren't answering. This can be avoided if they practice the simple habit of answering your phone calls.
Also let them know that if they can't answer the phone right away (because they are working or doing something that prevents it) that they should message you or call you back as soon as they are able. With a locator app like I mentioned above, you will at least be able to figure out where your child is.
Usage is limited
Set guidelines for when, where, and how long they can use their smartphones. These rules will vary depending on the family and the child. For example, some families want mobile phones to be used only in emergencies and only to call family and specific friends. Others simply don't want their kids to use their phones when they are at home, so they can focus on being a family.
However, two hard and fast rules you should have is to not use your smartphone while driving or doing anything else that requires your steady focus and to not use it at times when using it would be rude (such as at the dinner table, at church, at school, etc).
Don't create or send unsavory content
We've all heard about cases of kids sending inappropriate pictures or videos that ended up being seen by more than the intended recipient. Or kids using smartphones to engage in various forms of cyberbullying. As a general rule, teach your kids not to send, record, or snapshot anything that they would be embarrassed for family and church members to see.
Don't answer calls or texts from strangers
Another good guideline is to remind your child to not answer or respond to communications from strangers. If they get a call or message from someone they do not know, they should ignore it and show it to you. They may very well just be innocent calls/texts that were sent to the wrong person, but it's better to be safe than sorry.
There's a lot to be considered when your child gets their first phone. You want to set them up to developing a healthy attitude about mobile devices, warding off addiction and unsafe behaviors. Your child needs to understand that technology is a tool, not a toy. It makes life more manageable. The way you handle setting-up a child's first phone will make a life-long impression.
Tell me … Which parts of this advice about kids and smartphones make sense to you? What are your plans for your child's first phone?
Recommended Reading for Techie Homeschool Moms:
 The Tech-Wise Family: Everyday Steps for Putting Technology in Its
 Hands Free Mama: A Guide to Putting Down the Phone,
 Hands Free Life: Nine Habits for Overcoming Distraction, Living Better,
 Parenting in the Age of Attention Snatchers: A Step-by-Step Guide
 Apps All Parents Should Know
Related Posts

Want some techie homeschooling tips and inspiration delivered to your inbox? Sign up here for weekly-ish emails from me.
Techie Homeschool Mom is a participant in the Amazon Services LLC Associates Program, an affiliate advertising program designed to provide a means for sites to earn advertising fees by advertising and linking to Amazon.com. You can read my full affiliate disclosure HERE.