Hey, just so you know ... This post includes affiliate links. That means if you use them to make a purchase, I may earn a commission. You can read my full affiliate disclosure HERE
One question that I get asked A LOT is "Is my X-year-old child too young to get a cell phone?" As parents, we often struggle with this dilemma. We have discussions with our partners (or our inner selves) about why (or why not) we should buy a smartphone for our child. And the answer is not always clear. 
Pros and Cons of Your Child Having a Phone
Ok, so let's talk about the positive aspects of getting your kids a smartphone first.
They have a way to communicate in emergencies
I think that this one is at the top of every parent's list when it comes time to make this decision. It makes us feel better knowing that, if ever there is an emergency, our kids can call someone for help – whether it is us, a family member, a friend, or 911. Having a phone on hand during an emergency situation can literally be the difference between life and death.
You have a way to reach them when you need to
It also puts our minds at ease when they become older and more independent to know that they are a mere phone call away if we want (or need) to check in with them. Whether you are concerned about their safety, want to remind them of their curfew, or just want to ask them what they want for dinner, being able to call or send them a quick text message is loads better than waiting for them to get home.
They have access to educational information for homeschooling
If you use online courses for homeschooling, your child can use their phone to learn on the go. And there's value in grabbing the phone to research more as curiosities arise. Plus, if you share homeschool assignments via an app, your phone-weilding child never has an excuse for missing an assignment.
But there are some drawbacks to consider.
It will increase your monthly expenses
If you're on a tight budget, then buying your child their own phone can become problematic. For one, you have to buy the actual phone. Then, you have to pay for them to use it by buying minutes, paying for a monthly contract, or adding them to your phone plan. Then, when you add on other possible fees, such as ringtones, text messages, data usage, downloadable content, roaming charges, etc, it can end up costing a pretty penny. But, if you consider THESE TIPS, you can learn how to save money on your family's mobile phone plan. 
Phones may pose health risks if not used wisely
This may seem dramatic, but the health risks associated with cell phone usage are worth considering. Not only can kids (and, let's be honest, adults) become addicted to their cell phones, prolonged usage can lead to physical ailments such as eye strain and "digital thumb".
Social media access can lead to cyberbullying and other online threats
Back in the day, cell phones were just used for making phone calls and possibly sending text messages. You MIGHT have been able to take and send pictures if you had a cell phone with a camera. These days, though, not only can you send/receive text messages and pictures with your smartphone, you can also download all types of mobile apps- including ones for social media and dating websites.
With the very real existence of cyber bullies and online sexual predators, smartphones give your kids access to things (and people) that can pose a safety threat. Add in cybersecurity issues and it can be kind of scary.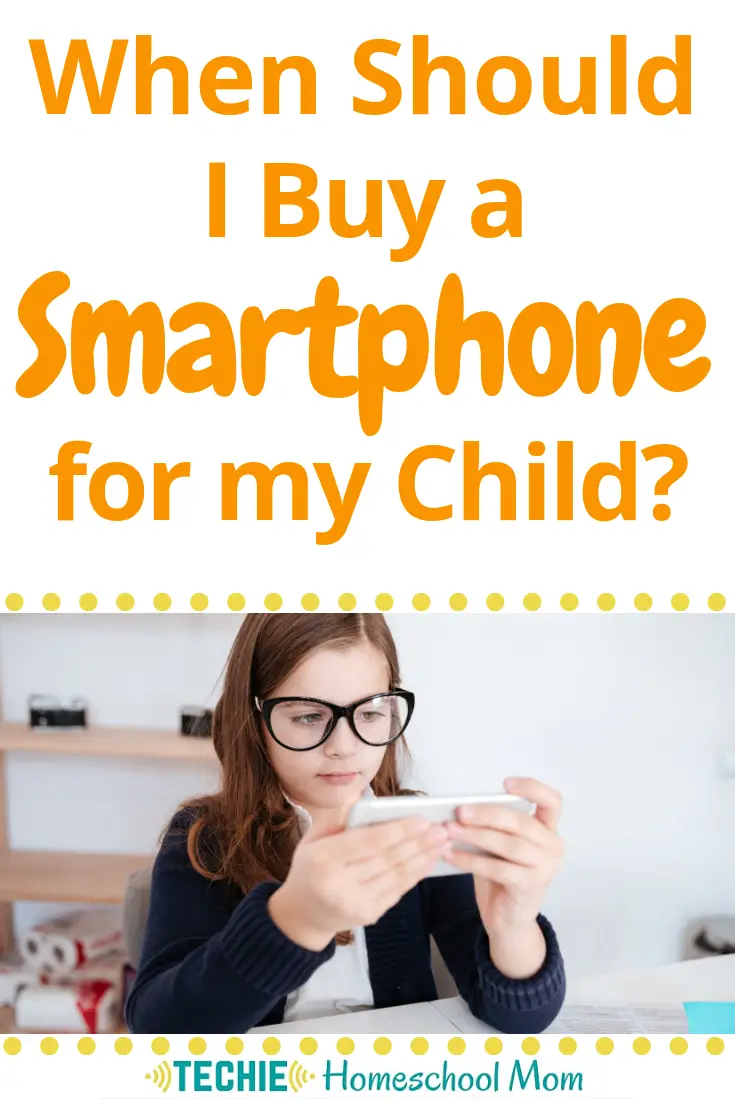 The Best Age to Buy a Smartphone for Your Child
There is not set-in-stone answer to when kids should get their first smartphone. It varies by family and even culture as explained in THIS ARTICLE from CNN. Each family unit is different. They have different needs, beliefs, and reasons behind this question. Additionally, each child is different.
I can't give you an age to go by. However, here a few questions to ask yourself when it comes time to make the decision to add your child to your cell phone plan:
Is your child responsible enough to follow the rules and guidelines for their new cell phone?

Will your child be away from home often and need a form of communication?

Has your child shown an interest in wanting their own cell phone?

Do you feel that your child is ready to have this responsibility?

Are you willing to pay for your child's cell phone or will they need to pay their own bill?
These questions, when answered, will help you to determine the best time to add your child to your cell phone plan.
Many families have children who attend extra-curricular activities as young as 9 years old and feel more comfortable with a basic text-and-call cell phone to start with. Meanwhile, other families jump right into the smartphone and have their child follow specific rules and guidelines for use of their new smartphone. The reality is children are getting cell phones younger and younger. You'll need to answer the above questions for yourself to determine if your child is ready to be added to your cell phone plan.  
Advice from Other Moms
Recently, other techie homeschool moms shared in Techin' Your Homeschool when asked how old their kids were when they got their first phone, what kind it was, and who paid for it. Heir experience may help you decide when it's best to get your child a cell phone.
"My kids 11 and 9 have old cell phones from family but only at home (wifi, no service)."– Natalie
"We have some old Iphones, gifted from grandparent, that they use as iPods with WiFi. We just got my 16-year-old a phone BC he will be working and driving alone soon. We use Boost Mobile prepaid and got on their back to school special which was 3 lines for what we were paying for 2. We bought him the $79 Samsung phone that we both use as his bday gift."– Chantelle
"11 & 17 and we pay. The 8-year-old only uses old ones with wifi. We have Family Base through Verizon which has some limits."– Dachelle
"Our kids get their first phone in the sixth grade. We are an Apple family so everyone has an iPhone. Kids are 9 (no phone, iPod only), 11, 13, 15, 19, and 20. We pay for the younger ones, 19 & 20-year-old pay half."– Tatiana
"Our daughter was 16 or 17 only because she was leaving home for the summer. Our eldest was 21…because we were leaving him. We have an old smartphone, with blocked data for our 14 & 12-year-old to USE IF they leave the house. We still pay for all the phones…not sure why we just do." – Shannon
"When we next upgrade, we'll be passing our S3's to our kids. What I haven't decided yet is whether to keep them as wifi-only devices or to enable them with pay-as-you-go talk/text (but no data package)."– Karen
"Only our kids that have graduated from high school have phones with data or WiFi. The high school kids have talk and text phones only-non smartphones. The all pay 20 a month towards our family plan."– Devonne
"My oldest 22, 20, 16 they all pay their own phone bills, I have 14, 12, 8 who don't. But we are adding a line as a family line for the 14-year-old to use while babysitting or when he has appointments away from me. We will pay, but as he shows responsibly we will transition it to his phone and he will pay. That is how we did it with each of his older brothers. He probably will not receive it as his until he is 16."– Betty
"Our oldest has had her own phone since she was 15. It was a former employee's phone, and we figured since we were under contract, we might as well make it the " kids phone". It eventually became "her" phone. We pay for it, but she no longer earns money for household chores. The phone is her pay. We are getting ready to get a phone for our almost 15-year-old. There have been too many incidents lately when we wish she had one. We'll pay for talk and text. She wants data, and since she has proven responsibility, I'm ok with her having it. She'll be paying that portion."– Beth (Me)
"My son who is 17 has had one since he was about 13 because he would do a lot of scout stuff away from us. My now 14-year-old doesn't have one yet, we are looking for a good plan. What the good deal is. We have a great deal plan for three of our phones with Sprint, but can't have any more phones on it. So, I'm looking at what to do next."– Liz
Once you decide that the time is right to purchase a smartphone for you child, you need to decide what type of phone and how you will manage the usage. Read "Kids and Smartphones: What to Do When Your Child Gets Their First Phone" to discover the next steps.
Tell me … Do you think the time is right for buying a smartphone for your child? Why or why not?
Need some help managing your family's screen time?
Download a set of tech time guidelines and tailor it to your family's needs.
Sign up to receive Techie Homeschool Mom's Family Tech Time Guidelines
Must-Have Tech for Homeschooling
2017 Acer Chromebook 11.6

Apple iPad 2 16GB

Roku Streaming Stick

DOSS Touch Wireless Bluetooth Portable Speaker

Skullcandy In-Ear Noise-Isolating Earbuds

Related Posts

Want some techie homeschooling tips and inspiration delivered to your inbox? Sign up here for weekly-ish emails from me.
Techie Homeschool Mom is a participant in the Amazon Services LLC Associates Program, an affiliate advertising program designed to provide a means for sites to earn advertising fees by advertising and linking to Amazon.com. You can read my full affiliate disclosure HERE.