Hey, just so you know ... This post includes affiliate links. That means if you use them to make a purchase, I may earn a commission. You can read my full affiliate disclosure HERE.
Geography used to mean passing around a globe or pointing at a flat map the size of a classroom wall. Lucky for us, we live in a more advanced age, where geography doesn't have to be dry facts and can instead be immersive learning experiences. Check out these cool geography apps that bring some techie fun to your child's education.
Geography Apps for Kids
Planet Geo is full of fun map puzzles that cover countries all over the world! The bright colors and easy to understand games make this app perfect for all ages! iTunes
---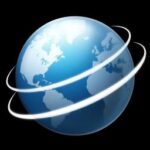 The Countries of the World app helps kids learn about what makes each country special! From flags to languages, your students will learn not just geography, but culture too! Google Play
---
From National Geographic, there's the GeoBee Challenge! This one is for your older students, 4th-8th grade is recommended. With multiple choice quizzes, map landmark hunting, and other game modes, your kids will love the fun and challenge this app brings! Google Play / iTunes
---
Learning states, countries, and continents is a breeze with TapQuiz Maps World Edition! Your kids will fill in the blanks on the map as they master each new part of the world. This is also great for learning state names! iTunes
---
With a classic chalkboard art style, this app really makes it feel like a classroom! Learn names, flags, and other details about various countries, and even dig deeper into where cities are in a number of countries! iTunes

With features like a global score leaderboard, learning becomes a game to even the most stubborn learners! Learn countries, capitals, and flags of the world with this highly rated trivia app! Google Play
---
With tons of learning game modes and no internet required, this is a great app for keeping those skills sharp while traveling! Seterra Geography covers info for all age groups, going into as much or as little detail as needed. Google Play / iTunes
---
Using the latest in cognitive science techniques, the developer Brainscape promises faster and easier learning of world geography. With stellar reviews, this app really works! Give your students a leg up in geography this year! iTunes
---
What do you get when you cross geography with Tetris? Stack the Countries is an awesome game where the more you learn, the more you get to play! Build a tower of countries to reach the finish line! Google Play / iTunes
---
While this doesn't contain any games or quizzes, Google Earth is an insanely valuable tool when learning about the world. Take off to anywhere on earth with up to date 3d satellite scans of the entire globe! Nothing helps hands-on learners quite like Google Earth. Google Play / iTunes
---
Save the world with your geography skills in this crazy game! Younger kids will love the art and story of this surprisingly effective educational geography game! iTunes
---
This app is focused on the geography of the United States, but has tons of information for your students! "Travel" around the US learning about the location of states and their geographical landmarks! Google Play / iTune
Tell me, have you discovered any other cool geography apps? Or used these apps I mentioned? What do you love about it?
Discover more apps for homeschooling …
12 History Apps That Will Get Your Kids Excited About Learning
Fun Music Learning Apps Your Kids Will Love
Science Learning Apps to Use in Your Homeschool

Want some techie homeschooling tips and inspiration delivered to your inbox? Sign up here for weekly-ish emails from me.
Techie Homeschool Mom is a participant in the Amazon Services LLC Associates Program, an affiliate advertising program designed to provide a means for sites to earn advertising fees by advertising and linking to Amazon.com. You can read my full affiliate disclosure HERE.
.