Hey, just so you know ... This post includes affiliate links. That means if you use them to make a purchase, I may earn a commission. You can read my full affiliate disclosure HERE
Creating a timeline is a common project for students, especially when it comes to history curriculum. Many popular homeschool methods and curricula encourage timeline creation, so most likely it is part of your home learning. Many homeschoolers rely on notebooking for making their timelines. But, how cool would it be if your kids could create a timeline online using an app? Then show off their interactive, multimedia creation to the world?
I'm a history lover, organization freak, and visual learner, so I pretty much geek out over timelines. To add history to our unit studies, our family has used multiple methods over the years to create timelines. We've done a drown-yourself-in-paper timeline notebook, the large hide-it-under-the-bed posterboard, and the take-over-a-wall-in-your-home timeline methods.
When we started embracing the whole digital learning thing, I've realized that my kids could use online timeline makers. As 21st century learners, they need to apply what they learn and to create. It's a great way to put new-found knowledge into action.
I found these interactive timeline makers for students. Fortunately, I don't need to "teach" them how to use these tools. My girlies are so much more digitally literate than I am (I'm sure you can relate). They can use the tutorials on the timeline creator sites, or check out YouTube for tips and tricks, to figure out how to create a timeline online.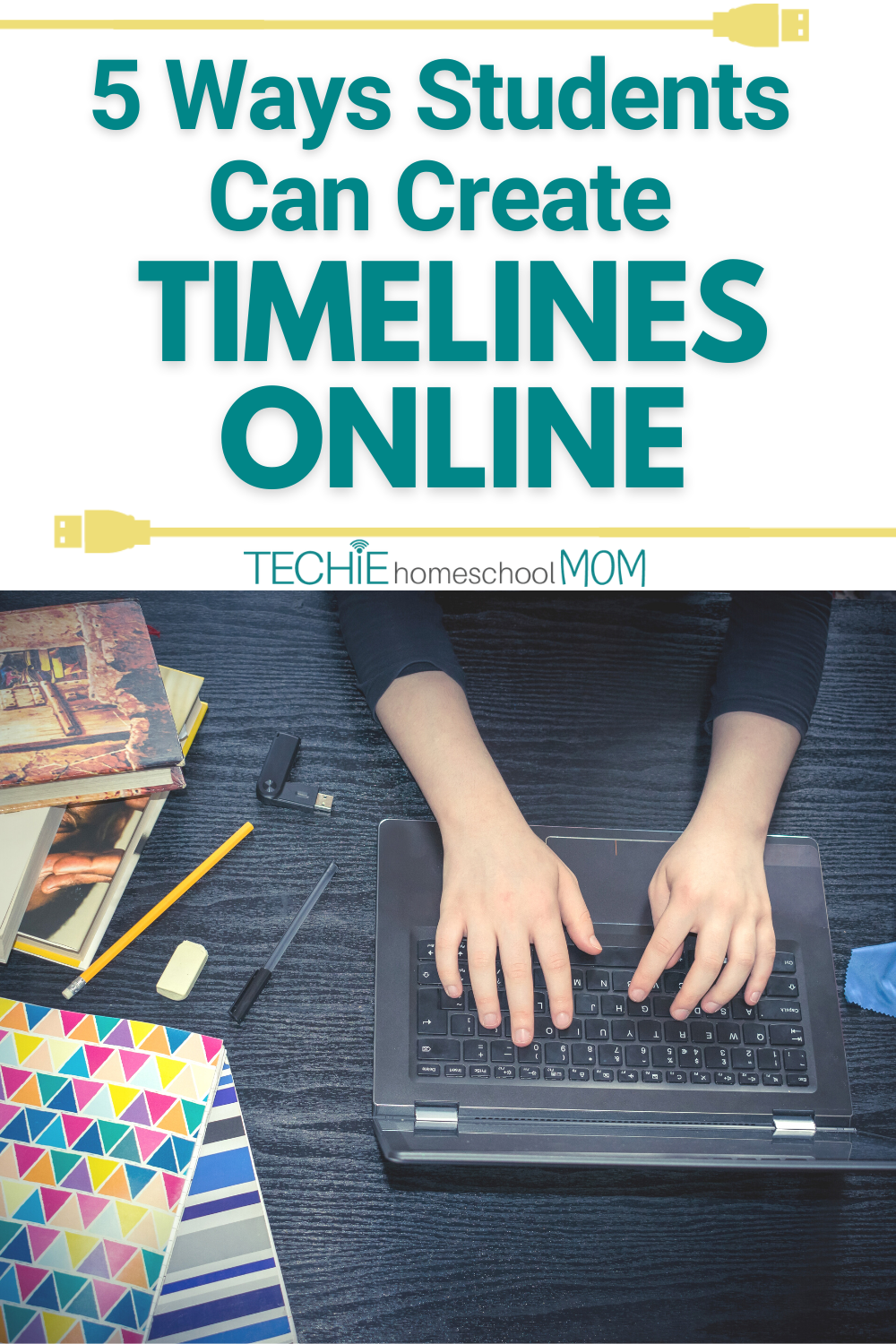 Best Ways to Create Timelines Online
Prezi is a presentation tool that uses one large canvas, allowing you to pan and zoom to "travel" to various points of interest. You can use templates or create Prezis from scratch, and get as creative as you want by adding in text, images, and even videos. It's sort of link Powerpoint on steroids because you have more flexibility in mapping out your viewers' path. Timelines are just one type of project students can create with this fun tool.
Here' an example of one student's timeline about the American Revolution.
Emaze is an engaging multi-media presentation creation tool. It enables you to move beyond simple slideshows to create your own unique presentations online by using pre-designed templates. They have a great timeline template and so many more possibilities for other visual projects. Once your child figures out how to create a timeline, they'll be able to understand the basic concepts needed to create more projects with Emaze.

Tiki-Toki is the only 3D timeline maker on this list. Your kids are sure to impress when they present a timeline that zooms in and out of different time periods and historical events. Tiki-Toki has four different view types and extensive date formatting options. The search and filter features are particularly helpful when both creating and presenting a project. Like with many of these other timeline makers for kids, you can include images, video and audio to bring the historical events to life.
Navigate around a Tiki-Toki timeline HERE.
Timetoast is the simplest online timeline creator on this list, meaning it's a good choice for younger students who might get frustrated with one of the more robust timeline creators. You can still add images and descriptions of historical events to create an interactive timeline and switch between a timeline and list views. It just doesn't look as snazzy as some of the alternatives.
Another option for creating a timeline is Time Graphics. Students can embed other media, like text, videos, charts, and more. One nice feature is the ability to download the timeline or export it for offline viewing. Time Graphic provides a gallery of pre-made student timelines that will inspire your creators.
So, what is your experience with timelines? Have you tried any online timeline creation tools? Think your kids would like to create timelines online? Leave me a comment below.
Must-Have Tech for Homeschooling
2017 Acer Chromebook 11.6

Apple iPad 2 16GB

Roku Streaming Stick

DOSS Touch Wireless Bluetooth Portable Speaker

Skullcandy In-Ear Noise-Isolating Earbuds

Related Posts

Want some techie homeschooling tips and inspiration delivered to your inbox? Sign up here for weekly-ish emails from me.
Techie Homeschool Mom is a participant in the Amazon Services LLC Associates Program, an affiliate advertising program designed to provide a means for sites to earn advertising fees by advertising and linking to Amazon.com. You can read my full affiliate disclosure HERE.