Hey, just so you know ... This post includes affiliate links. That means if you use them to make a purchase, I may earn a commission. You can read my full affiliate disclosure HERE
Techie Homeschool Project:
Illustrated Quote Graphic
You see them all over social media…a beautiful photos with inspiring quotes. It brighten your day, get you thinking and encourage you to keep on going.
Illustrated quote graphics are a great project to add to any homeschool study. No matter what you are studying, you can find a memorable quote. It might be wisdom from a notable person or a quote from a favorite story. When your children create their own illustrated quote graphics, they're activating deep thinking. They're evaluating memorable words of others, then discovering the perfect picture to go with those words.  Plus, they are developing a techie skill and maybe igniting an interest in graphic design.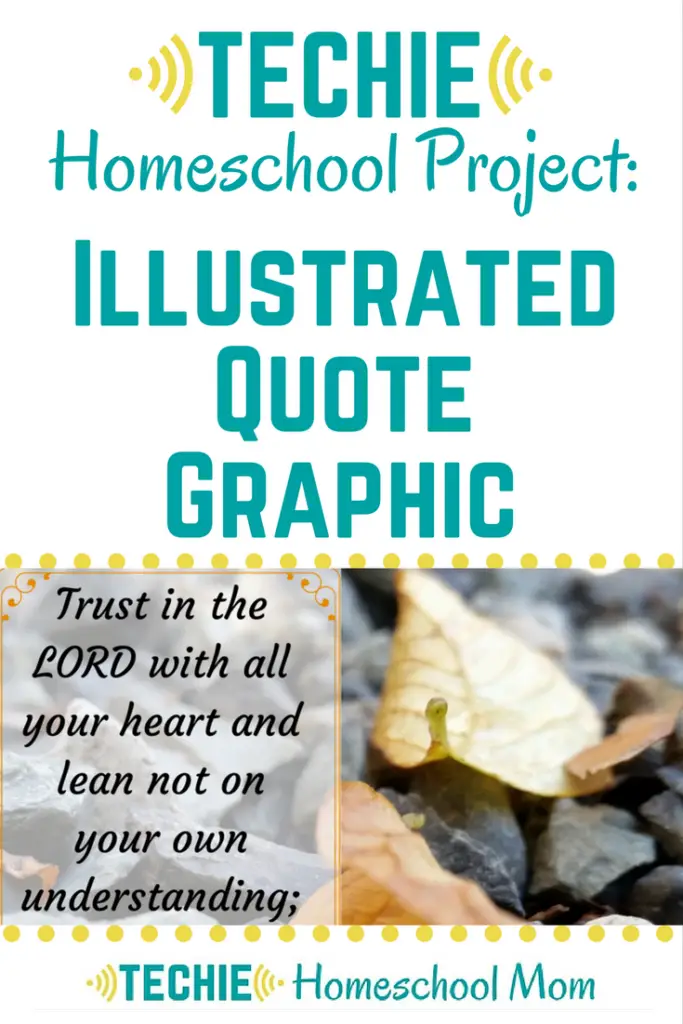 When selecting a photo for your project, be sure to follow the rules for using online images. (Learn more about that HERE) Or take your own pictures or use original artwork.
There are plenty of apps that will create your quote graphic instantly, but I encourage my daughters to create their own with a graphic design program like PicMoney or Canva. They're able to personalize their image and use lots of problem-solving and reasoning in the process.
This tutorial for creating an Illustrated Quote Graphic with Canva will get you going. And I'm sure your digital natives will discover lots of great tricks to personalize their projects in no time.
I'd love to see what your kids' creations. When they're done, why don't you upload to Instagram and tag me (@techiehomeschoolmom), OK? [RELATED POST: Using Social Media as a Learning Tool]
This is the sort of techie project that homeschoolers create with Online Unit Studies. Check out our full course selection HERE.

Want some techie homeschooling tips and inspiration delivered to your inbox? Sign up here for weekly-ish emails from me.
Techie Homeschool Mom is a participant in the Amazon Services LLC Associates Program, an affiliate advertising program designed to provide a means for sites to earn advertising fees by advertising and linking to Amazon.com. You can read my full affiliate disclosure HERE.