** This is a sponsored post. I received this product or compensation for review purposes only and was compensated for my time. I was neither asked nor required to share a positive review; all opinions are my own. READ HERE for more information.
If you hang out with me for more than a minute, you know that I geek out over webtools. I love finding apps and software, most of which are designed for schools or businesses, and figuring out how homeschoolers could use them. It's part of my personal mission to inspire you to add more tech to your home education.
Let's face it…. with all the online learning opportunities available, our kids learn way different than we did at their age. They are both "consumer" and "creator". Digital natives want to do something with the information they take in, whether it be creating a playlist, editing a photo or producing a video. They put their knowledge into action and share their creations with the world.
I recently discovered mysimpleshow, a webtool that your kids can use to put their knowledge into action.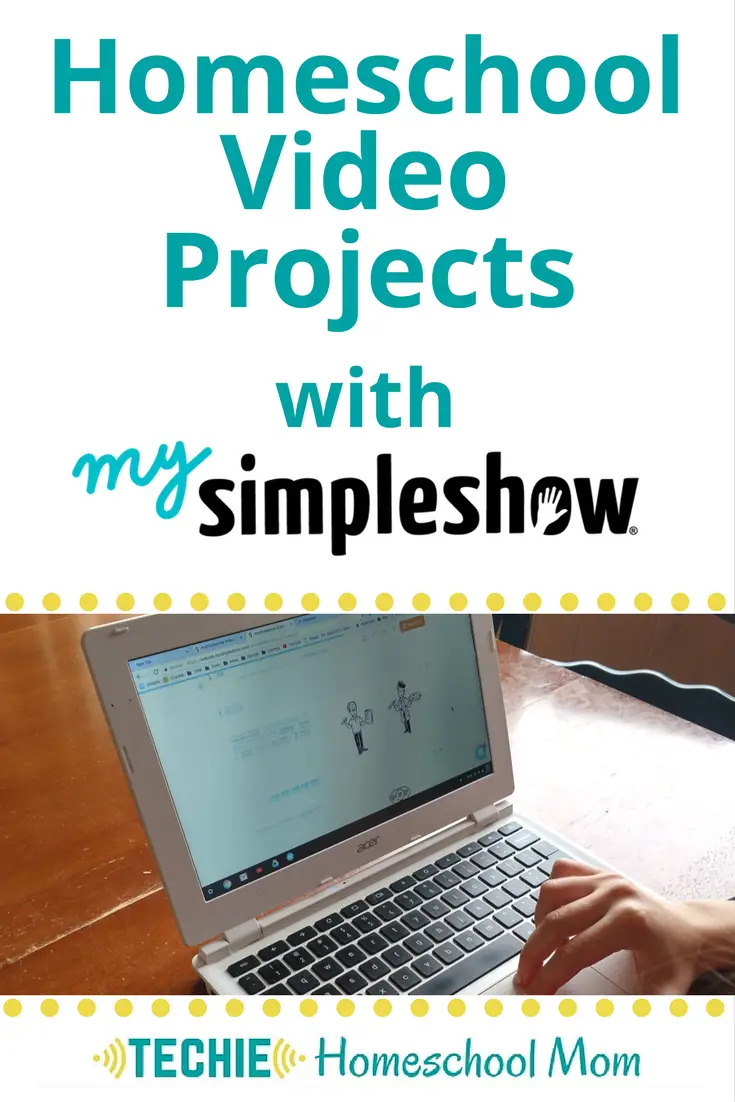 What is mysimpleshow?
mysimpleshow is a tool that enables anyone to create explainer videos. You know, those short videos where images pop up while a voice explains something. With this tool, your children can research a topic and create a script with the facts they learned. They type their script into mysimpleshow. Then the program identifies key words, finds images to go with the words and produces a video.

Next they edit the images. Students can adjust the keywords that they want an image for, then change out the image with the ones the apps suggests. They can even upload their own photos. Adjusting the size and placement of the images helps to personalize the video.
Lastly, your homeschoolers select a voiceover style or record their own voice reading the script.
Creating explainer videos is a great way to practices writing skills.  Students need to use transition phrases and only include the most relevant information to satisfy with the video's character limits. Students also develop the skill of matching text and context with available images to get their message across.
Here's a simpleshow about Dr. Seuss….
Ways to use video projects for homeschooling
You can create a mysimpleshow for any topic you are studying. Consider these ideas….
"How-to" video: Write a script with the steps of a process. Choose approriate images or take and upload your own pictures taking during the different steps of a process. Then make an 

Nature journal:

 As you observe nature, take pictures. Upload them and record facts about your discoveries and observations.
Biography study: Research and record facts about someone notable.
Book report: Describe the plot of a story.

Field trip scrapbook:

 Share pictures from the trip and narrate to explain your adventure.
Poetry: Craft the perfect combination of words and add images that support your message
Really, the possibilities are endless.  Visit mysimpleshow and give it a try!
What ways could you see your family using mysimpleshow for homeschooling?

Replace traditional research reports and shoebox dioramas with interactive, media-rich student projects. Discover 25 free apps that will turn your kids into techie creators. Download Techie Homeschool Mom's List of 25 Free Apps for Creating Student Projects