Brilliant Ways to Study Literature Online
Hey, just so you know ... This post includes affiliate links. That means if you use them to make a purchase, I may earn a commission. You can read my full affiliate disclosure HERE.
Welcome to the #TechieHomeschool IRL blog series. In this post, my guest Katie, an experienced homeschool mom and English educator, shares important tips you can use to teach your kids how to study literature online.   
Katie Glennon is a homeschool mom of 15 years and has two guys in college now and has been in the education field for over 30 years with a specialty in English and Secondary Education. She loves to share her passion for learning and homeschooling to help you enjoy your homeschool journey at Katie's Homeschool Cottage. She is developing middle and high school literature and writing classes so you don't have to.

In this day of technology, there are many tools to assist you in studying literature online. Some will provide you with everything you will need for your literature study while others will help you study literature on your own.
From teaching my own children through middle and high school and teaching homeschool literature classes, I have compiled and use a large variety of quality online resources and tools. Here are the top tools I recommend for your own homeschool literature study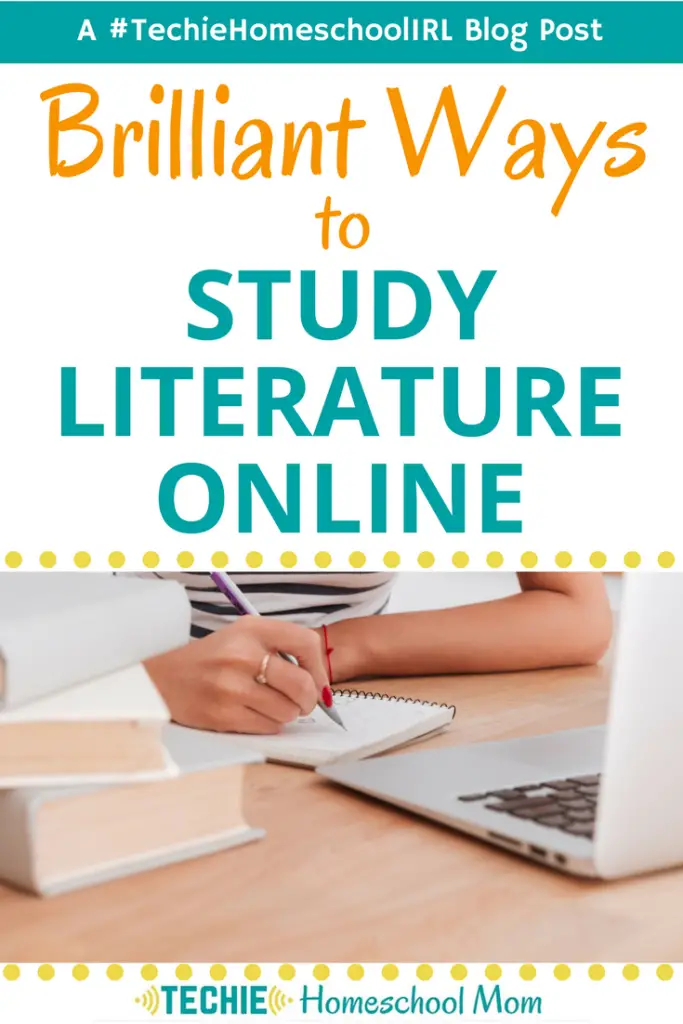 Online Literature Study – Live and Self-Paced Classes
These classes provide you with everything you need to study literature online.
Some classes are live with an instructor in an online classroom that meet on the same day and time each week. The students can interact with the teacher through a microphone or through a text chat box. They can also converse with one another in the text chat box.
Other classes are self-paced. These classes usually have everything you need for your literature study except for the live teacher and other classmates. Instead, there is pre-recorded instruction in place of the live teacher and the student moves through the materials at his/her own pace. There may be a discussion forum for the student to ask the instructor questions or have conversations with other students taking the course.
Research Resources for Background Information
Background Information about Historical Time Period
To fully understand and enjoy literature, it is a good practice to have some background knowledge of the time period for the setting of the literary piece you are reading. This way you can understand terms used to describe things, places, and people in the story. You can also understand important events or cultural or societal norms that influence the plot of the story or motivations for the characters' actions. Conducting an internet search for specific time periods by name or date will result in a list of resources available that will provide you with the historical information you need.
Background Information about the Author and his/her Life
Having an understanding about the author's life and his/her viewpoints and circumstances that influenced those viewpoints can also enhance our understanding of that author's works. Those life events and perceptions will permeate his/her writing. Just performing a web search with the author's name or the title of the book or piece of literature will provide more than enough resources for the background knowledge you are seeking.
Public Domain Books and Literary Pieces
There are a number of websites that supply e-books or documents in various readable formats of books, short stories, and poetry where the copyright has expired. Here, depending on the electronic device you are using, you can read this public domain literature without having to purchase a book.
Here are a few sites with a large variety of public domain literature:
Websites for Literature Analysis Help
Writing is a form of art that uses a variety of techniques used by a writer or poet to craft a story or paint a picture for the reader. Learning about those technique helps the reader appreciate how the story was written to come together to create the picture and further appreciate the literary work.
There are a number of free subscription websites to assist you in analyzing a piece of literature. Here, you will find discussions about writing techniques and devices, character analyses, and plot summaries. If you want to truly appreciate and understand all that an author did to create his story, you will want to dive deeper than basic questions of "who", "what", "where", and "why".
Some sites supply annotations and explanations of the story within the text of the story, which is very helpful for the student as he/she reads. Others go into a deeper analysis of writing and devices and explanations of plot devices and characters' personalities per chapter summaries.
Audio Books for Literature Study
For those who prefer to listen to a book or wish to read along while they listen to the story, there are audio books available. These books are good to listen to if you wish to hear the pronunciation of unfamiliar words or names of characters and places. For earlier time period works, these audio books can be a good idea and helpful.
They are also useful for learners who are more auditory in nature, rather than visual.
Audiobooks can be found for free or for purchase on the internet. Here are a few ideas of where to look for audio books:
Studying literature in today's world is easier and more enjoyable with all of the online tools available. Try out some of the tools I've suggested and see which ones work best for your family and your homeschool online literature study.
For your own printable list of tools to have at your finger tips for your own literature study and to read Top 5 Reasons to Study the Classics, visit Katie's Homeschool Cottage here.

Tell me, what online resources do you use to study literature?
Must-Have Tech for Homeschooling
2017 Acer Chromebook 11.6

Apple iPad 2 16GB

Roku Streaming Stick

DOSS Touch Wireless Bluetooth Portable Speaker

Skullcandy In-Ear Noise-Isolating Earbuds

Related Posts

Want some techie homeschooling tips and inspiration delivered to your inbox? Sign up here for weekly-ish emails from me.
Techie Homeschool Mom is a participant in the Amazon Services LLC Associates Program, an affiliate advertising program designed to provide a means for sites to earn advertising fees by advertising and linking to Amazon.com. You can read my full affiliate disclosure HERE.