Hey, just so you know ... This post includes affiliate links. That means if you use them to make a purchase, I may earn a commission. You can read my full affiliate disclosure HERE
One of the most asked questions when it comes to educating children at home is, "How much does it cost to homeschool online?" If you've wondered about what to expect when considering the online route for your homeschooler, then keep reading. 
Most homeschoolers will tell you that you can homeschool practically for free, while others spend a few dollars and some. So, I can't give you a dollar range for online learning. Homeschooling can cost whatever you want it to. But, the pay-off is how much work you want to put into it. The higher-end online courses require little prep and follow-up from you. Whereas using free resources means you need to go find them, compile them, present them, grade them, and record them.
I'll be breaking down the level of expenses to help you decide which online homeschooling option is best for you and your family. 
DIY (Do-It-Yourself) No Cost
The DIY approach to homeschooling is becoming increasingly popular among families, and rightfully so. Some parents like the idea of starting from scratch and attempting to find the perfect resources to accommodate their child's unique learning needs. Families who choose this method often like to start by finding free resources.
There are a lot of resources to consider for the parent who would like to piece together their own curriculum for her children:
This is a great place to start especially if you are new to homeschooling and still getting a feel of how it works for your family. These resources require little to no expenses beyond time, a printer, ink, and other supplies you may choose to use.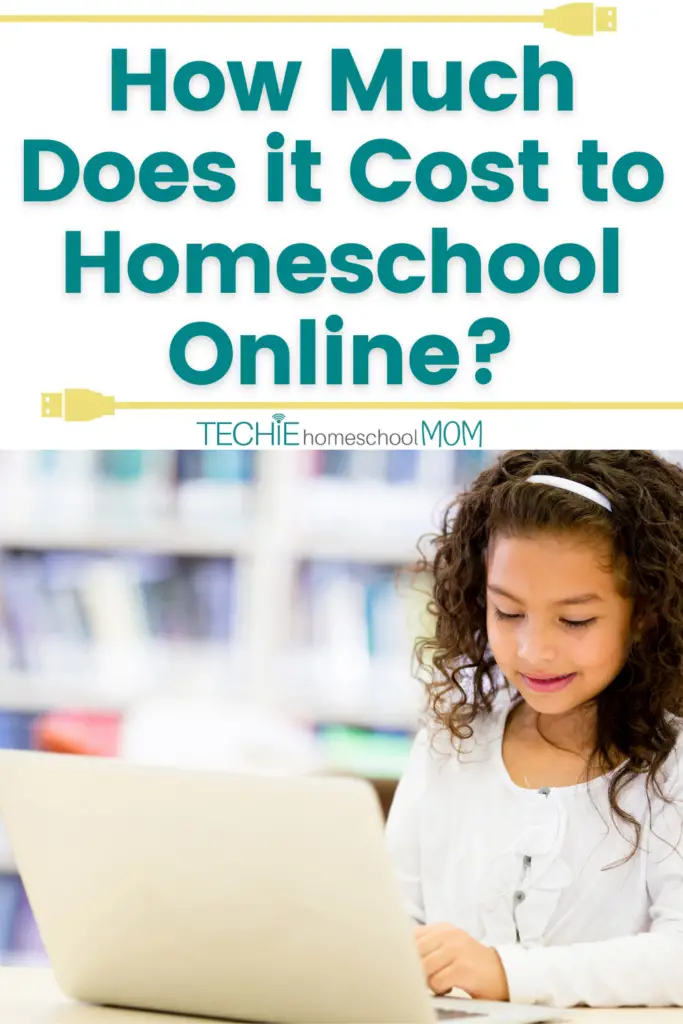 Low Cost
There are also low-cost options to homeschooling online. These would include digital resources, online courses, and some digital textbook purchases. Compared to the expense of co-op classes and print books, opting in to trying a few online education programs with low (family) memberships can save you a few dollars.
With online homeschool courses today, you can shop between all-in-one programs or search by individual subjects. This is a great option if you are looking to fill any particular gaps or add extra learning opportunities. Some local homeschool groups offer reasonable fees; however, these fees don't always cover the cost of field trips, programs, and/or services. You'll also find it significantly cheaper when purchasing individual or small bundles of printed books or educational apps.
High Cost
The high-end costs of homeschooling online comes when choosing schools and academies that offer tuition-based services with a wealth of other programs and services. These are often compared to the cost of private schools. Online institutions such as Laurel Springs School can cost upwards of four figures.
Most families who choose this route find it compatible with their needs of having everything in one place. It can certainly be worth the cost to have the teachers, curriculum, electives, testing, and other necessities all in one place. These options leave little for the parents to do besides fork out the tuition fees. 
Homeschooling online can be a reliable option whether you are looking to do it close to free or pay the big bucks. Regardless of which way you choose to go, keep in mind that this is just one of many options for homeschooling and it offers many good perks. 
Tell me – what has been your experience regarding the cost to homeschool online? Which of these options fits your needs?
Must-Have Tech for Homeschooling
2017 Acer Chromebook 11.6

Apple iPad 2 16GB

Roku Streaming Stick

DOSS Touch Wireless Bluetooth Portable Speaker

Skullcandy In-Ear Noise-Isolating Earbuds

RELATED POSTS:

Want some techie homeschooling tips and inspiration delivered to your inbox? Sign up here for weekly-ish emails from me.
Techie Homeschool Mom is a participant in the Amazon Services LLC Associates Program, an affiliate advertising program designed to provide a means for sites to earn advertising fees by advertising and linking to Amazon.com. You can read my full affiliate disclosure HERE.