Hey, just so you know ... This post includes affiliate links. That means if you use them to make a purchase, I may earn a commission. You can read my full affiliate disclosure HERE
Whether you've been reading my blog for a while or just stumbled across it seconds ago, it should come as no surprise that I am a big fan of techie, online learning. Our family's online learning journey started when my daughter wanted to start voice lessons. We didn't have the money available for private training, so I found some online vocal coaching courses for her. That's when I discovered Udemy, our go-to source for online courses. Udemy is hands-down one of the best resources available for homeschoolers who want to learn new skills online. But, with so much to offer, it can be tricky to find the absolute best Udemy courses for your specific needs.
Let me share the tips I've learned in the past five years of using courses from Udemy for homeschooling.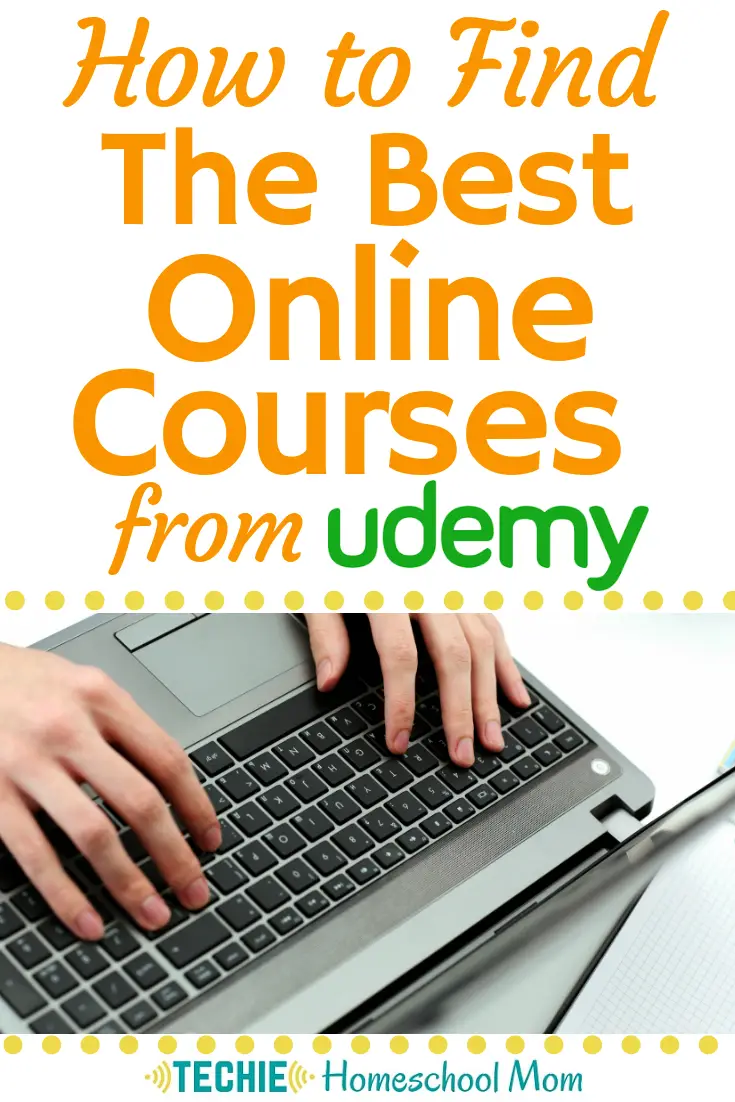 Things I Love about Udemy Online Courses
Huge Selection of Courses
As mentioned above, there are over 80,000 courses to choose from that cover a variety of topics. There are a ton of courses available that cover a wide variety of subjects and subtopics. At the time of this writing, the main categories are:
Development

Marketing

Office Productivity

IT & Software

Personal Development

Academics

Test Prep

Business

Design

Photography

Lifestyle

Health & Fitness

Teacher Training

Music

Language
This means that whether your family wants to dive into academic subjects (such as Calculus, algebra, or Spanish), pick up an elective (such as guitar, painting or photography), engage in some self-development (yoga, mindfulness, learning strategies), or pick up some marketable skills (web development, digital marketing, copywriting, etc), there's a great chance there are plenty of Udemy classes to choose from.
Wide variety of instructors
Having the ability to pick your instructor can make a huge difference in your learning experience. You should be able to choose an instructor whose teaching style matches your learning style and who is generally a good fit for helping you achieve your goals. With thousands of course instructors, you shouldn't have to worry much about not having options.
Free and paid courses
While most of the Udemy classes being offered have a fee attached (as low as $9.99 right now), there are also over 4,000 courses being offered for FREE. This means you can search for the best fit that won't require you to pull out your debit card.
10 Steps to Finding the Best Courses on Udemy
As you can see, Udemy offers its students a LOT of different options. However, as much as we all may love having a variety of options, having too many options can make things a bit difficult. After all, sifting through 80,000 courses, while having to take into consideration the instructors, their teaching styles, and the price can make choosing a course quite the process. It can even become overwhelming.
To reduce the overwhelm and help you narrow down your options more easily, here are a few tips on how to find the best Udemy classes for your homeschool's specific needs.
1) Search by interest
The first step to finding Udemy classes that you might be interested in is to search by interest. You can do this by typing the topic you or your child wants to study into the search box that says "search for courses". (Of course, you are free to browse the different categories if you're not sure what you want to study, but this way is preferable if you DO have topics in mind.)

2) Use the filter feature
Once you have done a search for the topic that you want to pursue, use the "All Filters" feature on the right side of the screen. When you click on that, you will be given the opportunity to narrow the search results based on topic, features, level (beginner, intermediate, expert), ratings, language, duration, and price. Select all of the criteria that are important to you and then click "apply". You will then be redirected to a new search results page that shows you only the Udemy classes that fit your criteria.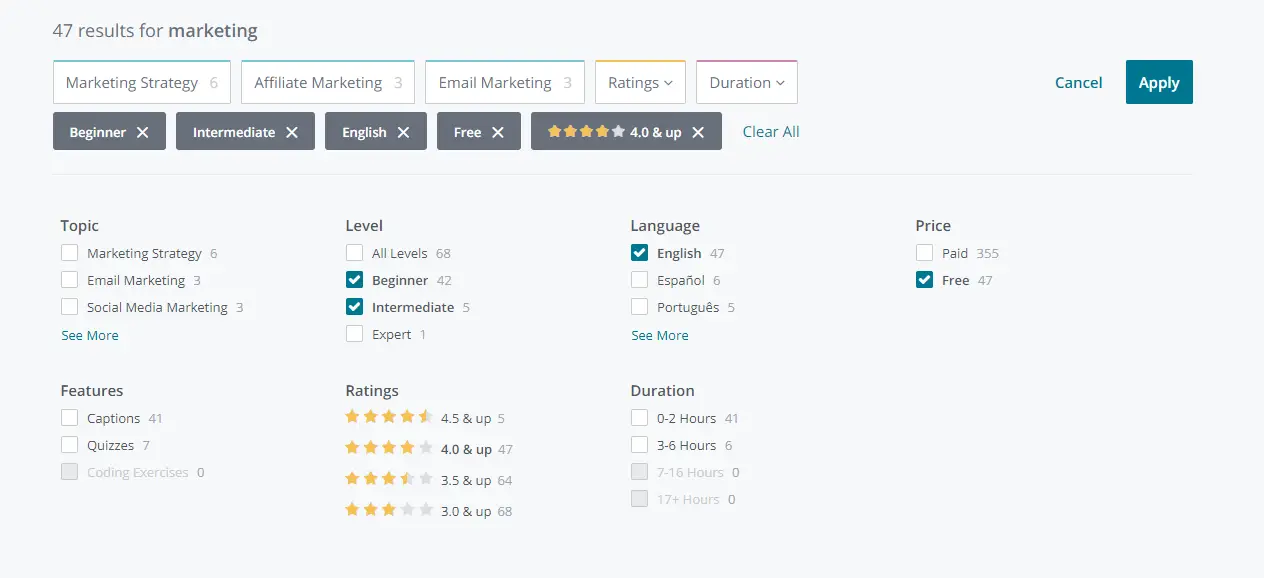 3) Sort by preference
Now that you have your filtered results, you can make things even easier by sorting the results. Click on the 'Sort By dropdown' menu and choose the criteria that is most important. The options are most relevant, most reviewed, highest rated, newest, highest price, and lowest price.
Once you have sorted your Udemy classes, choose one that looks promising and click on it, This will take you to the course info page where you will learn more about the course. (Pro Tip: Right-click on a course and open it in a new tab. This way, you can easily click back to the search results tab at any time.
4) Read the Objectives
The first section once y
ou click on a course is going to be "What Will I Learn?" This section will give you a quick overview of the course objectives. Do they sound like what you need to learn? If so, keep reading. If not, click on a different course.
5) View the course requirements
Many courses won't require anything from you. Other courses may require that you have certain supplies or experience. This is a good way to determine if this class is a good fit for you right now.
6) Read the description and curriculum
The next step is to click on a class that looks promising and read the description. See what the course is all about and who it is for. This section should be super clear about whether this course is what you are looking for.
The next section is going to be the curriculum. This is where you can find all of the details about exactly what you will be learning in each lecture and how long each lecture lasts (which is great for planning out your time).
7) Check what's included
Another important thing to look at is what's included in the course. You can find this on the right-hand side of the course info page. This is where you will find out how much video content is available as well as if there are any interactive features, such as downloadable resources.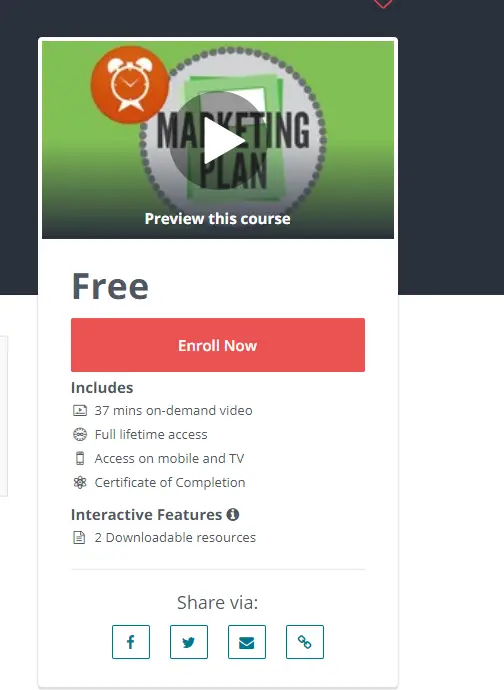 8) Read reviews
This next step is usually what will help you decide, once and for all, whether this is a course you should take. Seeing what people who have invested THEIR time and money into a course have to say about it makes it easier for you to decide if it's worth YOUR time and money. Pay attention to the ratings each person gave, but also take the time to read their review to understand WHY they gave that rating. I also tend to focus more on the lengthier reviews since they usually provide more insight.
Another thing I look at is al the way at the top, below the course title. I like to see how many students are enrolled in the course. It's not a deal-breaker, but if a course has been out for a substantial length of time, and doesn't have very many students enrolled, it had better have some EXCELLENT reviews.
9) Watch course previews
Another feature on the right side of the page that you should check out is the preview video. Take the time to push play and see what the course creator has to share about the course. Also, look in the curriculum to see if there are any other lessons available for preview. This is the time for you to evaluate if you like the instructors teaching style. And if they speak with a tone and accent you can understand.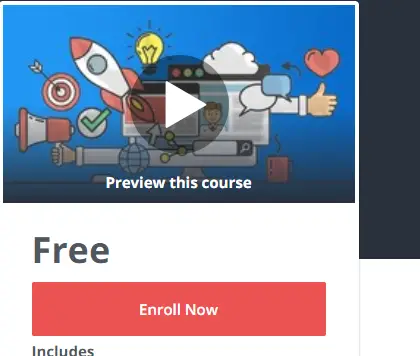 10) Enroll in class
If you've looked over everything and have decided that the class is the right choice for you, the next step would be to click on 'enroll' to get started. If you are new to Udemy, you will have to create an account to do this. If you already have an account, you will just need to click on enroll and then sign in. Once you have enrolled in the class, you will be able to track your progress.
You can also click on "My Courses" to view all of the courses you are enrolled in, create a collection of courses, keep a wish list of courses you want to take, and view any archived courses (courses you've enrolled in, but that you aren't focused on right now).

Udemy's Return Policy
Of course, even when you've done your due diligence, you may find that a course you enrolled in is not the best fit for you. If it was a free course, then no harm has been done. However, if you paid for the course, there's a good chance you would like your money back. Udemy does have a refund policy put in place to help ensure customer satisfaction, however, there are a few big caveats:
30-day limit
As per their Terms of Use, if you are not satisfied with a course, you must request a refund within 30 days of purchase. If you wait 30 days and 1 hour, they are not under any obligation to consider your request.
Refunds are at their discretion
Even if you request a refund within 30 days, whether or not they approve it is at their discretion and is dependent upon such factors as "the capabilities of [their] payment processing partners or the platform from which you purchased your course (website, mobile or TV app)".
If they feel that you are "abusing [their] credit/refund policy, [they] reserve the right to ban your account and to restrict all future use of the services." If your account is banned, you are not eligible for any credits or refunds.
Now that you know the best tips for evaluating online courses from Udemy, you can start shopping.
Tell me – have you ever enrolled in a class from Udemy before? What tips can you add for finding the best Udemy courses?
Alternatives to Udemy
If you prefer a  subscription service where you can access lots of courses (as opposed to buying single courses), check out…
Skillshare's online learning community is open to all – whether you want to learn or teach. It encourages people to share their knowledge, learn new skills, and pursue their passions. Joining is free and you get access to all of the free courses. However, if you upgrade to a paid membership (either $15.99 per month OR $99 per year), you get access to over 20,000 courses. They offer a free one-month trial to let you try out the premium membership for free.
Formerly known as Lynda, LinkedIn Learning is a go-to for people wanting to learn business, software, technology, and creative skills. Their pricing is a bit more pricey, at $29.99 per month, but you have access to over 10,000 courses AND  receive a certificate upon course completion, which may look good on a resumé. They also offer a free one-month trial so you can try before you buy.
If you're looking for more arts and crafts learning, CreativeBug is a great choice. This learning platform offers online videos, crafts workshops, technique lessons. It's the place to go to learn to sew, paint, knit, crochet, screen print, and more. You can sign up for a free trial to gain access to over 1,000 classes PLUS downloadable patterns, templates, and recipes.  

Another option for creatives is BluPrint. They offer a wide variety of online courses.
Related Posts

Want some techie homeschooling tips and inspiration delivered to your inbox? Sign up here for weekly-ish emails from me.
Techie Homeschool Mom is a participant in the Amazon Services LLC Associates Program, an affiliate advertising program designed to provide a means for sites to earn advertising fees by advertising and linking to Amazon.com. You can read my full affiliate disclosure HERE.