Recent conversation with my 14-year-old…
Me: "What are you working on, Sweetie?"
Her: "Oh, I'm just on Pinterest."
Me: "Really? What are you doing?"
Her: "Just getting ideas"
Doubts that hit my brain….
"Again? She's always on Pinterest."
"Should I let her be on so much?"
"Is she being productive?"
"Is this helping her grow?"  
(These is the same "in-my-head" conversations I had when she was younger and always had her nose in a book.)
We've been teaching our 5 daughters to develop healthy tech habits. [Read 5 Tips for Healthy Tech Habits in Your Family] So, I needed to trust her. I bit my tongue, walked away and prayed, asking God to work in Julia if she was developing unhealthy habits. I reminded myself of the guiding Bible verse of our girls' home education.  (Isaiah 54:13. "All your children will be taught by the LORD, and great will be their peace"). 
Then I realized I hadn't checked up on Julia's boards recently. We have taught our girls to stay safe online, and I haven't had any reason not to trust her.  And since I do more searching than "roaming" on Pinterest, I hadn't been keeping up with her pins. So, I took a peek at Julia's Pinterest.  And I was surprised!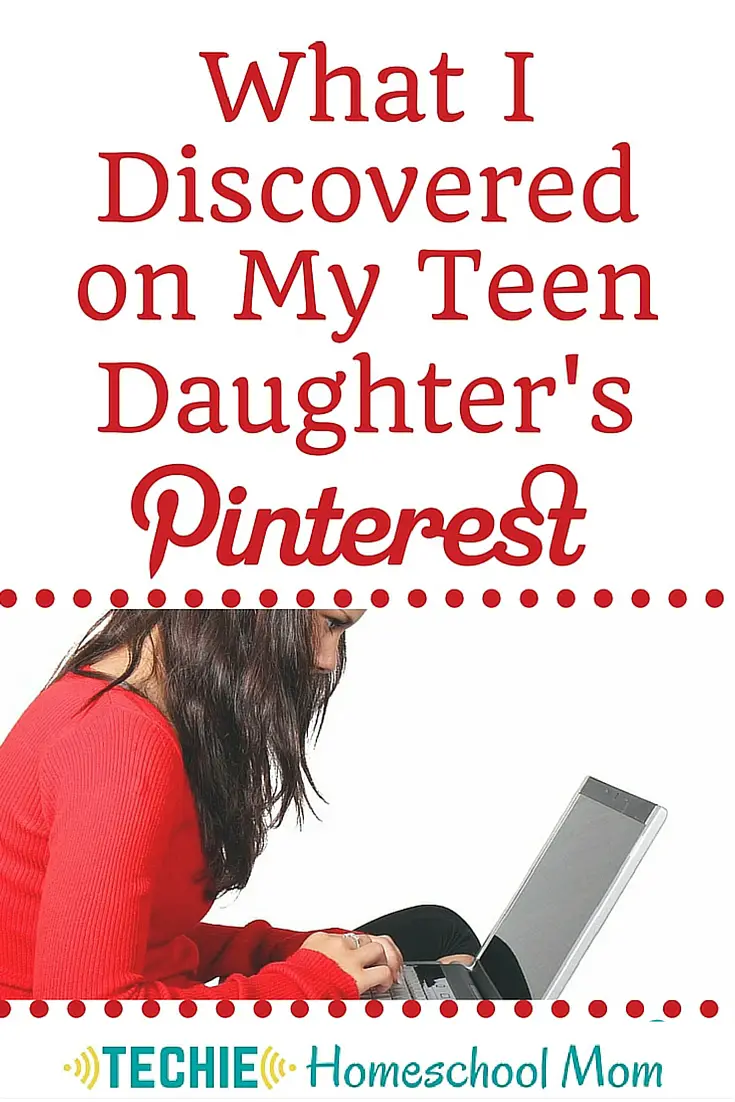 I discovered that, in the mere year since she started her boards, she had gained 500+ followers with her 7000 pins. Wow!  She was reaching people. She had a "voice" that was being heard. 500+ people were interested in the things she found worthy of pinning. 
Julia's Pinterest is a picture of who she is. Her boards are arranged beautifully (that coming from her OCD-ish mother).  She has tons of art and writing inspiration boards, boards to organize original story ideas, a TaeKwonDo board, a full board of "funnies", Minecraft and so much more.  My favorite is her "I love Jesus!" board… full of pins honoring her Savior, pins that her 500+ followers are seeing too.
I was delighted as I explored the Christian Artists group board Julia joined with my permission a while back. The teens upload their original artwork and encourage one another. They put up challenges and ask each other for ideas. They are using Pinterest in a more productive way than many adults.
I learned quite a bit more about my daughter during my tour of her Pinboards. I discovered…
What inspires her

What interests her

What makes her laugh

How she is developing in her self-education

How confident she is (confident enough to tell the world in her bio that she is the "nerdiest nerd to ever nerd")
4 Reasons I'm Sharing This
So, why am I sharing this with you, my momma friend? 
To brag on my girl.  I'll be totally honest…I think Julia is one of the most special people on Earth, and I want the world to know it. You (or your teen daughter) can find out what an amazing person she is by following her on Pinterest.
To inspire you to let your kids use Pinterest.  All my girls started with boards on my account, and then, once they turn 13, they get their own accounts. With Pinterest, they have a place to store and organize all that interests them online. Not only are they learning about the specific topics, but they are learning how to curate websites to determine what is "pin-worthy"
To remind you to check in on your teens' Pinterest.  You may not be as surprised as I was, but you will learn lots about your teen like I did.
To encourage you to connect with your kids through Pinterest.  When you are using Pinterest and see pins that remind you of your child, send the pin to them.  Just click "Send" at the top of the pin and type your child's name. Chances are they will feel loved because you thought of them while you were lost in Pinterest-land.  
Oh, and #5…to remind myself of all this when I have doubts about Julia's time on Pinterest.
How about you? What has been your experience with your teens and Pinterest?
Need some help managing your family's screen time?
Download a set of tech time guidelines and tailor it to your family's needs.
Sign up to receive Techie Homeschool Mom's Family Tech Time Guidelines

Want some techie homeschooling tips and inspiration delivered to your inbox? Sign up here for weekly-ish emails from me.
Techie Homeschool Mom is a participant in the Amazon Services LLC Associates Program, an affiliate advertising program designed to provide a means for sites to earn advertising fees by advertising and linking to Amazon.com. You can read my full affiliate disclosure HERE.