Hey, just so you know ... This post includes affiliate links. That means if you use them to make a purchase, I may earn a commission. You can read my full affiliate disclosure HERE
Your kids are begging for iPad or Kindle. Should you cave? And what is exactly the tablet to buy for children?
The history of the tablet is pretty interesting (if you ever have time to dig into it). As early as 1968, tech companies had been trying to create and market various versions of tablet computers. Most attempts either failed outright or had pretty lousy results. It wasn't until Amazon came out with its first Kindle in 2007 that the tide began to turn. Their first attempt at an e-reader (though underwhelming compared to the wild success of later versions) led us down the path we are on now.
Then, a mere 3 years later, Apple came out with the iPad and the obsession with tablets began.
Now, here we are, not even a decade later and the choices for high-performing tablets are numerous. So numerous, in fact, that it can be hard to narrow down the choices. That choice becomes even more challenging when you are buying for a child.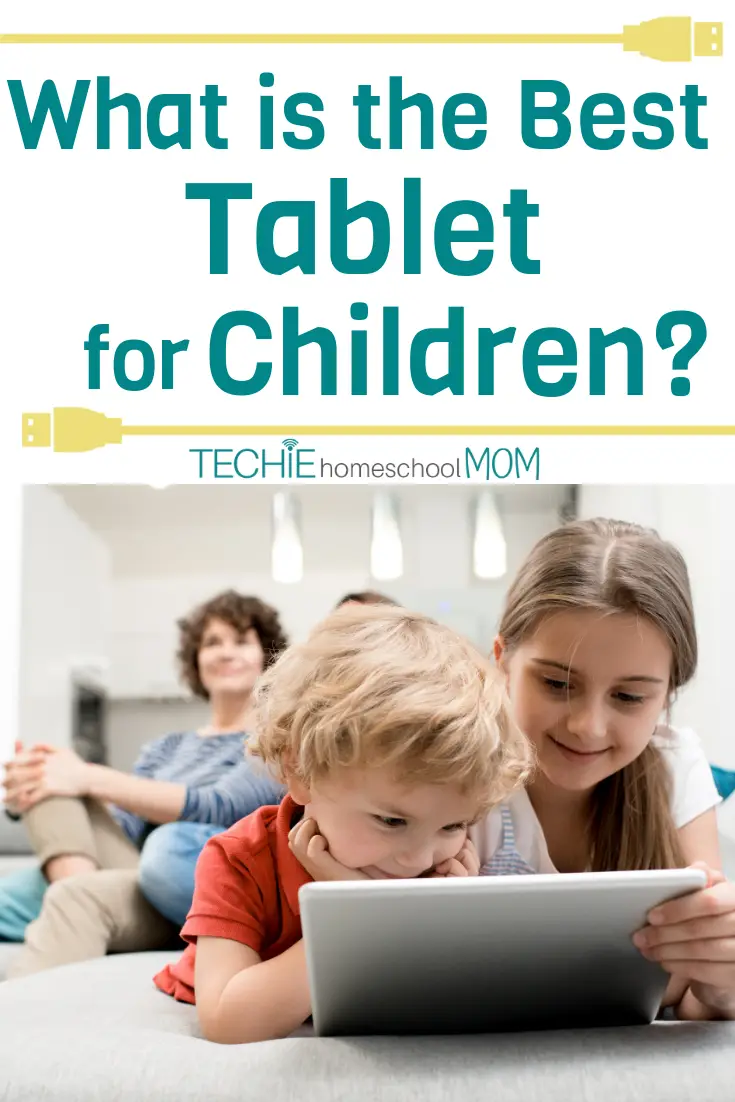 But, first things first – let's talk about what a tablet computer is and what makes it different from a regular computer.
A tablet actually is a computer. They are flat, thin, mobile computers that are designed to have touchscreen displays and run on a rechargeable battery. They usually come pre-installed with apps that help them (and you) perform a variety of tasks. And then you can customize it by adding apps that fit your needs
What are the benefits of tablets?
Convenience
One big appeal of tablets is the convenience they offer. They are extremely portable- you can stick them in your purse or bag and take them wherever you go. They operate on a rechargeable battery, so you can just make sure it's fully charged to get through the day or carry the charger with you.
Touchscreen Technology
Not only does touchscreen technology often make using a device faster (no fooling around with a mouse or keyboard), it can also make them easier to use since touchscreens are often intuitive. This means that even small children who have yet to master the art of coordination can use a table effectively.
Touchscreen devices are also generally easier to clean than devices that require extra components (such as a keyboard). You can simply wipe and go (which is pretty important when you have small kids with grubby hands).
Keyboard Accessibility
If you prefer your child to have a keyboard for typing (which is a pretty good idea if they are using it for homeschool), most tablets can be connected to a keyboard – either wired or wirelessly.
Create Content
Much like smartphones, tablets can be used to record or even create content. Your child can take pictures, record videos, and even download apps to make music.
Communication
Want your child to be able to stay in contact with you? Tablets will enable them to message you, email you, call you, and even video chat with you. You simply have to install the right apps (such as Skype, Zoom, Google Hangouts, or Facebook messenger).
What's the difference between each type of tablets?
When it comes to the different types of tablets, there are three that readily come to mind: Kindle, Android, and Apple.
Ok, let's do a quick dive into these three types to clear up any confusion.
Android tablets
Android tablets run on Google's operating system. Which means that they integrate Google's cloud-based technology, such as Gmail, Youtube, Google Maps, Google Books, Google Talk, and Google Chrome. They also include standard tablet-fare such as games and apps (with 2.1 million apps in the Google Play store, Android tablets have the most variety).
Apple tablets
Then, you have Apple tablets, like the iPad. WIth 2 million apps in the Amazon App Store, Apple is neck and neck with Android. However, Apple also has its own suite of office applications called iSuite that makes it a great choice for professionals and students alike.
Released in 2018, iWork features Keynote (for developing presentations, Pages ( a word-processing program), and Numbers (for creating spreadsheets). And, of course, Apple tablets allow you to do all of the same things as Kindle and Android tablets – like play games, listen to music, take pictures, record videos, and browse the web.
Kindle Tablets
Originally the Kindle was developed and marketed not as a tablet, but as an e-reader. However, the Kindle Fire goes well beyond being an e-reader and is one of the most popular (and cost-effective) tablets available.
Though it is NOT an Android device, the Kindle Fire does utilize an Android platform, giving users access to a wide variety of Android apps. The biggest benefit of a Kindle Fire is the access it gives you to the Amazon store. Because Kindles were initially used as e-readers, they are a fantastic way to download and read ebooks. However, you can also use it to browse the web, watch videos, listen to music, use a variety of apps (about 450,000 in the Amazon app store), play games, send emails, download and read documents, and more.
Android vs iOS
You might be wondering "What's the difference between the Android operating system and iOS?"
Google's Android and Apple's iOS are definitely the frontrunners when it comes to mobile technology. Two of the main differences are that Android is viewed as more customizable, whereas iOS is viewed as more user-friendly. However, there are a few more differences that can help you decide which one is the best fit for your family.
File transfer
When it comes to transferring files, the Android operating system makes it super easy. Simply use the USB port or the Android File Transfer desktop app. Transfers of media files are possible with iOS, but it's more difficult. One thing to consider, though, is that both transfer files easily if you take advantage of cloud-based storage solutions.
Calls, video, and messaging
In this respect, both operating systems offer plenty of options. Android, of course, leads with Google Hangouts, while iOS brings you iMessage and Facetime. However, both offer 3rd party apps like Facebook Messenger, WhatsApp, and Skype. Google Hangouts and Google Duo are available for either operating system.
Internet browsing
When it comes to browsing the internet, Android turns to Google Chrome while iOS uses Mobile Safari. However, both have other browsers available as well.
Mobile Applications
As of the latest report (late 2018), Android is in the lead with 2.1 million apps available through Google Play. iOS isn't far behind with 2 million via the Apple App Store. And it seems to me that more Android apps are free than iOS apps.
Voice commands
If you like to be able to ask your tablet to do things, Android has Google Now and Google Assistant. And, of course, Apple has the popular Siri.

Battery life
Generally speaking, Androids tend to have bigger batteries with a longer life.
Photo and Video Backup
No one wants to lose all of their precious memories. Both Android and iOS provide access to an app like Google, Amazon Photos, Dropbox, Flickr and OneDrive that you can use to back up your photos and videos. However, with iOS, up to 5GB of photos and videos can be automatically backed up with iCloud.
Security
As far as security, iOS tends to be the winner since users generally don't download anything outside of the Apple app store (thus avoiding random malware). With Android, you have to wait for the latest updates to get to your device.
Free cloud service
With Android, you get 15GB of free Google Cloud storage compared to 5GB with iOS.
My advice: When in doubt, stick with one platform for all family devices. That way, it's easier for you (or other capable family members) to manage everything.
Which tablet features do you need?
When it comes to choosing a tablet, you should pay close attention to the features you need. Here are some features to keep in mind when deciding which one is the best fit for your child(ren).
Storage
Having a good amount of storage means being able to store documents, pictures, videos, apps, and games. Choose a device that has the amount of storage you think your child will need. Also keep in mind that some tablets offer expandable storage options like micro SD cards. They make it easy to upgrade your storage space without having to spend a lot more money upgrading to a newer model.
Camera
Need a good quality camera for taking pictures? Be sure to get a tablet that will get the job done. Aside from checking that the tablet comes with a built-in camera (which most do these days), also read reviews specifically about the camera quality because that definitely varies.
Screen size
When it comes to tablet screens, size does matter and it largely depends on how your child will be using the tablet. Small screens (6 to 8 inches) are easy to slip into a bag for use on-the-go reading. However, they are also typically underpowered, making reading and browsing the web just about the only things they are great for.
If your child needs a tablet for watching videos, playing games, and getting a bit of online schoolwork done, then bigger screens (8.9 inches and above) are a much better choice.
Screen quality
While we are talking about screens, screen quality is another thing you should take a look at. Though you may not realize it, this is actually one of the most important things to get right. It won't matter if the screen is huge or if it holds a lot of files if you can't see what's on the screen clearly.
The sharpness, brightness, vibrancy, color, and screen angles of a tablet all come down to one thing – screen resolution. The highest resolution you can get (currently) is 2560 x 1600 pixels. As a rule of thumb, the higher the resolution, the sharper the image will be. Keep that in mind when comparing tablets.
Add-ons to consider when buying a tablet
Protective Case
Do you have a child who has a nasty case of butterfingers? If so, protect your investment by getting a solid protective case to use with the tablet. Some protective cases (like this one for the Kindle Fire HD 8) even double as a hands-free stand.
Stylus
While tablets are designed for use with your fingers, a stylus is a must-have for any student using a tablet for drawing or designing. It's even handy for teaching penmanship and calculating math problems.
Keyboard
Want to convert your child's tablet into something they can use for typing? Grab a keyboard!
Recommended tablets for homeschooling
Here are a few standout options that will help you start techin' your homeschool.
This 9.3", 32 GB tablet comes equipped with a stylus, has a great screen quality, a fingerprint sensor for added security (yay!) plus speakers that far outdo its competitors.

For students who are always on-the-go, this one has excellent battery life. The kickstand is also great for viewing videos comfortably.

With a nice-sized 10.5" screen, top-notch display, expandable storage options, great camera, and fast processor, this is a very solid choice.
For those with a smaller budget who still want a great tablet, the Kindle Fire HD 10 is a great option. It comes with 1 year of Amazon FreeTime Unlimited, and a Kid-Proof Case! There are also other Kindle Fire models that are well worth the small investment to get your hands on. Whether you just want to read a new ebook, browse the web, watch videos, send quick emails, or view documents, the Kindle Fire is capable. Plus, your kids will have access to tons of apps in the Amazon store.
Final Answer: What's the best tablet for children?
The final answer is that there is no answer.
I can tell you what works for our family. We use an iPad with 128 GB memory and a Samsung Galaxy tablet. We also own Kindles, but they don't get used much. My kids prefer using our other tablets or their phones.
But, the best tablet for your child may be very different than the best tablet for mine. The best tablet you can buy is the one that fits your budget and your needs.
Get your homeschool in sync!
Learn to connect your computers and devices so that any family member can access any files from anywhere.
Sign up to receive your Techie Homeschool Mom's Synchronized Homeschool Checklist
Tell me, what features do you think will be most important for your family? Which tablets are you considering? Leave a comment below.
Related Posts
Essential Homeschool Supplies for Learning Online
How to Use an iPad to Make Learning Fun
How to Connect Your Computer to Your TV for Homeschool Lessons
Must-Have Tech for Homeschooling
2017 Acer Chromebook 11.6

Apple iPad 2 16GB

Roku Streaming Stick

DOSS Touch Wireless Bluetooth Portable Speaker

Skullcandy In-Ear Noise-Isolating Earbuds


Want some techie homeschooling tips and inspiration delivered to your inbox? Sign up here for weekly-ish emails from me.
Techie Homeschool Mom is a participant in the Amazon Services LLC Associates Program, an affiliate advertising program designed to provide a means for sites to earn advertising fees by advertising and linking to Amazon.com. You can read my full affiliate disclosure HERE.