Hey, just so you know ... This post includes affiliate links. That means if you use them to make a purchase, I may earn a commission. You can read my full affiliate disclosure HERE
I don't know about you, but I just don't feel like homeschooling between Thanksgiving and New Year's. There's so much to do…making gifts, baking, participating in church events. So I pull the "learning from life" card. 

But then I feel that homeschool mom guilt of feeling like I'm not doing enough. You now the feeling, right?
A few years ago, I found a solution. I realized that learning about Christmas in other cultures would be a great way to keep the learning going. I'd been creating unit studies for my five daughters for years, so why not create a Christmas Around the World Unit Study? I knew that in true unit study fashion, I would be able to integrate all school subjects and come up with a unit that would work for multiple ages.
Now studying Christmas Around the World is a family tradition. Being the techie homeschool mom I am, I scour the internet for resources.  We read web articles and watch videos to learn about each country, then explore with Google Maps. We discover the unique Christmas traditions of each culture. And create a craft or other hands-on activity, like a Swedish heart basket, Mexican hot chocolate or unique Australian-inspired Christmas carols.  We've even researched, planned and prepared traditional ethic Christmas meals. 
You can start a Christmas Around the World tradition of your own with free access to the "Christmas in France" lesson from the Christmas Around the World Online Unit Study. Your family will….
"Travel" to France as you learn to use Google Maps
Learn about the people and culture of France
Discover France's Christmas traditions
Create a French Christmas Ornament
CLICK HERE to sign up for access to the lesson. Like all Online Unit Studies, it integrates multiple subjects for multiple ages of students. Students access websites and videos and learn to use webtools (specifically Google Maps for this lesson). With Online Unit Studies' easy-to-use E-course format, no additional books and print resources are needed. Just gather supplies for hands-on projects and register for online tools.
Then, if you'd like to continue a Christmas Around the World tradition, you can sign up for the Christmas Around the World Online Unit Study.  Y
our family will learn about Christmas in 9 different countries, but since you own the course for life, you can pick and choose what to study each year.  I'll be adding new lessons to the Christmas unit study over time. It will be like Christmas morning every year when you log in again.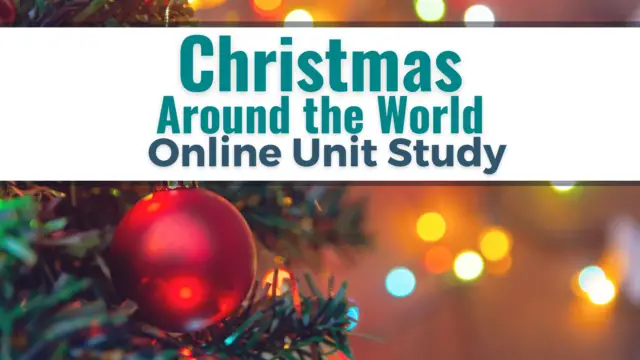 Discover more cultural Christmas traditions with iHN's "Christmas Around the World" roundup.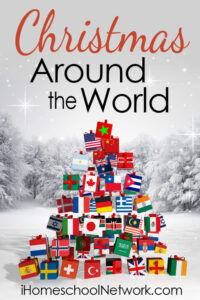 Want some techie homeschooling tips and inspiration delivered to your inbox? Sign up here for weekly-ish emails from me.
Techie Homeschool Mom is a participant in the Amazon Services LLC Associates Program, an affiliate advertising program designed to provide a means for sites to earn advertising fees by advertising and linking to Amazon.com. You can read my full affiliate disclosure HERE.