Help your kids learn about the Summer Olympics with the Olympics Online Unit Study.
With this online course, your family will discover the history of the Olympics, study Olympic traditions, and "meet" inspirational Olympians.
You'll learn what it takes to be an Olympian, watch your favorite events in current Olympics, and keep track of winners. You'll even create a collection of fun online puzzles and games as a final project.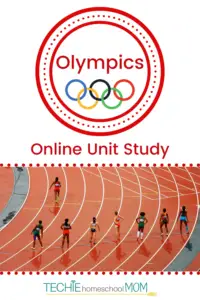 This homeschool curriculum integrates multiple subjects. Students will access websites and videos and complete hands-on and digital projects. With Online Unit Studies' easy-to-use E-course format, no additional books and print resources are needed. Just register for online tools and you're set!  Learn more about Online Studies HERE.

How about trying some free lessons?
Sign up below for FREE access to
the full "History of the Olympics" module
Looking for even more Summer Olympics fun?  Check out the list of Summer Olympics activities (plus grab a free printable reading challenge) HERE.