10 Chinese New Year Activities Kids Love

Hey, just so you know ... This post includes affiliate links. That means if you use them to make a purchase, I may earn a commission. You can read my full affiliate disclosure HERE.
Celebrate Chinese New Year this February! Welcome the Year of the Tiger with these ten Chinese New Year activities, including educational activities, hands-on crafts, and traditional Chinese recipes.
Chinese New Year Activities
Learn more about Chinese New Year as you compare and contrast with your own New Year's celebration with Chinese New Year Resources by Corkboard Connections.
Find out more about the Chinese zodiac and play a matching game with a printable and instructions from Teach Beside Me.
Create your own fortune with handmade Origami Paper Fortune Cookies from Unsophisticook. What does the New Year have in store for you?
Get creative with a handmade Chinese Dragon Puppet for your celebration. Made with Happy makes it easy with a printable template and video instructions.
Decorate for the Lunar New Year by making your own beautiful Chinese Lanterns with instructions from Nurture Store.
Love creating your own lanterns? Turn the craft into a challenge with Chinese New Year STEM printable activities by STEMsational Activities.
Inspire STEM-lovers and budding engineers by investigating the architecture of Asia as you Build a Pagoda with directions from Education .com.
Try a traditional Chinese New Year treat with Nian Go or Sweet Rice Cakes with a recipe from Jeanette's Healthy Living. These sticky and delicious desserts are symbolic of success and family togetherness.
Peanuts represent long life and prosperity. What better way to enjoy them than in traditional Chinese Peanut Cookies by Malaysian Chinese Kitchen
At the end of your meal, your child will be excited to see the surprise in their Red Envelope. Recreate this fun tradition representing prosperity in the New Year with a simple template and directions from Little Passports.
Chinese New Year Online Unit Study
Do you prefer using a ready-made Chinese New Year unit study with your kids? Sign up for my Chinese New Year Online Unit Study!
With this homeschool eCourse, your family will access online resources to discover the history and traditions of one of the world's most celebrated holidays. Your kids will study traditional Chinese dance and create a Chinese dragon, then, they'll produce an animated video to share what they've learned.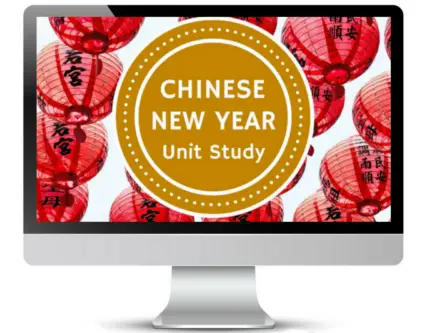 Tell me, which of these Chinese New Year activities do you think your kids will enjoy?
Chinese New Year Read Alouds
The Year of the Dog (A Pacy Lin Novel)

American Born Chinese

The Year of the Book (An Anna Wang novel)

Little White Duck: A Childhood in China

My Chinatown: One Year in Poems

Related Posts

Want some techie homeschooling tips and inspiration delivered to your inbox? Sign up here for weekly-ish emails from me.
Techie Homeschool Mom is a participant in the Amazon Services LLC Associates Program, an affiliate advertising program designed to provide a means for sites to earn advertising fees by advertising and linking to Amazon.com. You can read my full affiliate disclosure HERE.