How to Earn College Credits in High School using Online Classes
Hey, just so you know ... This post includes affiliate links. That means if you use them to make a purchase, I may earn a commission. You can read my full affiliate disclosure HERE.
Welcome to the #TechieHomeschool IRL blog series. In this post, my guest Jen shares how her sone earned college credits in high school, all while taking online college courses. 
Jen Duncan is the owner and founder of A Helping Hand Homeschool, where she writes encouragement and resources for parents who are homeschooling "out of the box" learners. You can also follow her on Facebook, Pinterest, Instagram, and Twitter!

Being a homeschool blogger, I spend a good amount of time in groups on social media. Almost daily, I see questions from parents wondering how their children can earn college credit in high school. This is a very good question, and it's one worth asking. Now, more than ever before, there are some amazing options available for high school students. Many of them are available online!
When I started homeschooling many, many moons ago, using technology in my lesson plans consisted of watching classes on videotape or allowing my son time to play Math Blaster or Reader Rabbit. Pinterest didn't even come along until years later!
Back then, if a student wanted to earn college credit, there were really only two options. They could attend classes on campus or they could study for CLEP exams. A few colleges were playing around with online classes, but there really weren't many solid options.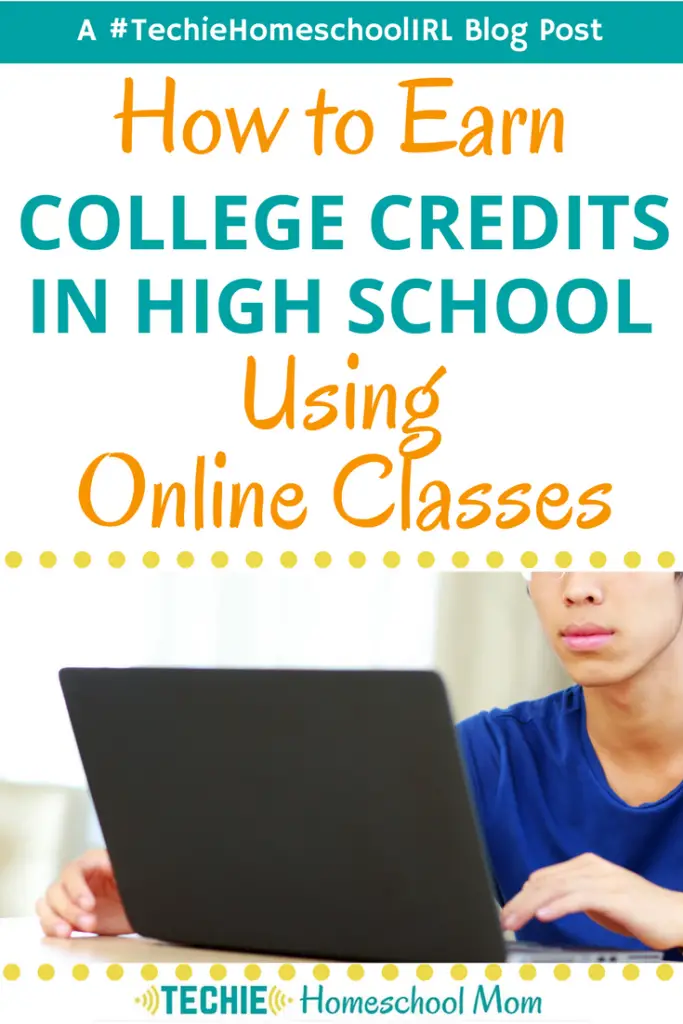 Things have changed! Now, high school students have so many online options open to them that it's difficult to pick.
Online College Courses for High School Students
Today, many colleges and universities offer online college classes. Often, these classes are open to high school students for dual enrollment. This is the route we took, for a few different reasons. It turned out to be the best choice for us.
My son is a very non-traditional learner. He is profoundly gifted but also has learning differences, including dyslexia and dysgraphia. Because of this, we've had to get pretty creative with his lesson plans.
He started high school work when he was 10, and by 11, he was pulling my college textbooks off the shelf to read for fun.
However, his dyslexia and dysgraphia made writing and spelling very difficult for him. The result was that he could work with material that was far more advanced than the written work he was able to do.
We figured out compensations for him along the way, like typing and working with visual organizers. Even today, though, the "gap" between the information he can work with and what he can physically write is pretty large.
With online classes, however, he doesn't have to put pen to paper. Instead, he is expected to type. When his dyslexia becomes too much to handle and he needs to listen to his text instead of read it, he can.
All of the compensations he needs are built right into the class! He enjoyed his online dual enrollment classes so much that he entered his school's online degree program upon graduation.
Benefits of Online College Courses
There are a lot of other benefits, too:
The cost is often significantly lower. Our dual enrollment costs were half of what a degree-pursuing student would pay for the same classes. Currently, my son's degree program is about 25% of what the exact same program would cost on campus! And when you consider the room and board, on-campus expenses, and all the other costs that go into college, online classes can save you thousands.
Students can earn college credits without overloading their schedules! This was a huge bonus for my son. The flexibility of online dual enrollment worked to his advantage in a lot of ways!
If you have a student that is ready for college classes at a young age, most online programs are very accommodating. My son started his college classes at 14, and he absolutely loved the challenge. If he had taken classes on campus, it's likely that people would have seen his age rather than his ideas. In an online class, he doesn't have to disclose his age if he doesn't want to. He can discuss, debate, and collaborate with people two to three times his age with ease.
The schedule is far more flexible. Because the lectures are recorded, students can "show up for class" whenever it fits into their day. If my son is up at 2 am, he can get his school work done. When work gets busy or he travels for ministry, his laptop and a wifi connection keep him up to date.
Students have access to a wide range of professors. In an on-campus program, students take classes from professors who live in the area and teach at that school. While those professors are often amazing, imagine being able to learn from experts all over the world! It's possible with online college courses and dual enrollment.
Are Online College Courses Right for Your Student?
There are obviously a lot of benefits to online college courses, but like anything, they're not the right choice for everyone.
These classes tend to work well for students who:
Are self-motivated to learn
Enjoy a flexible daily schedule
Would rather learn independently than in a classroom
If this sounds like your high schooler, this may be a good option to look into.
Tell me – do you think you'll encourage your kids to earn college credits in high school through online courses? Why or why not?

Must-Have Tech for Homeschooling
Chromebook

Apple iPad 16GB

Roku Streaming Stick

DOSS Touch Wireless Bluetooth Portable Speaker

Skullcandy In-Ear Noise-Isolating Earbuds

Related Posts

Want some techie homeschooling tips and inspiration delivered to your inbox? Sign up here for weekly-ish emails from me.
Techie Homeschool Mom is a participant in the Amazon Services LLC Associates Program, an affiliate advertising program designed to provide a means for sites to earn advertising fees by advertising and linking to Amazon.com. You can read my full affiliate disclosure HERE.