Hey, just so you know ... This post includes affiliate links. That means if you use them to make a purchase, I may earn a commission. You can read my full affiliate disclosure HERE
Welcome to the #TechieHomeschool IRL blog series. In this post, my guest Teresa shares how online learning resources has been a huge help for her with single parent homeschooling.  
Teresa Pinnick has been homeschooling her children for 13 years, as a single full-time working mom for the past two years. She is the creator of Redeemed Reconciled Restored. She resides in Indiana, where she blogs about family, faith, and home education. Her mission is to encourage and help moms along their homeschooling journey.

My family's homeschool routine changed once I became a single parent. And technology plays a much bigger role than in the past.
Before the switch to a single parent household, we would get up about 8, take care of the animals, and eat breakfast. After breakfast, we would gather in the living room for our together work. This included Bible reading, a weekly hymn (we would sing and read up on how that particular hymn came about), then we would do the subject in our loop schedule for that day, either History, Geography, Artist Study, Music, or Science, and finish up with our Math notebooks.  I love the Charlotte Mason style of learning. We did a lot of reading aloud and kept our lessons short. This way we had the whole afternoon free for exploring, field trips, or whatever we felt like doing that day. For some reason, I always had the mindset that if we included too much technology we would be straying from this way of learning.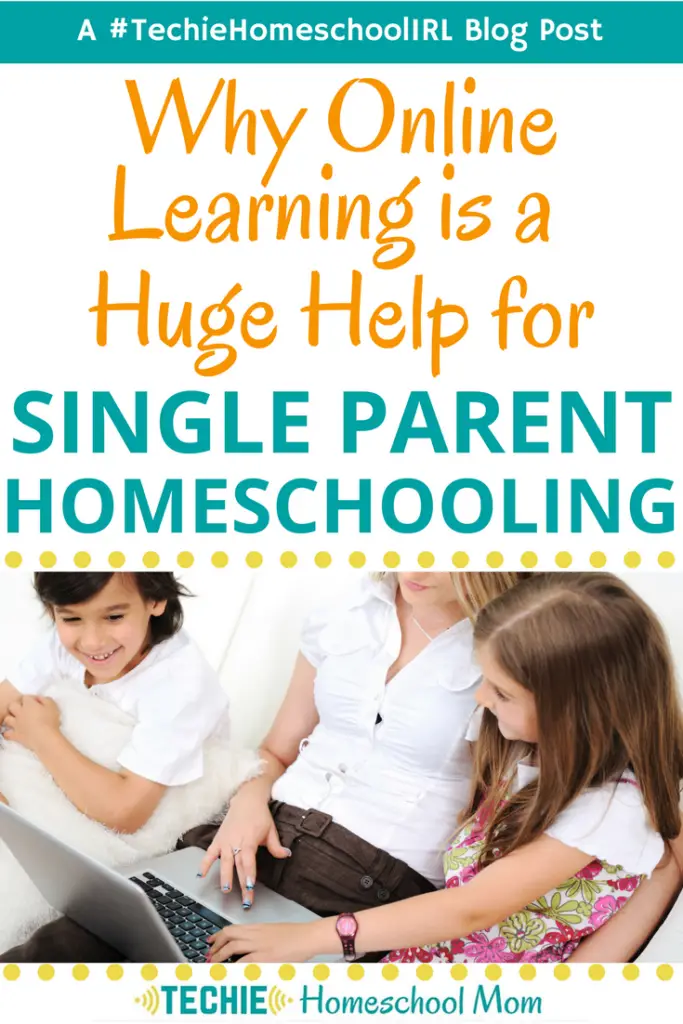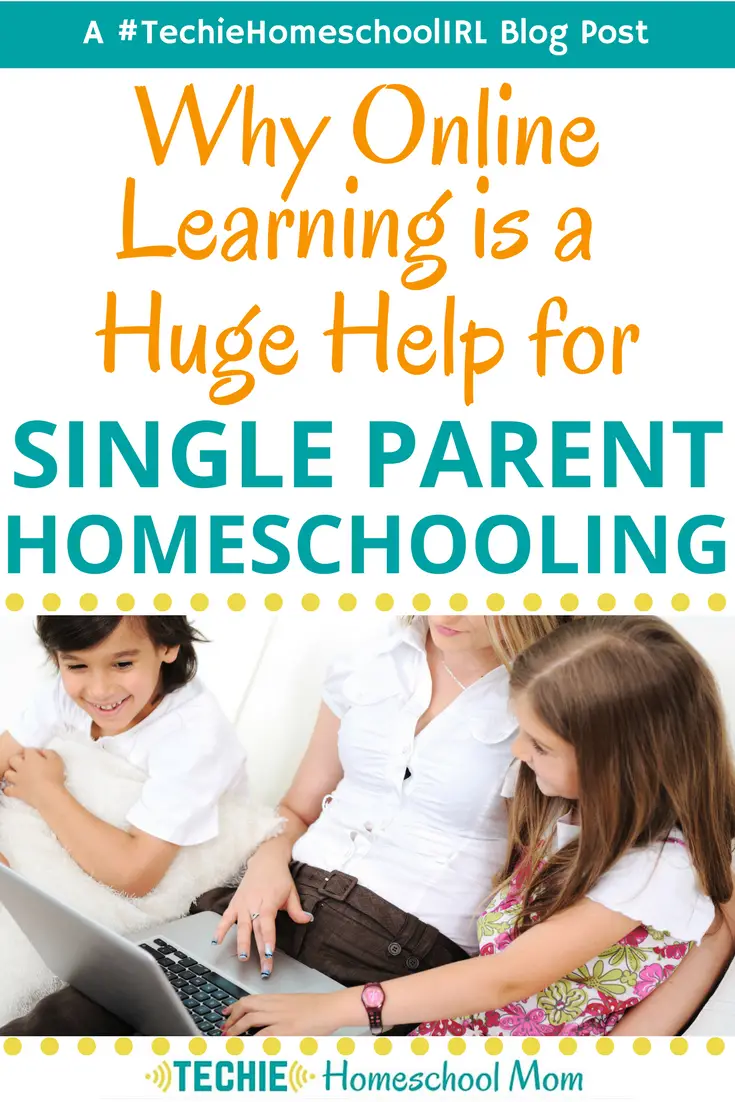 Since we've become a single-parent homeschool and I began working away from home, we have had to change up some things, well, most things. Thank the Lord my children were older when this all happened.  Now that I'm not home for a good part of the day, the children have had to find their own routine that works for them when it comes to their school work. Don't get me wrong, they don't totally plan their days. Nothing would get done lol. They know they have to have their school work and chores done before I get home from work.
How we use technology in our single parent homeschool
My daughter uses Khan Academy for math and SAT Prep. She started her own fashion blog on WordPress this year, all on her own. I was reluctant at first, then realized that a blog is an awesome way to learn how to write for an audience along with working on her grammar, spelling, punctuation, and creativity. She will also be able to list blogging as an extracurricular activity on her college application. Blogging is also a great way to learn about copyright and plagiarism along with the opportunity to learn some HTML and Graphic Design skills. She has also set up her own Pinterest account. This is a great way for her to organize the research she does for her blog and learn about SEO.
My younger son also uses Khan Academy for his math. Along with math he's doing Hour of Code on Khan. He was enjoying it so much (I know this because he's always talking about it) so I got on the library website and found him How to Code: A Step-By-Step Guide to Computer Coding. This book comes with sites listed for downloading programs that work on pcs and iPads. I also downloaded some coding games for him. A couple of games my son has checked out and enjoys are:
Codecombat: "

Our mission: make programming accessible to every student on Earth."

Codemoji: "Computer science curriculum for educators allows 1st-8th-grade students to learn the basics of web development and coding, including HTML, CSS, and Javascript, in a fun and easy way, allowing them to create their own websites, animations and much more with our unique and adaptable learning platform."
Additional ways we use Technology for home education
Netflix
We created a separate profile on Netflix and only added educational videos. There's so much on Netflix to supplement pretty much any subject. Also, this is a way the kids can get in "some school" when they aren't feeling well. They can go to this profile and watch something while they rest.
YouTube
We use YouTube videos mostly for history, science, grammar, and spur of the moment curiosity searches. You can create a YouTube for Schools account using a Gmail with your homeschool name. This way you don't have to deal with any inappropriate videos popping up in the sidebar.
Kindle Fire
I love my Kindle! You can usually find it in my purse! You just never know when you might have some down time on your hands that can be used reading or working on one of the many apps available. We also listen to audiobooks in the car using my son's Bluetooth speaker. Each of the kids do not have one of these right now. However, they do have the free Amazon Kindle App on their phones. [RELATED POST: How to Use Your Kindle for Homeschooling]
Canva 
Canva is like notebooking on steroids. This is a fun and creative way for the kids to record what they have learned and it's absolutely free. [RELATED POST:  15 Projects Homeschoolers Can Create with Canva]
Chromecast
We use our Chromecast for Netflix and YouTube. We especially like casting our Zumba videos so my daughter and I can workout together 🙂
We also put all the books we need or want on hold, so when we go to the library all we have to do is run in and pick them up. This is a GREAT time saver!
Technology has really helped us in this season of life. And just because we are using technology doesn't mean we are straying from the Charlotte Mason way of learning. If anything it has brought it more alive for the kids. For example, now, not only do they look at great artist's paintings, but they can take virtual tours of world-class museums right from home.
I never thought I would give up the good old book learning style of homeschooling, but I have to say the kids are much happier and enjoy doing their school work more now that we have implemented this technology.  I hope this has been an encouragement and a help for you.
Tell me, do you think technology helps you as a single parent who homeschools? How?
Recommended Reading for Techie Homeschool Moms:
 The Tech-Wise Family: Everyday Steps for Putting Technology in Its
 Hands Free Mama: A Guide to Putting Down the Phone,
 Hands Free Life: Nine Habits for Overcoming Distraction, Living Better,
 Parenting in the Age of Attention Snatchers: A Step-by-Step Guide
 Apps All Parents Should Know
Related Posts

Want some techie homeschooling tips and inspiration delivered to your inbox? Sign up here for weekly-ish emails from me.
Techie Homeschool Mom is a participant in the Amazon Services LLC Associates Program, an affiliate advertising program designed to provide a means for sites to earn advertising fees by advertising and linking to Amazon.com. You can read my full affiliate disclosure HERE.