I don't think anyone can argue that we live in a visual world.  90% of the information sent to our brains is visual, and we retain 80% of what we see as compared to 20% of what we just read or 10% of what we hear. [Check out this infographic]
And this doesn't just apply to adults, my homeschoolin' momma friend. Your kiddos respond to visual information the same way, if not more. Now combine this with the fact that 21st century learners need to apply what they learn. They want to do something with the information they take in, putting the knowledge into action.
[Related post: What Homeschoolers Don't Know & What They Need]
So, why not add more visual design projects into your homeschool lesson plans? Do you think it is too hard to teach your kids how to create visual design projects? Well, you don't need to teach them how. As 21st century learners, your kids are (most likely) more digitally literate than you are. You just need to point them towards the tools and instruction to learn on their own.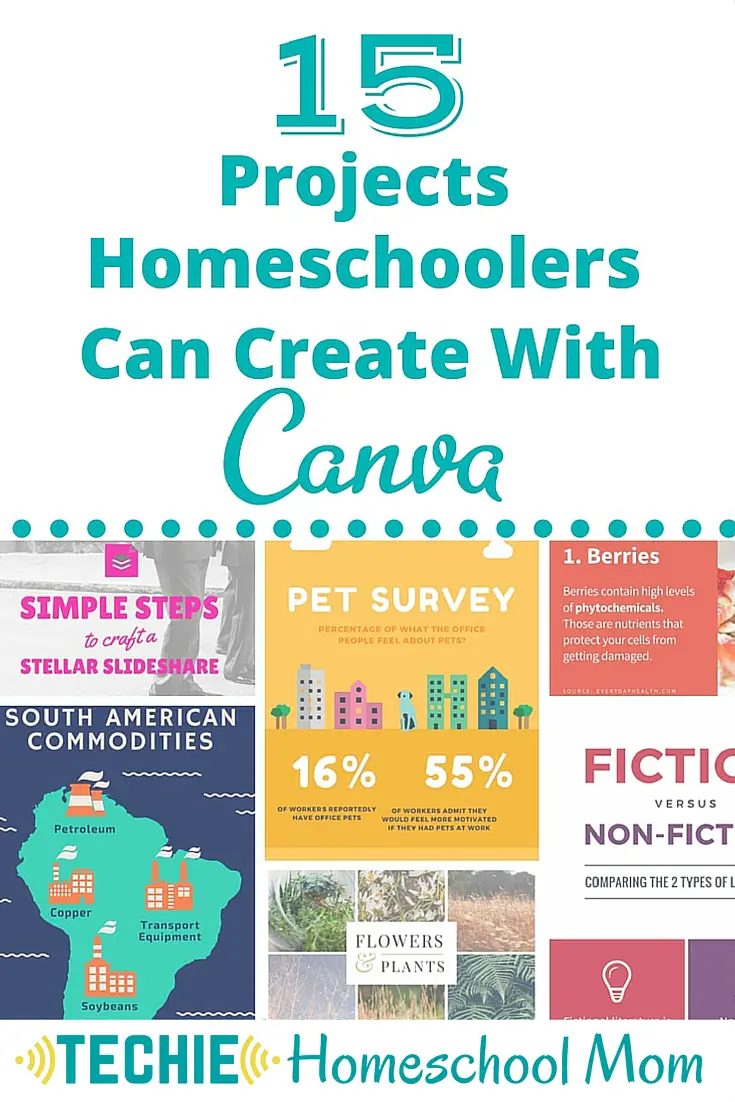 Canva is the graphic design webtool homeschoolers often use for Online Unit Studies' projects.  It has all the qualities I look for in apps. It is…
Easy with easily accessed tutorials

Flexible, offering tons of options of templates and images

Free, as in doesn't cost you a cent (although some images cost a small fee)
[Related Post: 8 Homeschool Webtools for an Aspiring Designer]
Check out this slideshow of 15 awesome design projects that your homeschoolers can make.  All the images are actually editable templates from Canva, so send your kiddos on over to Canva and let them create.
Tell me. What other visual design project ideas can you think of?


Want some techie homeschooling tips and inspiration delivered to your inbox? Sign up here for weekly-ish emails from me.
Techie Homeschool Mom is a participant in the Amazon Services LLC Associates Program, an affiliate advertising program designed to provide a means for sites to earn advertising fees by advertising and linking to Amazon.com. You can read my full affiliate disclosure HERE.