Hey, just so you know ... This post includes affiliate links. That means if you use them to make a purchase, I may earn a commission. You can read my full affiliate disclosure HERE
Lots of homeschoolers have turned to Homeschool in the Woods for unit study resources and lapbook projects. The homeschool curriculum is available in digital format, so it's a viable option for techie homeschoolers. Here's an overview of what you can expect if you use one of these products.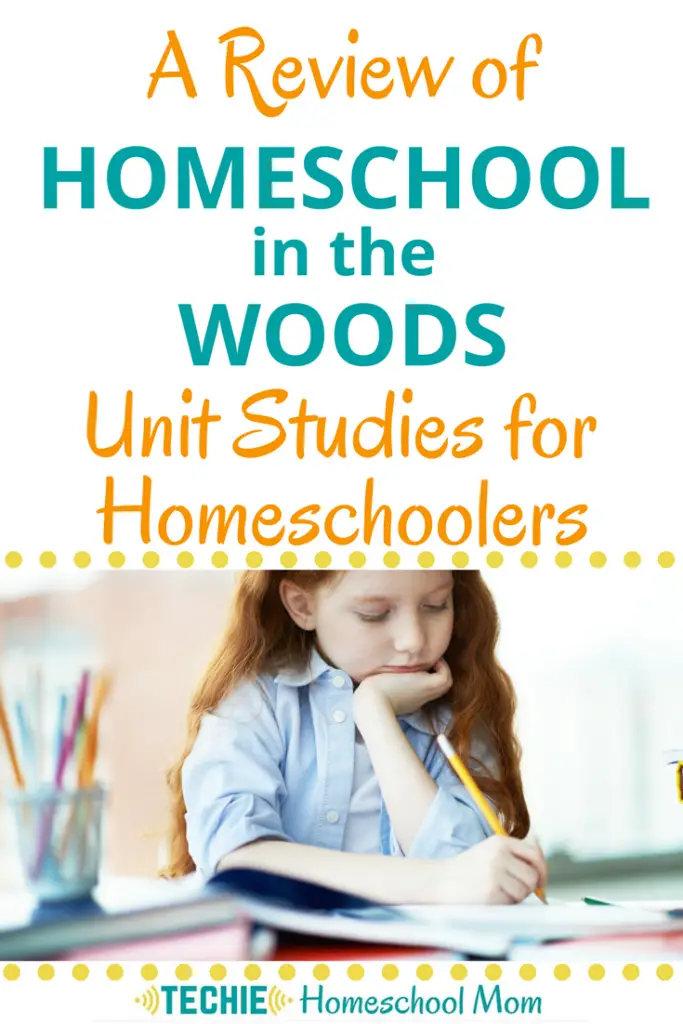 What Does a Homeschool in the Woods Unit Study Include?
Homeschool in the Woods lapbooks come in a zip-compressed file. You'll get many PDF documents and an HTML file that links to each of the PDFs providing structural organization for the units.
Included are documents for the teacher explaining the system and how to set up and prepare ahead of time. The HTML file will also link to the appropriate passages to read-aloud and the materials that need to be printed and prepared for each lesson.
You will also receive a large number of digital images. Some of these images are to be printed and used in conjunction with the Unit Study. Others are depictions of the process of assembling various pieces of the lapbook.
Strengths of the Unit Studies
The Homeschool in the Woods Unit Studies rely heavily on the lapbook format. For students who enjoy a lot of hands-on design, this could be a good fit. The finished products are great for interaction, display, and even review.
Since all of the historical content you'll be covering is included in the teacher reading material, you won't have to collect extra books or other resources. And these products will provide enough learning material for as much as six weeks of daily activities.
Weaknesses of Homeschool in the Woods
These are very meaty unit studies. This may be great for some families, but depending on your history curriculum or scope and sequence for the school year, six weeks may be too long to spend on one period of history.
While the system is well organized through the HTML document, it is complex enough that most students would not be able to interact with it on their own. Also, these products are very teacher-intensive in terms of preparation, especially including a lot of printing and cutting. Depending on the age and ability of the student, the parent may also need to be heavily involved in the lapbook assembly.
Also, Homeschool in the Woods focuses primarily on history and other social studies topics for its unit studies. While they may touch on other topics through the course of the unit, you won't find any studies centered around Science or Literature topics, for example. This goes against one of the greatest benefits of unit studies … being able to study all academic subjects in one shot.
Summary
Homeschool in the Woods Unit Studies would be a great fit for a family who wants unit studies centered around Social Studies topics. They are also ideal for a family who wants to take a deep dive into one topic or period of history.
They are definitely not an activity that most students could complete independently. They may be too teacher-intensive and require too much preparation for the average homeschool family. Even though they are presented in a digital format, much needs to be printed to get full use out of the curriculum.
Have you used Homeschool in the Woods? What did you like about it? 
Related Posts

Want some techie homeschooling tips and inspiration delivered to your inbox? Sign up here for weekly-ish emails from me.
Techie Homeschool Mom is a participant in the Amazon Services LLC Associates Program, an affiliate advertising program designed to provide a means for sites to earn advertising fees by advertising and linking to Amazon.com. You can read my full affiliate disclosure HERE.