Thanks to my guest, Amanda, for sharing how her family uses techie homeschool resources as a full-time RV family. Amanda's family are storm-chasing, exploring homeschoolers because her husband's work (catastrophe insurance adjusting) takes them all over the United States. Her family of five  – Daddy, Mama, Big Girl (10), Man Cub (6), and Little One (5) – plus an unruly Boxer dog named Pepper – spend almost all of our time on the road. To discover more about Amanda, visit her website A Work of God.
Hey, just so you know ... This post includes affiliate links. That means if you use them to make a purchase, I may earn a commission. You can read my full affiliate disclosure HERE

We have about 300 square feet of living space in our fifth wheel camper. That means we have to be smart about our curriculum choices. We don't have multiple bookshelves for each child to have their own small library. We have a cabinet (it measures about 24 inches by 18 inches) for each child's books and supplies.
Our approach to education is somewhat Classical and mostly eclectic. We are big on learning experiences (museums, monuments, tours, hikes, nature centers, library programming, plays, and other learning destinations). We believe a tour of Thomas Jefferson's home or a visit to the Wright Brothers' Museum in Kitty Hawk, N.C. to be just as valuable as reading about these innovators in a book.
We combine experiences with technology and books to give what we consider a modern, Classical education. When we're settled for a few days or weeks, we really hit the skill work of reading, writing, math, scientific exploration, logic, and critical thinking. We focus on the skills of learning, so our children can be equipped for a life of learning. When we're in transition or take a long trip between storms, the skill work gets practiced through our explorations.
I'm a former journalist, so I research when I want to learn something, I love to dive deep into multiple resources about a place or topic. I want to help my kids develop a similar approach to education – dive into the literature, history, geography, science, and art of a topic.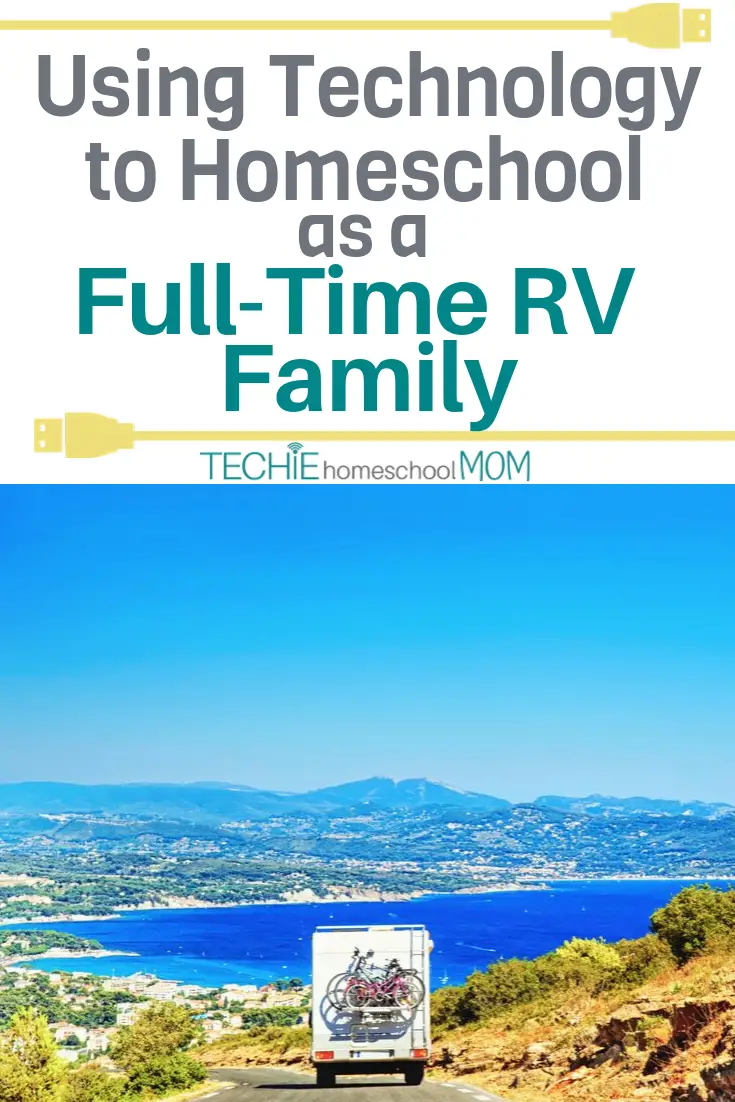 Since we homeschool on the road, I'm really able to model this approach for my kids. For instance, I'm kind of obsessed with Blackbeard (the pirate) and his cunning approach to plundering ships and evading the authorities. I've dragged my kids to just about every pirate museum, exhibit and historical marker on the Crystal Coast. It's been so cool to explore the wreckage of the infamous Queen Anne's Revenge at the Maritime Museum in Beaufort, N.C. this summer. The museum even has a live webcam for the dive team exploring the shipwreck. You can get regular updates at the Blackbeard 300 Blog and Blackbeard's Queen Anne's Revenge Shipwreck Project Facebook page.
Using Tech for Learning & Responsibility
We also believe that training our children to use technology responsibly is as important a life lesson as learning to do their own laundry.
Here's our tech setup for the family:
Daddy – iPhone, iPad Pro, Microsoft Surface, & Air Pods – These are his work tools and he's an avid podcast and audiobook listener.
Mama – iPhone, iPad Air, MacBook Air, & Air Pods – I'm a blogger and a teacher. I also really enjoy audiobooks and podcasts.
Big Girl – Hand-me-down iPhone and MacBook Pro + a Kindle Fire – She's a very responsible tween and has a very locked down phone. She's also incredibly social and talks to her friends all over the country.
Man Cub – Hand-me-down Ipad Mini and old HP laptop. This kiddo loves gadgets and videos on how things are made. He also devours audiobooks.
Little One – Kindle Fire (Kids) – She's a take-it-or-leave-it kid with tech. She likes it, but she likes art and playing more. Except for Kids YouTube. She LOVEs it, but it's only on special occasions.
Big Girl has some learning challenges involving writing and spelling, so she's getting an early education in tech because it helps her so much with her struggles.
She is adept at acting as a personal assistant on long road trips and while one of the parents is tending to chores or work responsibilities. Here are a few of the tasks she helps us handle with her phone or computer:

Shopping Amazon or Walmart for spare parts or household items we can't find locally (she knows how to use the filters and reviews to select products).

Makes lists with her phone for packing, groceries, etc.

Responds to emails and texts while one of us is driving.

Makes mobile deposits to our bank account.

Searches for places to eat or stop for lunch on long drive days.

Checks weather, movie times, museum opening hours, grocery store locations, etc.
The HRMom recently shared a similar list of tech skills we need to teach our kids before adulthood. I believe that parents can help kids develop these real-life skills and model tech responsibility if they make devices and computers part of family life.
The Nitty Gritty of Homeschooling as a Full-Time RV Family
When you're RV homeschooling, digital resources such as audiobooks, podcasts, ebooks, apps, videos, and web-based curriculum mean that we can "do school" just about anywhere we have electricity and cell or internet signal. Here are some of the ways we enhance book and desk learning with technology.
Is There a Digital Option for the Curriculum?
We use All About Reading as our phonics program for our younger children. Instead of carrying a large whiteboard for the tiles, we use the Letter Tiles app on my iPad to complete the lessons. My son adores it because he can move the tiles to build words. I adore it because it's organized by lesson.
My oldest daughter uses Beast Academy and Nessy.com for math. She practices her times tables on Nessy with "Tables of Doom" games. Beast Academy allows students to watch a video on each lesson, read the digital versions of the comic books, and to complete the practice questions online. Your student can even use a pen tool on the screen for calculations (although we use graph paper to set up problems).
While I'm working with another student, my little kids are allowed to work on their math and reading skills with Reading Eggs and Mathseeds. I would not call these digital resources a complete curriculum, but they are an excellent practice supplement.
We use Life of Fred, Math Lessons for a Living Education, and Mathematical Reasoning from Critical Thinking Company for my son (he really enjoys math). I purchase the LOF books one at a time. I'm able to pare the other books down by purchasing ebooks and printing what we need a couple of weeks at a time.
My oldest daughter also does her reading and spelling on Nessy.com. This is an excellent resource for kids who still need phonics and spelling instruction.
Ebooks & Audiobooks Are Key for Traveling Homeschoolers
Before I purchase a print book, I check four places to see if we can get a digital copy of the book:

Amazon Kindle Unlimited (included with our Kindle Fire purchases).
Scribd (Google Play/Apple) – This is my personal favorite for digital book resources. They have the best selection of high-quality audiobooks.
Epic (Google Play/Apple) – This app has so many great ebooks and quizzes and a "Read to Me" feature for younger kids. I like that younger kids can read along with the narrator.
Library catalogs – If we can't get it through one of these services, I check our library website to see if we can borrow it (We have library cards in lots of places.)
Audiobooks, Netflix, Prime Video, YouTube, Podcasts & Apps for RV Homeschooling
Since we travel so much as a full-time RV family, we can make so much of a trip with performance-based media. Here are some of the ways we use performance media in our RV homeschooling
Audiobooks – We use audiobooks for our history spine, our family read aloud, and the Bible. We also use it for bedtime because Scribd has most of the Magic Tree House books on audio FREE (with subscription) for my little kids. I also have a single credit per month Audible account that I mostly use for me. However, if I can't find the audiobook I'm searching for, I'll use one of my credits for the needed school book.
Netflix – We watch documentaries and movies related to our studies. Netflix isn't always as good as Prime or YouTube, but they have every episode of Call the Midwife and StoryBots.
Prime Video – I love to enhance our studies with shows (Horrible History for instance) and movies through our Prime subscription.
YouTube – You can learn anything on YouTube. We use it to add to our literature and experiences. And we do a lot of Art Hub for Kids.
Podcasts – We all love podcasts. We really like Smash Boom Best (great for teaching debate skills), History Chicks (covers females in history), Communo Sanctorum (a non-academic history of the Christian church), Brains On! (Why does…), The Past & the Curious (great interesting history topics), and But Why?
Apps – We use apps strategically in our traveling homeschool. I mentioned that our little kids work on Reading Eggs and Mathseeds. We also use apps for nature study, which is a big part of our homeschool. A few of our favorites – BrainPOP, Audubon, Peterson Birds of North America, and iNaturalist (seriously cool). We also like Stack the States, BedTime Math, Osmo, Mini Math, YouVersion Bible, and RightNow Media.
What Else Do We Do in our RV Homeschool?
We love hands-on activities, but we live in an RV so space is limited. However, we just rotate and limit how much we have at one time. For instance, we have an art cabinet, a board game cabinet, and each kid has some sort of "project-based" learning going on – an engineering kit, a science kit, or LEGO. We also do handicrafts like making potholders and small sewing projects. We seek out library or museum programming for messy learning projects too. Many of the campgrounds we've been to have kids' crafts and cooking activities for the kids too.
The best part about being a full-time RV family is that we have so many friends and stories. Our children really are living an epic childhood.
Gadgets to Help Stay Connected Living On the Road
Enkey 150W Car Power Inverter

Rapid Car Charger

Novatel Verizon Wireless Jetpack

RELATED POSTS:

Want some techie homeschooling tips and inspiration delivered to your inbox? Sign up here for weekly-ish emails from me.
Techie Homeschool Mom is a participant in the Amazon Services LLC Associates Program, an affiliate advertising program designed to provide a means for sites to earn advertising fees by advertising and linking to Amazon.com. You can read my full affiliate disclosure HERE.