Hey, just so you know ... This post includes affiliate links. That means if you use them to make a purchase, I may earn a commission. You can read my full affiliate disclosure HERE
Got someone in your life who is a huge Instagram fan? One who is often posting and commenting? And sharing images that they like?
I fully recognize that an Instagram-obsessed teen does need to demonstrate self-control. It's important for them to develop healthy tech habits. However, I also realize that their obsession may stem from a natural interest in photography or design.
Why not nurture that interest with some of these gifts? You can turn your media consumer into a techie creator.
Chatbooks – Want to create a photo book of your Instagram pics but just don't have time? With Chatbooks, your photo book will create itself!
Selfie Light – No more poorly lit selfies! Small enough to carry around in your pocket, this light will come in handy whenever you need it.
GorillaMobile Tripod for iPhone – Set this tripod up with your cell phone anywhere for the perfect landscape or portrait picture to share on Instagram.
Cell Phone Camera Lens Kit – This 5-in-1 Lens kit will definitely up your photo game. Now you can shoot circular photos, large groups, landscapes, and even macro shots with tiny detail.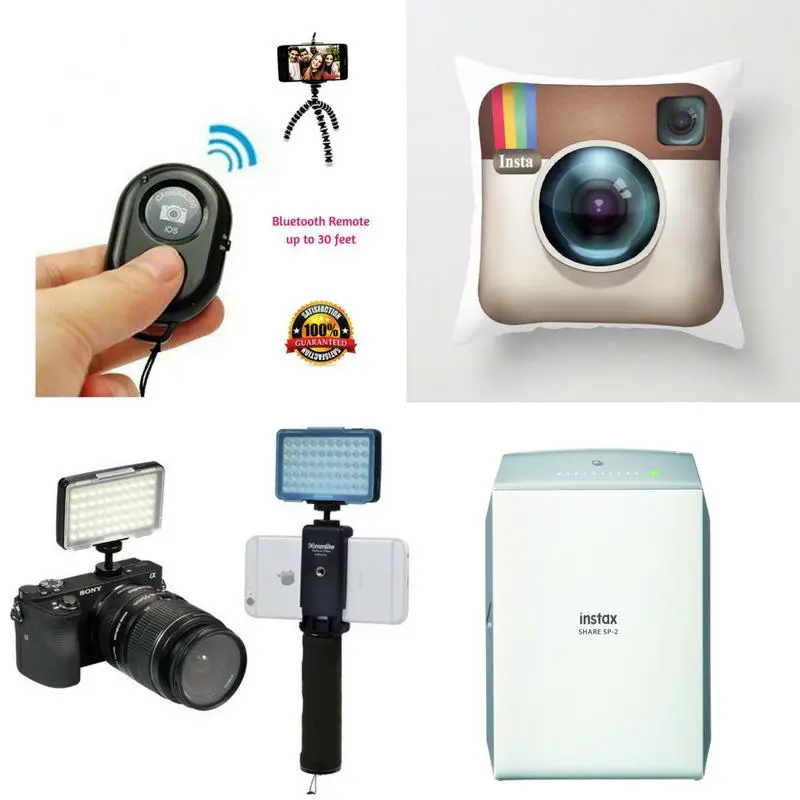 Bluetooth Remote Control Shutter Release – Take photos and videos with your phone from up to 30 feet away with the click of a button. Perfect to use with your device on a tripod for group pictures.
Instagram Pillow Cover – A must have for any Instagram fan to decorate their favorite chair or bed.
Portable Mini Video Light – The perfect light for shooting night time videos and pictures to share with your family and friends.
Fuji Film Instax – A fun accessory to have for sharing instant prints of your Instagram photos.
Charger Bracelet for iPhone – Fashionable and convenient, the charger bracelet is a simple solution to having to carry around long cords to charge your phone on the go.
Polaroid Selfie Stick with Bluetooth Shutter Release – When your arms just aren't long enough to get that amazing view in the background of your selfie, the selfie stick is a must-have accessory!
Pop Sockets – Never drop your phone again! Pop Sockets are perfect for hanging on to your phone in any position for that perfect selfie.
Ultra Thin Portable Battery Charger – Never worry about your cell phone battery dying just before that perfect shot with a portable battery charger in your pocket!
Find more tech gifts for kids and teens….
Tell me, which of these gifts do you think the Instagram fan in your life will like?


Want some techie homeschooling tips and inspiration delivered to your inbox? Sign up here for weekly-ish emails from me.
Techie Homeschool Mom is a participant in the Amazon Services LLC Associates Program, an affiliate advertising program designed to provide a means for sites to earn advertising fees by advertising and linking to Amazon.com. You can read my full affiliate disclosure HERE.