Hey, just so you know ... This post includes affiliate links. That means if you use them to make a purchase, I may earn a commission. You can read my full affiliate disclosure HERE
Do you have gifted and talented kids and wondering if there are apps and sites that can keep up with their unique development? The short answer is, "Yes!"
Although you're most likely already using some type of educational app to help your kids learn, I've done some research and rounded up the best resources specifically for gifted and talented kids that you can start using in your homeschool now.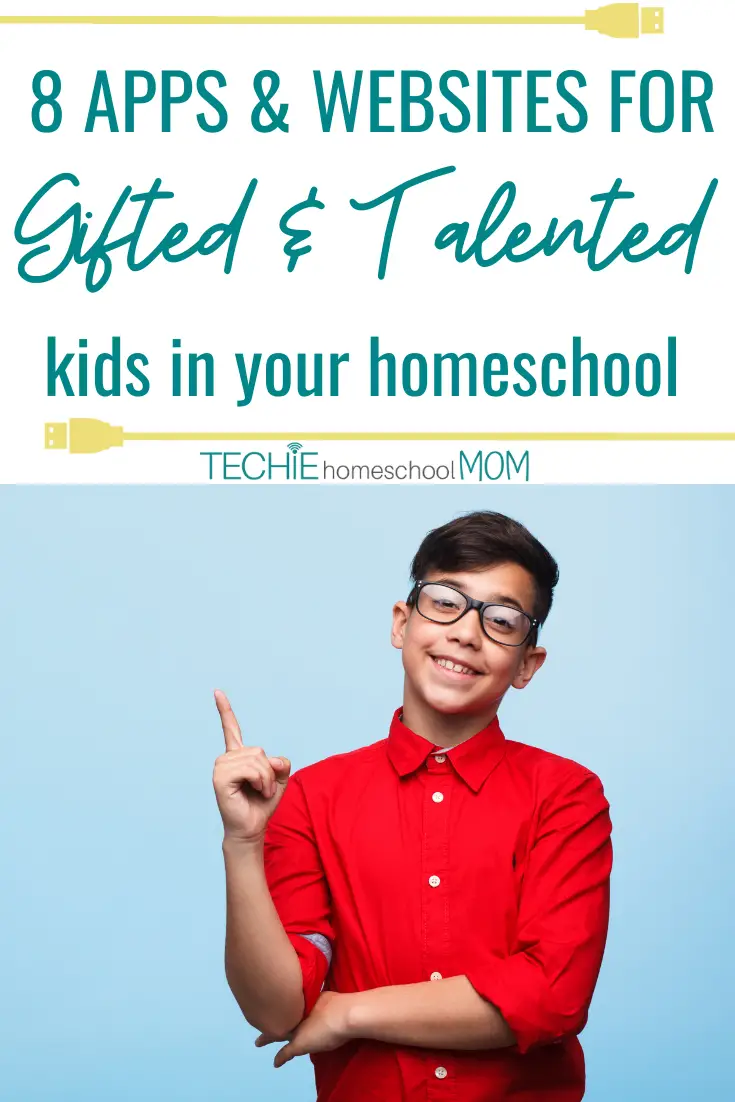 8 Apps and Sites for Gifts and Talented Kids
I've conveniently broken these by age group so you can quickly locate your preference.
Early Learners (5-7)
With codeSpark, your kids learn how to code and develop valuable life skills…while playing and having fun! Their patented technology lets kids learn to code before they even know how to read. Their programs are carefully designed to increase engagement in girls and close the gender gap in STEM. They are known for putting wonder, curiosity, and silliness into everything they make.
DIY.org puts you one click away from a huge library of hands-on projects, how-to videos, and an awesome kid community. All of their videos are connected to clever and creative projects that get your kids off their screens and stay busy trying new things. You'll be sent a report each time your kids try a project, to keep you in the loop about what interests them and how they're growing.
Big Kids (8-9)
This video game app offers kids the opportunity either to create their own inventions or build inventions to accomplish a given task. In Create mode, kids can add a username, create their own inventions, and share them with friends. Inventioneers is an outstanding tool for learning about real-time physics and the science behind different features like air, fire, magnetism, and jumping bunnies. What you can do with the tool is virtually endless.
In Crafty Cut, players encounter 3-D figures floating in space. They must drag the figures to slice them, forming cross-sections that match given 2-D shapes. Geometry just got addictive in this swipe-to-cut puzzle game! Discover the secrets hidden within shapes in four different modes of gameplay. Slice and dice, rotate, combine and create. Win stars to progress through the levels from easy to tricky and even fiendish.
Tweens (10-12)
GarageBand
GarageBand is a line of digital audio workstations for macOS, iPadOS, and iOS devices that allows users to create music or podcasts. Your kids can move far beyond loop packs and get a playable instrument & manipulate loops in real time. They will be able to play with unique studio-quality sounds added daily, or manipulate their own. 
Lumino City has been created in a unique way. Everything you see on screen was made using paper, cardboard and glue, culminating in the building of a 10 foot high model city. Laser cutting was used to create finely detailed environment, and miniature lights and motors were built in to bring it to life. Lumino City is a puzzle adventure game, and the sequel to Lume. Three years in the making, it's handmade entirely out of paper, card, miniature lights and motors.
Teens (13+)
SketchBook Pro, also referred to as SketchBook, is a raster graphics software app intended for expressive drawing and concept sketching. SketchBook drawing and painting software lets designers, architects, and concept artists sketch ideas quickly and create stunning illustrations.
Curious – The Game of Lifelong Learning
Are your teens curious? Give them a daily workout of lessons, puzzles (including Crossword), and Curios and grow their Curious Quotient (CQ). You can tell them how much time you want our teen to spend learning a day: 5, 15, or 30 minutes. They will customize their learning experience and build them a beautiful CQ wheel. Every wheel is unique. Your teen receive a daily, personalized learning workout via email and on their Curious dashboard. Who knew exercising their brains could be this much fun? 
Final Thoughts
Look no further for apps and websites to help boost your gifted and talented kids. The ones mentioned above are perfect for incorporating into your everyday homeschooling schedule. They can also be used in conjunction with things they're already learning about or be used as a stand-alone resource.
What apps and games do you currently use for your GT kids? Let me know in the comments below!
Related Posts

Want some techie homeschooling tips and inspiration delivered to your inbox? Sign up here for weekly-ish emails from me.
Techie Homeschool Mom is a participant in the Amazon Services LLC Associates Program, an affiliate advertising program designed to provide a means for sites to earn advertising fees by advertising and linking to Amazon.com. You can read my full affiliate disclosure HERE.