Hey, just so you know ... This post includes affiliate links. That means if you use them to make a purchase, I may earn a commission. You can read my full affiliate disclosure HERE
Techie Homeschool Project:
Filtered Photo Collage
In this day and age, it's so easy to just click a few buttons to alter a photo. Whether you're editing right inside a social media app or using an outside photo app, you can get just the right effect.
But if you have a child just slightly interested in digital photography, it's important for them to know the "how" behind those filters. What are exposure and saturation? What does "sharpening" do? What is the foundation of photo editing? And which looks do you like best?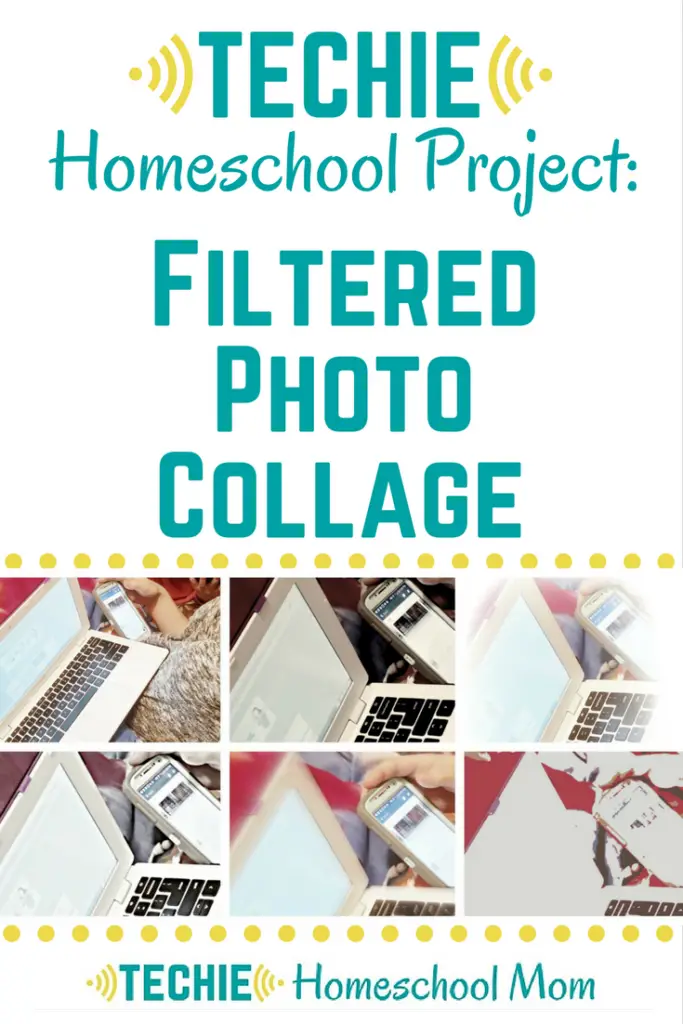 In this project from the Techie Homeschool Photography Club, homeschoolers use PicMonkey to experiment with photo editing features and create a Filtered Photo Collage. Not only will your child be learning the basics of digital photography, but they'll expressing themselves artistically as they decide which looks they like best.
To start, CLICK HERE to register/login at PicMonkey.  I recommend the 7 day free trial so you have access to all the features PicMonkey has to offer. If you don't like the PicMonkey membership, just cancel after you complete your project.

Now, choose a photo you've taken to use for your project. Your Filtered Photo Collage will showcase 6 images.
Your original photo
Image edited with PicMonkey's basic edit tools
Image edited with PicMonkey's "Tried & True" or "Basic" effects
Image edited with "Black and White", "Camera Look" or "Paintbox" effects
Image edited with "Spotlight", "Focal Soften" or "Focal Zoom" effects
Image edited with any filters and effects you want
Filtered Photo Collage Tutorial
When you're done, upload your creation to the comment section below.

Replace traditional research reports and shoebox dioramas with interactive, media-rich student projects.
Discover 25 free apps that will turn your kids into techie creators.
Download Techie Homeschool Mom's List of 25 Free Apps for Creating Student Projects

Want some techie homeschooling tips and inspiration delivered to your inbox? Sign up here for weekly-ish emails from me.
Techie Homeschool Mom is a participant in the Amazon Services LLC Associates Program, an affiliate advertising program designed to provide a means for sites to earn advertising fees by advertising and linking to Amazon.com. You can read my full affiliate disclosure HERE.