Hey, just so you know ... This post includes affiliate links. That means if you use them to make a purchase, I may earn a commission. You can read my full affiliate disclosure HERE
If you have a teen on your Christmas shopping list this year, you're probably wondering what to get them. Teens are often pretty challenging to buy for, but technology usually does the trick with this group of gift recipients. If you're looking for gift inspiration for a teen in your life, this list of cool technology gifts is for you.
Portable Charger
Your teen is likely attached to their phone 24/7, so getting them an on-the-go power source to keep their battery fully charged is a great idea. They'll love the small size of this portable charger, which can easily fit in their pocket and still provide more than one full charge on any device.
Fujifilm Instax Mini Camera
With the retro appeal of a Polaroid and the accessories of a real-life Snapchat filter, the Fujifilm Instax Mini Camera is a great option for a teen who loves to snap photos. It even has a selfie mirror for instant printed self portraits.
Bluetooth Keyboard
While there's no doubt that your teen is a pro at texting, there will surely come a time when they'll need a keyboard. This handy Bluetooth keyboard is the perfect solution for homework – it easily connects with a variety of devices and works with any major operating system.
 
Selfie Ring Light
Teens love selfies – help your teen look great in her photos with this selfie ring light, which provides amazing lighting for all their Instagram and Snapchat portraits.
App-Controlled Robot
While your teen probably doesn't play with toys very often anymore, they'll have a blast playing with this app-controlled robot. In addition to connecting to their smartphone through Bluetooth, this fun robot performs tons of cool tricks and can drive over any terrain.
VR Headset
With the rising popularity of virtual reality headsets, it's likely this tech gift is at the top of your teen's list. But if you're hesitant to spend hundreds of dollars on a set that your teen could easily break or lose, this VR headset is the perfect option for you.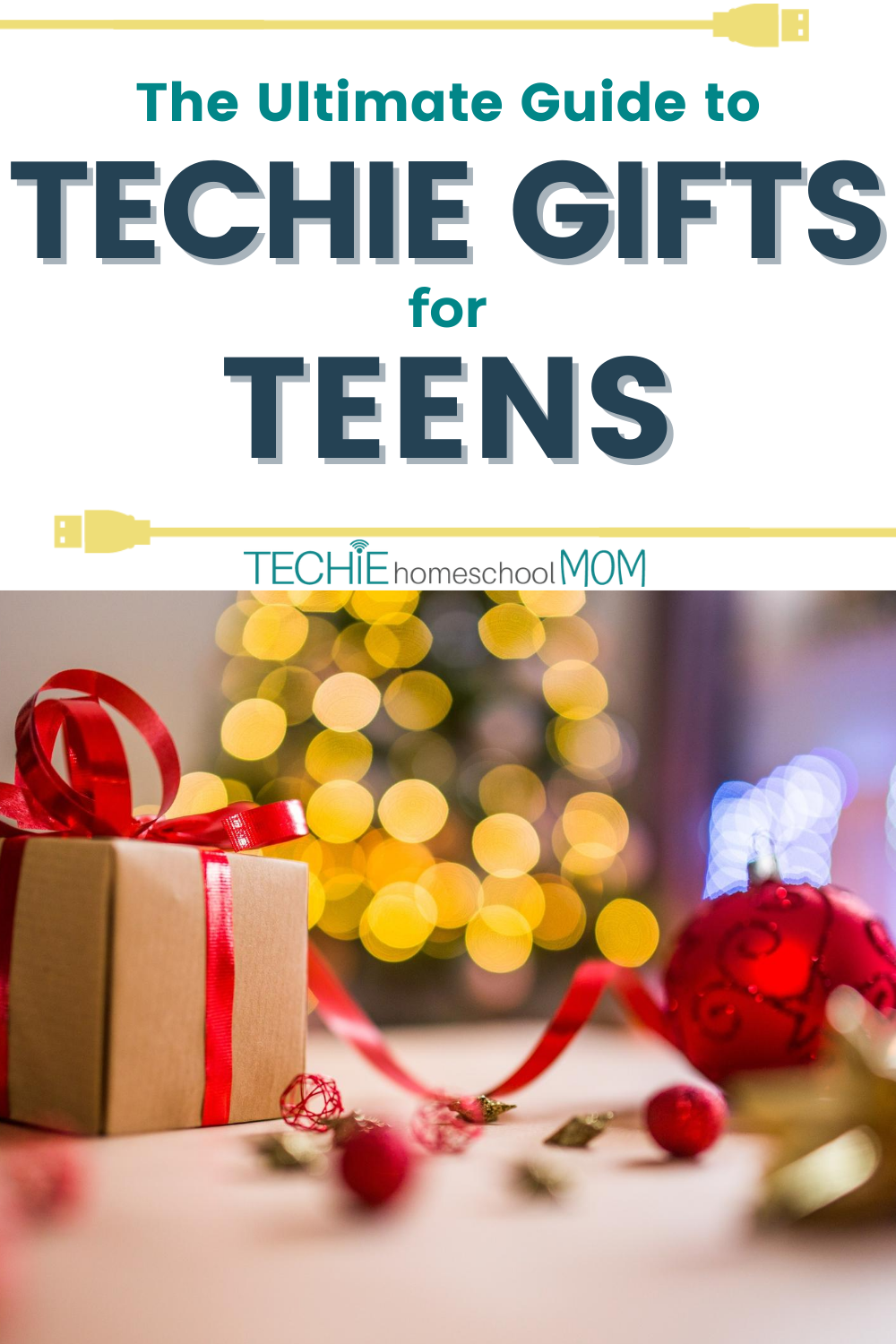 Tile Bluetooth Tracker
Is your teen constantly losing their keys? This technology gift is the perfect option for them! The Tile Bluetooth tracker attaches to anything that is easily misplaced, making it simple to find their lost item with a push of a button on their phone.
Sunrise Simulating Alarm Clock
Help your teen get out of bed each morning with this high-tech alarm clock that simulates the rising sun, ensuring they wake up more energized and refreshed.
Waterproof Bluetooth Speaker
Whether your teen enjoys listening to their favorite music in the shower or playing DJ during hangouts with friends, they'll love this handy waterproof Bluetooth speaker. It easily attaches to almost anything and can wirelessly connect to a variety of devices.
InvisaWear Necklace
Keep your teen safe while they're out on their own with this high-tech necklace that will allow them to send an SOS text alert to you if they're ever in danger. Using a companion app, this InvisaWear necklace will allow your teen to connect up to five friends and family members as emergency contacts that can instantly be alerted using the push of a button on the necklace.
Bluetooth Beanie
With this cool Bluetooth beanie, your teen can stay warm and listen to their favorite music at the same time.

Want some techie homeschooling tips and inspiration delivered to your inbox? Sign up here for weekly-ish emails from me.
Techie Homeschool Mom is a participant in the Amazon Services LLC Associates Program, an affiliate advertising program designed to provide a means for sites to earn advertising fees by advertising and linking to Amazon.com. You can read my full affiliate disclosure HERE.