Hey, just so you know ... This post includes affiliate links. That means if you use them to make a purchase, I may earn a commission. You can read my full affiliate disclosure HERE
In homeschooling circles, we hear a lot about the idea of individualizing our children's education. It's what almost every homeschooler desires to do. But how? One way is to choose resources that are flexible, comprehensive, and thorough. Study.com provides just that. It's a resource that allows you to find information and lessons on a variety of subjects, incorporating multiple learning styles, for various grade levels all in the same place. 
** This is a sponsored post. I received this product or compensation for review purposes only and was compensated for my time. I was neither asked nor required to share a positive review; all opinions are my own. READ HERE for more information.
Study.com has been used by homeschool students for years to prep for CLEP tests (which can save a family thousands of dollars in college costs), but recently they created a homeschool curriculum to help you and your family achieve your educational goals—goals that are as unique as your family.
Why Use
Study.com

 for Your Homeschool?
1) Courses are available for students in third grade through high school. 
Whether it's a core subject such as English, math, or science—or an elective such as art, business, or psychology—Study.com provides detailed lessons for a well-rounded education. 
In addition to these more traditional courses, students will also find videos that explore different career choices, how to interview for a job, and how to network once you have a job. You'll also find test prep courses for the ACT, SAT, and more.
You and your students can even create your own courses by putting together specific videos and lessons from the more than 27,000 video lessons and transcripts that are available.
2) Study.com lessons are designed to address multiple learning styles.
Many lessons are based around short, engaging, animated videos. Both auditory and visual learners benefit by both hearing and seeing the lessons. 
In addition to the video, a transcript of the lesson is written out below the video. Students can print it out and highlight important facts. For kinesthetic learners, this physical interaction with the text can be a big plus.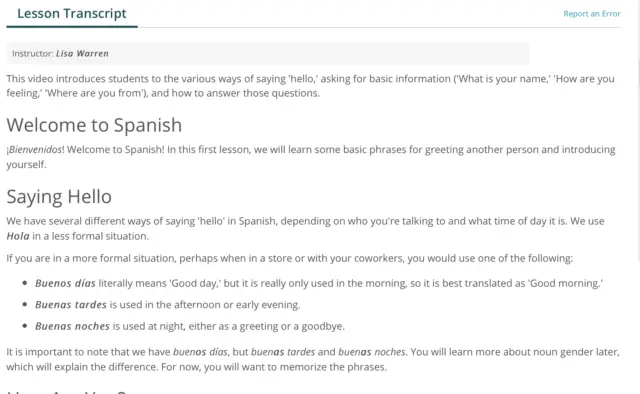 3) The program develops independent learners. 
Besides automatic grading that will help both you and your students keep track of their progress, students can set goals for when they will start and finish courses. The ability to schedule not just what courses they take, but their actual study time teaches them valuable time management skills. 
Video explanations for wrong answers help them truly learn the material, instead of just moving on without really understanding it.
And your students will have access to expert instructors 24 hours a day, 7 days a week so they always have someone to answer their questions. A big part of being an independent learner is knowing when you need to seek help!
4) There is something for (almost) everyone in the family. 
Students can take unlimited courses, so you can let the whole family use Study.com at the same time for as many subjects as you want.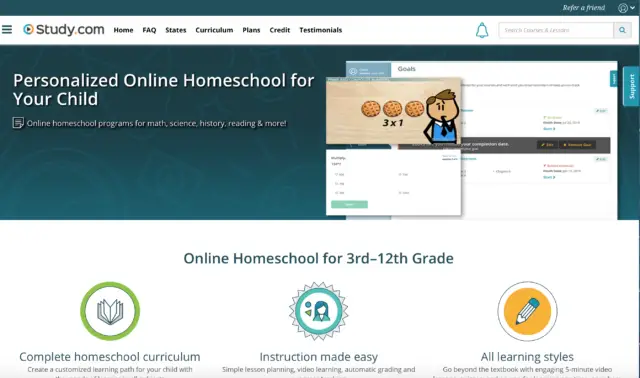 Younger kids (and older ones too!) will enjoy the animated videos. These videos help kids see the concepts they are learning about, as well as hear how the subject's vocabulary is pronounced. 
Older students can take AP classes or earn college credit in multiple ways. They can prepare for taking CLEP tests while still in high school, and through the College Accelerator option, they can actually earn college credit.
5) You can tailor it to fit your family's specific needs.
Dr. Ruth Beechick often talked about how curriculum should be our servant, not our master when it comes to homeschooling. Study.com's homeschool curriculum is designed to serve you and your children no matter what your educational needs are. 
Whether you want to use the courses as the spine or starting point for other types of lessons, supplement another course you are using, or consider it your main course…the flexibility of the resources on Study.com means you can choose how to use it in whatever way works best for your students.
6) Students can learn anywhere.
With Study.com's mobile app, you know you'll have access from almost anywhere. One of the great things about techie homeschooling is that you aren't tied to learning from one specific place or time of the year. 
So whether you enjoy road schooling or simply need to be away from home for an extended period of time, you can know that you can continue your studies.
Take a look at Study.com HERE. Chances are you'll discover lots more reasons why it'd be a great addition to your family's homeschooling.
Tell me – which of these reasons that you should try Study.com appeals to you the most? Why? Leave a comment below.
RELATED POSTS:

Want some techie homeschooling tips and inspiration delivered to your inbox? Sign up here for weekly-ish emails from me.
Techie Homeschool Mom is a participant in the Amazon Services LLC Associates Program, an affiliate advertising program designed to provide a means for sites to earn advertising fees by advertising and linking to Amazon.com. You can read my full affiliate disclosure HERE.