All you Need to Know About Online Classes for Homeschoolers
Hey, just so you know ... This post includes affiliate links. That means if you use them to make a purchase, I may earn a commission. You can read my full affiliate disclosure HERE.
Online classes for homeschoolers are becoming one of the primary ways to teach children from home. As our society continues to surge through technological advancements, parents are beginning to see the benefits of incorporating this learning style. However, what most parents face are the issues of finding programs, classes, and getting things set up for smooth learning. We'll discuss these concerns and more below.
All you Need to Know About Online Classes for Homeschoolers
Benefits of Online Classes for Homeschoolers
With all the different learning styles, online learning is one of those that can meet the needs of several of those. From auditory and visual to hands-on learning, online classes can provide this and more.
In addition to meeting several learning styles, online classes can also help children focus. Some children seem unmotivated because of the type of lessons they are being provided versus being behind or lacking in an area. Being in an online setting, there are fewer distractions, especially when your kids are protected while online.
Another benefit of online classes for homeschoolers is the ability to create a custom curriculum catered to your child's needs. If there is any area that you're not quite comfortable teaching in, online classes can help. As your children get older, you may find that it's more feasible to outsource certain subjects and/or career path-related courses. These often count for full and/or dual credits that will help your children in the long run.
Last but not least, online classes can help you save time. If you are homeschooling multiple kids that span many ages and grades, you can lighten your load by enrolling some of your kids in online courses. Some of the classes are also compatible for more than one child to take even if they are in different grades. This will give you time to work with your other children should they need more hands-on instruction.
Types of Programs
When it comes to understanding the types of online programs available for homeschool students, think in terms of you and your child's particular needs. If you're homeschooling a high schooler, chances are you may need an SAT or ACT prep course. Perhaps you'd like to keep your younger kids engaged and learning basic concepts in the meantime. Or, maybe you'd like to supplement some of the trickier subjects like science and history. Regardless, there are several top programs that are considered the "go-to" in the world of homeschooling. 
K12
K12.com is considered the best overall for many reasons. They have a very customizable approach and can be a one-stop-shop for all learners. There are also tuition-free options, virtual public schools taught by certified teachers, as well as tuition-based private schools. K12 is a great source thanks to their free library of literacy tools and over 21,000 eBooks. 
Schoolhouse Teachers
SchoolhouseTeachers.com is another popular resource in the homeschool community for one-stop curriculum shopping.  Their online classes are self-paced, customizable, and you'll find options for every grade, subject, and each of your kids all in one place.
There are over 400 online courses for pre-school through high school, offered in multiple formats.  You'll even find courses for parents included in your membership, and lots of other features and benefits.
ABC Mouse
Next on the list is abcmouse.com. This is your early learning academy and has an average monthly cost of about $10. Their award-winning curriculum offers:
a comprehensive reading system (from letter recognition and phonics to reading full-length books)
math
science
social studies
art (including both drawing and painting)
Because their platform is gamified, your younger kids will enjoy playing games to earn tickets and have so much fun learning in the process.
Time4Learning
Time4Learning is an online education program that is known for its amazing structure. Catering to grades PreK-12th, you can find curriculum by grade, scope and sequence, electives, and more.
The only downside to using this as an option for online classes for homeschoolers is the cost. For grades preschool to eighth, the cost is about $20 monthly for the first student and about $15 per month for each additional student. For high schoolers, it's $30 per month per student and only includes 4 courses. If you're homeschooling multiple students, this could get a little costly. 
Khan Academy
Khan Academy is a nonprofit with the mission to provide free, world-class education for anyone, anywhere. Parents really enjoy their student's ability to practice at their own pace (also known as self-paced). Whether you're looking to use this academy for just a few online classes or all of them, they are a trusted source that can help in any subject area.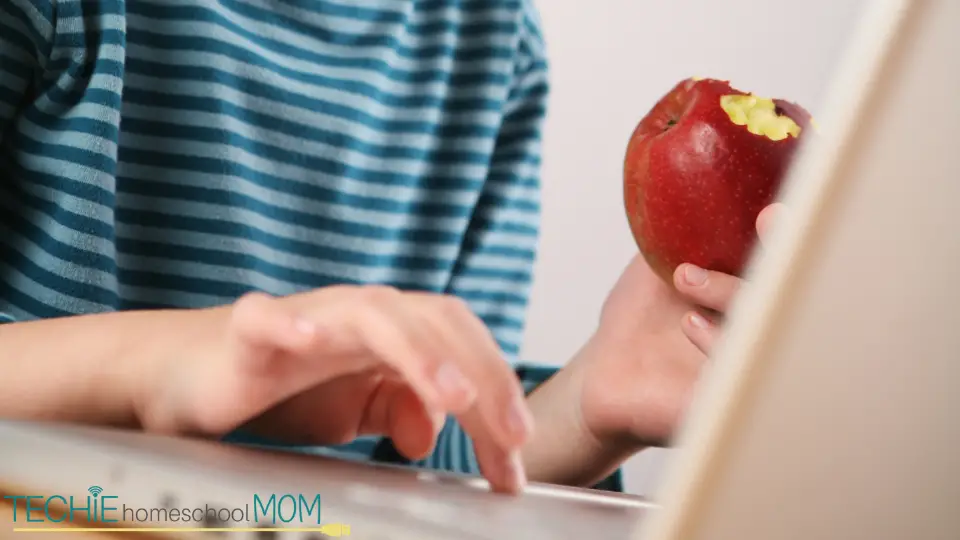 Different Formats for Online Classes
One of the biggest aspects to keep in mind when considering online classes for homeschoolers is finding the perfect format for your family. Again, this means knowing if first and foremost it will be a good fit for your child's learning style. Then, figuring out which classes, subjects, grades, etc. would be beneficial as well. Below is a breakdown of the four primary formats of online classes.
Online a la Carte
These are exactly what they sound like, classes that are available individually. These types of programs are usually smaller and make it easier to mix and match according to specific needs. Most of these programs I've seen offer live classes that are typically taught one to two times per week. A few other benefits of this format are:
Flexibility in coursework.
Live classes are recorded and replays are provided to students.
Teachers are usually available to interact with and help students.
Programs that offer this format: Funda Funda Academy, MrD Math, Outschool, True North Homeschool
Online All in One
This type of format is usually reserved for programs without live classes. Time4Learning and Khan Academy are great examples of this format. Think of it in terms of online public schooling in terms of the platform offering core subjects and electives. Students will typically have their own homepage catered to courses/classes they are enrolled in. Work can be completed on their own time. And, almost all of the student's work is done online.
All in One Online Private
Private all-in-one programs are formatted to provide students with a school-at-home approach to their education. Students typically use these providers for all of their coursework and will have options to take classes with live teaching or not. Programs on this platform also take care of grading, assignments, testing, and the like. When considering this format, keep in the mind things such as:
cost (per family or per student)
teacher accessibility
the need for reliable internet
schedule flexibility (or not)
Online Public School
This format is usually most used by parents who have intentions of enrolling their children into public schooling at some point during their homeschooling journey. This option has also seen a surge in popularity due to the recent pandemic. Most homeschooling families agree that online public school isn't their first choice, although there are good aspects to it. This format will almost always follow the guidelines of the state's educational system they are offering the program in. You will need to enroll through specific school districts in order to participate. And the biggest thing to keep in mind is it is not homeschooling. Rather, it's simply public school at home. 
How to Find Online Classes for Homeschoolers
Google (or your favorite search engine) is your best friend when it comes to finding courses, classes, resources, and the like. To get the best results, keep your search as detailed as possible. For example, if you're looking for music classes for elementary-age children, use those exact words. You may still have to scroll a bit but you'll find lots of resources just a click away.
I also have an online homeschool curriculum directory. It's considered "the place" to search for online homeschool courses. You'll be able to search by subject, grade, type, and more.
Tips for Incorporating Online Classes
With the major part of online classes being online, you'll want to make sure to have a reliable computer (tablet, iPad, laptop, etc.) and Internet connection. Also, consider child-proofing the computer your students will be using to decrease distractions or the possibility of them encountering something harmful. There are apps and ad-blocker programs that can be downloaded to help in this area.
Another important tip is to understand your role as a parent when your kids are taking online classes. You may need to help more than you may think or even be more hands-off. A safe rule of thumb is the younger the student, the more interactive the parent should be. Use every opportunity to teach your kids online etiquette, how to stay organized, and how to manage their time.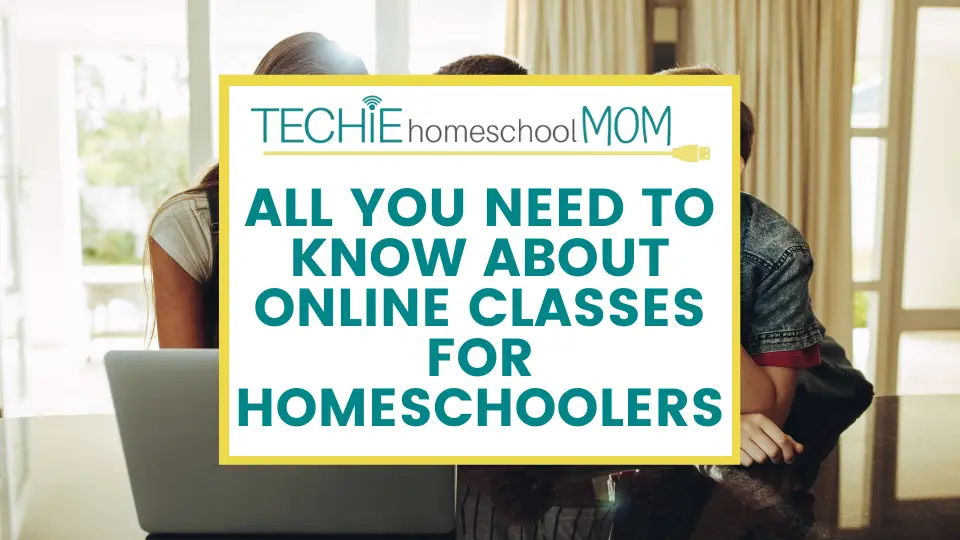 Final Thoughts
Online classes can definitely help you homeschool, especially when it comes to outsourcing those tough subjects. If you're new to using this option in your homeschool, start slow and take it one class at a time. Introduce online learning to your children by informing them of what it will look like and even consider sitting with them during their first couple of classes. Once you both get the hang of it, it'll become just as natural and normal as any other aspect of your homeschool.

Related Posts

Want some techie homeschooling tips and inspiration delivered to your inbox? Sign up here for weekly-ish emails from me.
Techie Homeschool Mom is a participant in the Amazon Services LLC Associates Program, an affiliate advertising program designed to provide a means for sites to earn advertising fees by advertising and linking to Amazon.com. You can read my full affiliate disclosure HERE.