Hey, just so you know ... This post includes affiliate links. That means if you use them to make a purchase, I may earn a commission. You can read my full affiliate disclosure HERE
6 Reasons Homeschoolers Shouldn't
Buy Gifts
I'm a firm believer that real-life experiences are the best opportunities for learning. I believe that I need to grab hold of relevant and natural home education experiences for our children. I know that God has designed my kids to be curious and talented and capable of learning through just living life.  And that is part of the reason my children learn at home. [Related post: How I Answer When Asked "Why Do You Homeschool"]
Some of the best learning experiences for my children have been when they create something.  And, in our home, Christmas time (or birthday time) 'tis the season for gift making.
There's nothing like a good homemade gift, right? You receive something unique, special and sentimental….often times useful and tailored to you. But have you considered all the "real-life education" that takes place when your homeschool goes all-DIY for gift giving?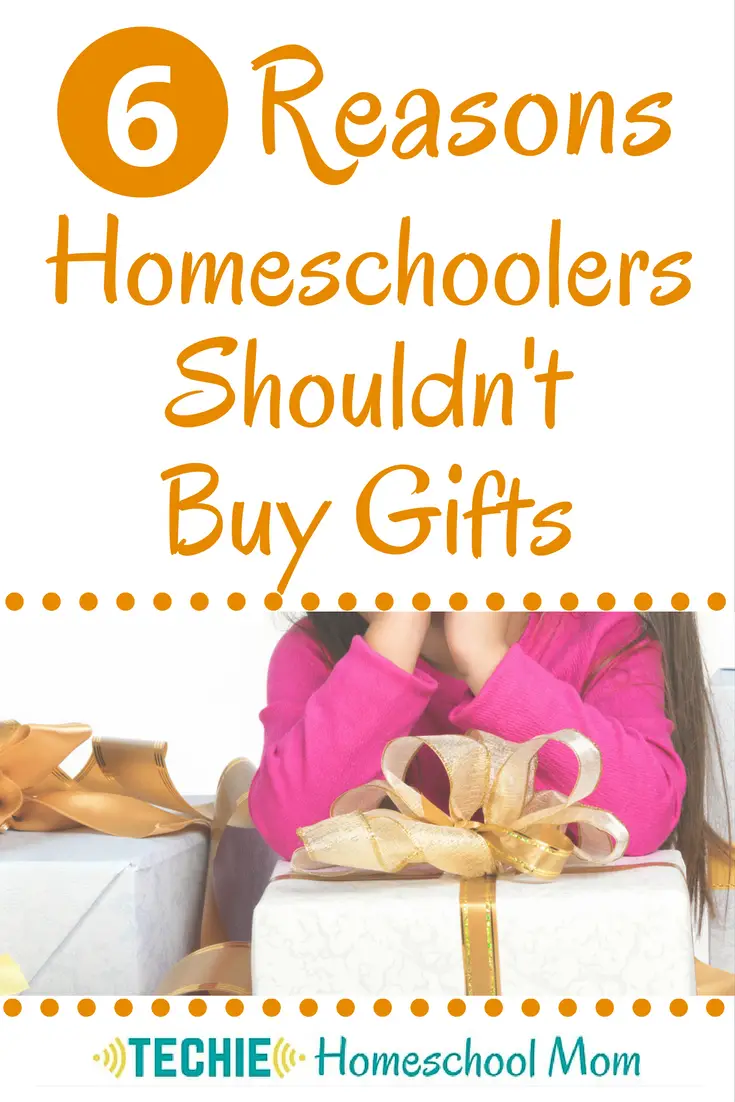 Why should we encourage our kids to buy gifts when they can learn so much from making gifts? When your children create gifts, they…

Learn and/or expand their talents.  Sometimes it may be a new talent or a new twist on a talent they've already developed.

Develop their problem-solving skills.

Things never go perfect with DIY, but we grow as we consider ways to fix mistakes or determine a new way of doing things.

Grow in character as they consider others.

For the gift to be meaningful, you children need to consider the interest of the gift receiver.

Practice frugality.

Often times, it is less expensive to make gifts. Sure, there is more time expended, but homeschoolers have the freedom of time, especially if you add gift-making to your home education plans. 

Experience the joy of giving.

 Most recipients (especially older members of the family) will be blessed by unique gifts and express their gratitude.

Create something that could lead to a future business

. As your kids develop a system for producing their gifts, they may end up creating a product that they can earn an income from.
I know what you're thinking.  "That all sounds good, Beth, but I can't teach my kids how to make gifts. I'm not crafty. And I don't have the patience or time."
Well, I'm right there with you. With 5 kids, all having different interests, I could never teach them how to do all they want to learn. That's why I enroll my kids in online courses.
With an online course, I know my daughters are getting complete instruction from someone who knows what they're talking about (unlike some YouTuber with questionable language and character leading my child). I don't mind shelling out the $20 or so for good instruction (that comes from someone besides me. I don't even need to drive them to lessons!!!).
Seriously, my friend….you should try this out. And I've made it easy for you by creating a list of online courses for DIY gift giving. Check out some of these gifts your kiddos can learn to make. Wouldn't Grandma love these?
You can find the links to these projects and others in my blog post, 50 Online Courses for DIY Gift Giving.

Or check out these crafting websites to find some DIY gifts of your own.


Tell me…..what's the best DIY gift you've ever given or received?
CLICK HERE to find more fun homeschool holiday activities from iHomschool Network's "Cool and Amazing Homeschooling Ideas for Christmas."



Want some techie homeschooling tips and inspiration delivered to your inbox? Sign up here for weekly-ish emails from me.
Techie Homeschool Mom is a participant in the Amazon Services LLC Associates Program, an affiliate advertising program designed to provide a means for sites to earn advertising fees by advertising and linking to Amazon.com. You can read my full affiliate disclosure HERE.