What's the Best Laptop for High School Students?
Hey, just so you know ... This post includes affiliate links. That means if you use them to make a purchase, I may earn a commission. You can read my full affiliate disclosure HERE.
I get lots of questions from parents about which type of device to use for homeschooling. Tablets? Desktops? Laptops? Chromebooks? Which is the best choice? I typically recommend Chromebooks for homeschooling, but as your child gets older, they could benefit from something more robust. That's why it's best to get a laptop for high school students, especially if you're a techie homeschooling family. 
I've got my top five recommendations for the best laptops at the bottom of this post, but before you scroll there (because I know you will), it's important for you to know if a laptop is a really a better choice over a desktop or Chromebook for your particular situation. That way you can discern if the expense of the laptop is worth it. 
Benefits of Laptops over Desktop Computers
Gone are the days when you need to fill your homeschool room with desks topped with computers. In the past 5 years, tech has evolved to the point that desktop PCs are a must-have for homeschooling.
Laptops can go with you (just about) anywhere
One of the biggest benefits of laptops is the portability they offer. 
With the right laptop, school work is no longer confined to one area in your house, or only at home. With a laptop, it makes it easier to go on trips and daily outings because you can just pick up the laptop and go and they are still able to easily do school with a wifi or hotspot connection. 
Combined with the fact that a laptop doesn't take up much space, that's a good thing for your on-the-go teens.
Laptops have the power of a desktop but in a more compact package
Desktops just aren't feasible as a personal computer for a teen who's on the go who will (hopefully) be moving out in a few years. But your child will need something with more "oomph" than a tablet or even Chromebook. 
The big advantage of PCs (desktop and laptop included) is that they have greater storage. This is crucial as your child starts using more powerful software and apps. They will have better speed, better resolution, and avoid performance issues.  
And they're able to upgrade storage and operating systems if needed. You can't do that with mobile devices.
Students gain and practice necessary tech skills
As your teen uses their laptop, they are learning practical techie skills they'll use their future careers. Things like keyboarding, file management, system maintenance, and basic computer navigation. As they enter the workforce, they'll have a foundation that will enable them to transition to professional computer systems. Think about how much better they'll be prepared than a co-worker who only has experience with mobile devices.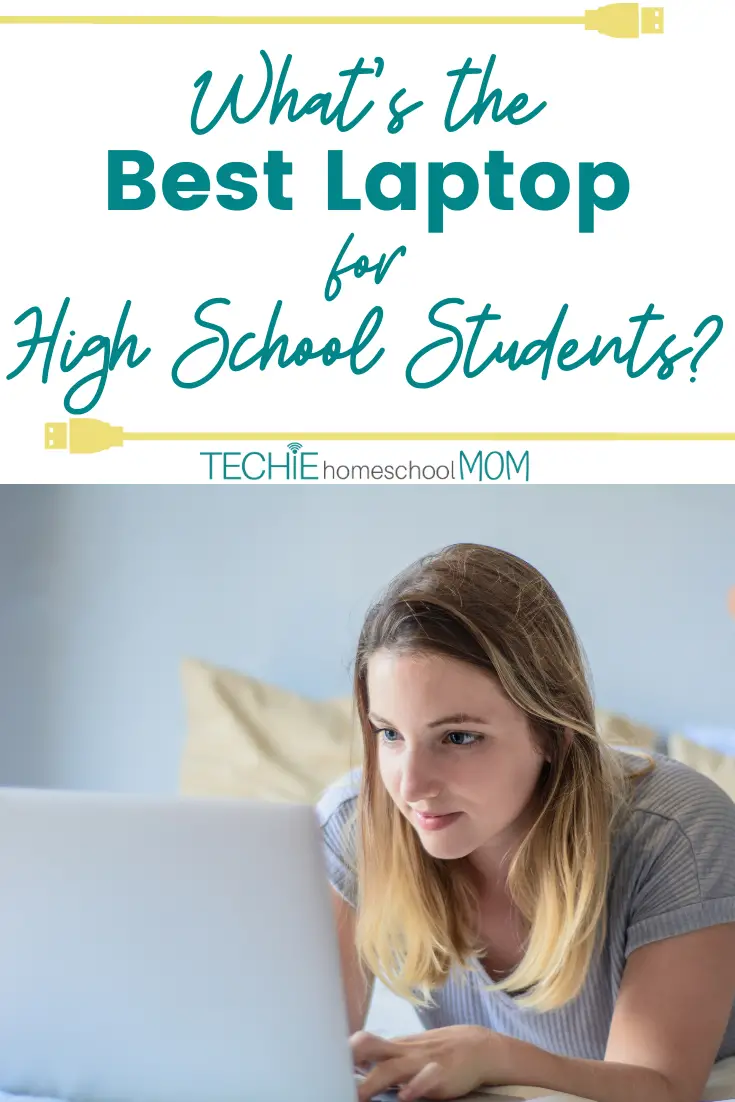 Why You Would Choose a Laptop vs. a Chromebook
Like I mentioned, I've usually a strong advocate of Chromebooks for education. That's mostly because they are so economical and a good entry point for online learning. But, your high schooler will be spending more time on the computer and need more power and storage. Their education (or entertainment) may require complex programs that require downloaded software.
Laptops are definitely a better choice for high schoolers who you are going to be using the computer for gaming or design programs, such as Photoshop or CAD. If your high schooler is really techie and interested in programming, a laptop is the way to go. 
You see, Chromebooks are meant to work on their own operating system and were built to run off an internet connection. They are a way more affordable in price but have basic minimal features whereas laptops come with more storage, faster processors, and more bells and whistles. It is very easy for older kids to become frustrated using Chromebooks if they are trying to run multiple tabs at the same time. 
Features To Consider When Choosing a Laptop
When looking at different laptops for high school students, there are several features that you want to keep in mind. 
Battery Life
Battery life is a super important feature of any laptop. The purpose of a laptop is to be able to go  anywhere with it so the last thing you want is to be connected to a cord all day.  A good battery life should run at least 8 hours after each charge. Newer laptops that are coming out on the market are running much longer than this. 
Screen Size
Screen size is another great feature you should consider when looking for a laptop. When a manufacturer is measuring a screen size this is done diagonally. I always find it helpful to pull out a tape measure to help visualize the size of a screen if I am shopping online for a computer. 
Smaller laptop screens are around 12 inches where your largest will be up to 17 inches. 
Memory 
Memory is also known as the RAM of the computer. The higher the RAM or memory the faster your computer performs. Think of it as the higher the ram the quicker things will load. 16 GB of memory is a lot of RAM. These are perfect laptops for gamers and people doing editing. 
When you are choosing a laptop for homeschooling you can easily get one that has anywhere from 2to 8 GB of RAM for simple school assignments. 
Storage 
When looking at laptops for homeschool you want to consider how much storage is on the laptop.If you are planning on using your laptop to store a lot of documents, media files, and gaming then you will want a laptop with a lot of storage anywhere between 256-512GB. Sure, you can use an external hard drive for added storage, but that is another thing to have to keep track of. 
If you are wanting to purchase a laptop for simple homeschool lessons and internet use, you will be ok purchasing a laptop with just 128 GB.
Durability
Consider the computer's warranty and build when looking at laptops for homeschooling. 
Homeschooling is not the typical classroom setting and they will likely have food and drink around the computer as well as carry it around the house and on trips.  When it comes to durability you can also see if the laptop manufacturer has some sort of care plan to protect all those mishaps.
The Best Laptops for High School Students
There are so many laptops out there to choose from, and that can be overwhelming. I've got a few recommendations to help ease the stress. Take a look, read reviews, check your budget and find the perfect one for your high schooler. 
A quality laptop with a long-lasting battery is why HP PAVILION 14″ Laptop is on my list of recommended laptops for homeschooling. This laptop comes with big internal storage space, strong specs, and is built to last (meaning your high schooler can use it into their adult life). HP is a household name that you can trust when it comes to a quality laptop.
This Microsoft Surface Go would be a great laptop for your high schooler as it is lightweight at only 1.15 pounds and is equipped with a touchscreen making schoolwork even easier. The Microsoft Surface Go is also great with creative assignments because it is really easy to transition from laptop mode, tablet mode, and even studio mode with its kickstand back. 
Lenovo IdeaPad Laptop is a great laptop for running multiple applications at the same time for those multitasking homeschoolers.  My favorite features of this laptop, its very quick startup time and its 8-hour battery life on one single charge which are both perfect features for a homeschool laptop.
The Apple MacBook Air is a laptop that is built to last, attractive, and sleek. If your teen is an iPhone user, the two devices will synch. This laptop is definitely on the more expensive side but it is built to last for years. If you were to purchase this laptop for your highschooler it would easily last them all through high school and college.  MacBooks are known for their fast processors and their long battery life (up to 11 hours). And if your teen likes gaming, graphic design, editing, and video this is the best laptop for you.
Dell Inspiron is a great laptop option when it comes to price to value.  This is a well-made laptop that gets the job done when it comes to schoolwork. It has great battery life and storage capacity. This laptop is a great choice when you look at the price you pay and the features you get such as Bluetooth capabilities. The Dell Inspiron laptop is not the top of the line laptop for gamers but when considering it for schoolwork task it is a great choice. 
I encourage you to ask around to find and which laptops other techie homeschoolers recommend. A good place to get the scoop is the Techin' Your Homeschool Facebook group.
Tell me, what has been your experience with laptops for your high school students? What have you used and loved?

RELATED POSTS:

Want some techie homeschooling tips and inspiration delivered to your inbox? Sign up here for weekly-ish emails from me.
Techie Homeschool Mom is a participant in the Amazon Services LLC Associates Program, an affiliate advertising program designed to provide a means for sites to earn advertising fees by advertising and linking to Amazon.com. You can read my full affiliate disclosure HERE.