Best Ways to Store and Organize Your Electronic Devices
Hey, just so you know ... This post includes affiliate links. That means if you use them to make a purchase, I may earn a commission. You can read my full affiliate disclosure HERE.
When trying to get everything in the home organized, it helps to have a good spot for your electronic devices. When it comes to homeschooling, you're most likely using multiple electronic devices for your kids' learning. Not only do you have a television, but you may also own computers, gaming consoles, tablets, and smartphones. When each person in the household has their own electronic device, it's easy for things to start taking up space and start getting unorganized. Follow these simple tips to easily store your electronic devices and keep them as organized as possible.
Best Ways to Store and Organize Your Electronic Devices
Get a Wall-Mounted Electronic Device Station for the Living Room
If you have the space on the wall, consider getting a wall-mounted electronic device station. These stations come in different styles and sizes, so you can find something that fits and looks good with the rest of the decor inside your home. It'll typically contain slots for some electronic components that go with your television, such as the cable box and gaming consoles. Some may also come with additional spots and storage for storing other types of electronics. 
If you need to store several different types for multiple kids and adults, consider labeling the drawers and/or devices for easy organization and distribution. 
Install a Convenient Charging Station in Your Home for All Devices
Invest in a charging station that you can set up in your home and use to keep devices charged. It provides you with the perfect slots for some devices, including smartphones, Kindles, and iPads. You can make sure everything gets charged at night for the next day. If your children constantly argue over who will use the charger next, this is the perfect way to stop that while making sure everyone gets their devices charged.
In addition, designate certain times for each of your kids to use the charging station. This will not only teach responsibility, but it will also teach patience.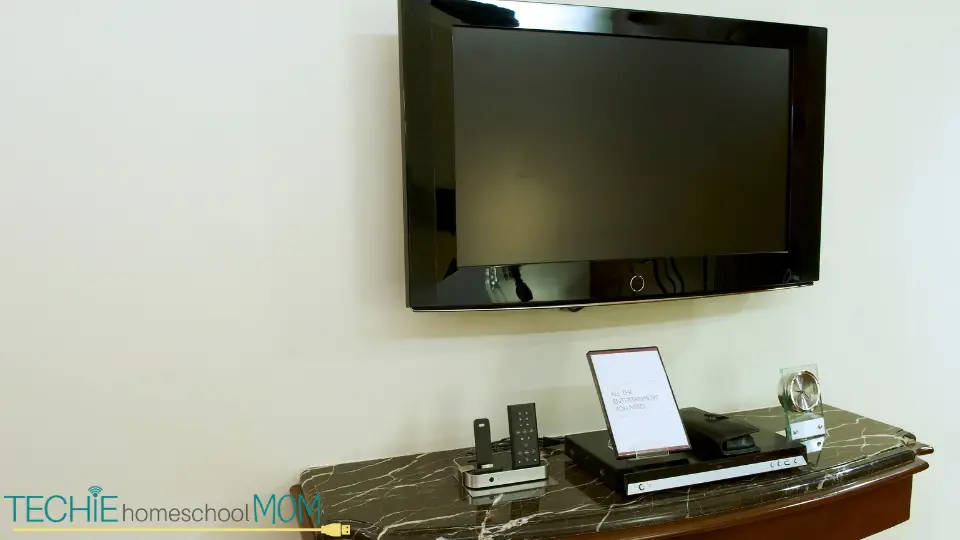 Add Labels to Chargers and Other Cords You Might Have
When you have multiple people living in the household with electronic devices that they often use, it's easy to forget which chargers and cords belong to a specific person. The best way to keep chargers and cords organized is to label them. You can buy self-adhesive cable labels that come in different colors, including blue, yellow, green, and red. It's easy to write on these labels with permanent markers. You can put the person's initials on the label or even include other information on them, such as what the specific cord belongs to. It will save you time and keep you from dealing with frustration over figuring out which cable goes with a particular device.
Use a Basket for Specific Devices
Consider buying a large basket that you can sit in a safe space, such as your dining room table. When you're collecting the electronic devices from the kids before the end of the night, you can have them turn them off and put them in the designated basket. It's a great way to make sure the kids aren't misplacing their tablets and phones because you're keeping everything in the same spot. You might not even need to go out and buy a basket. If you already have a large basket or plastic container available, you can use it to store devices.
If you feel like your electronic devices and the accessories that go with them are all over the place, causing a lot of clutter inside your property, consider using these organizational tips. If you buy the right supplies, you can keep everything in order without damaging or misplacing any electronic devices in your home, such as the gaming console, tablets, and smartphones that you and your loved ones use. You can also make sure your devices are always charged and ready to use.
Conclusion
Storing your electronic devices may not seem like a big deal but they can certainly help with keeping things decluttered and organized. Not to mention, your kids will know where the electronics are and what is available to use (and when). Use the suggestions mentioned above to make using electronics in your home and homeschool easier and less stressful!
Recommended Tools for Electronics Storage
 I'd love to hear from you in the comments: what are your tips or recommendations for storing electronics in your homeschool?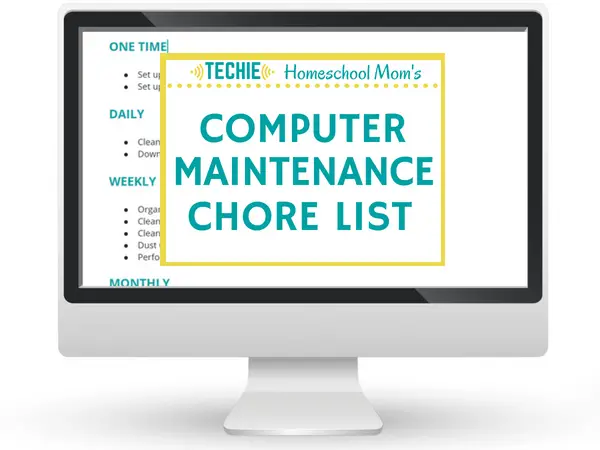 Want to keep your computers running hassle-free?
Download a list of 20+ routine tasks that will keep your computers working great.
Sign up to receive Techie Homeschool Mom's Computer Maintenance Chore List
Related Posts

Want some techie homeschooling tips and inspiration delivered to your inbox? Sign up here for weekly-ish emails from me.
Techie Homeschool Mom is a participant in the Amazon Services LLC Associates Program, an affiliate advertising program designed to provide a means for sites to earn advertising fees by advertising and linking to Amazon.com. You can read my full affiliate disclosure HERE.