Thanks to my guest, Tal, for sharing how her family uses techie homeschool resources to educate an autistic child (actually two children with autism). She is a professional educator, curriculum writer and homeschooling mother of 7 children. Her spare time is spent creating and publishing educational resources and operating her small baking business. She has over 14 years of home education under her belt, and nearly a decade of experience in tutoring, online education, and writing. Tal loves connecting with those that are seeking to educate their own children through her blog, Blessed Grove Homeschooling.

Hey, just so you know ... This post includes affiliate links. That means if you use them to make a purchase, I may earn a commission. You can read my full affiliate disclosure HERE
As a homeschooling mom of 7 children of multiple grade levels, I can tell you indefinitely that this presents challenges in itself. When 2 of those children are autistic, there's an entire new set of challenges that present themselves.
The majority of our homeschooling is done by utilizing a one-room schoolhouse approach to education. Having multiple ages and grade levels in any class isn't always easy, but can be extremely rewarding. We learn as many subjects together as possible and this has saved us so much time and allows us to focus on other interests and hobbies.
Although we tend to be year-round homeschoolers, I usually pick an "official" start date in the fall simply for planning and grading purposes. In order to successfully homeschool my autistic sons while integrating them into the learning space with their siblings, I needed to identify their learning styles.
How I Decide What to Teach My Autistic Children
This may come as a surprise to many moms, but I came to the realization that their learning styles change from one year to the next. I'd be inclined to say it changes from week to week, but I need to keep things as simple and practical as possible.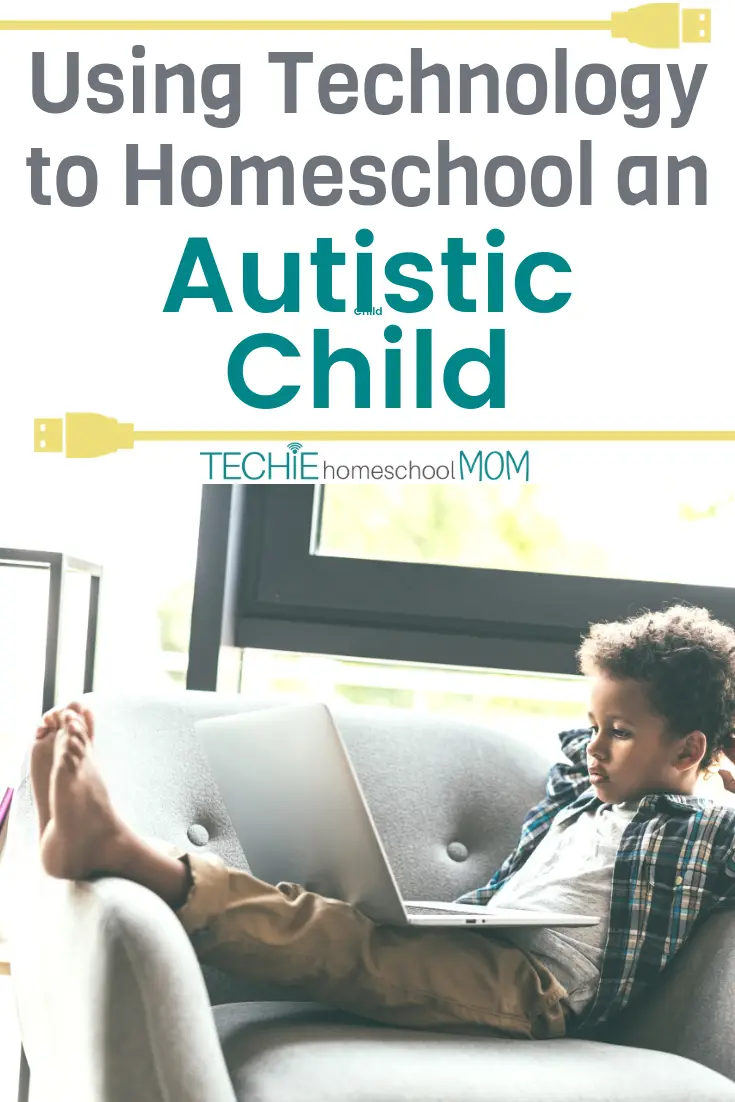 Over the period of a few days, I showed my sons videos, slides, hands-on demonstrations and gave a few one-on-one lectures to them. They remembered things easier that they'd heard from the videos and slides. I immediately knew that I should utilize some form of technology to educate them.
Using a scope and sequence I decided what subjects that I wanted to focus on. With the boys being so close in age, they can learn many of the same things together. Grouping them together within the room with the other children was the best thing to do.
Autism Teaching Strategies I've Used
Reading and Writing Accomodations
The first subject that I dwell on more than anything is reading. Reading and comprehension are very important in our home. My philosophy has always been that if a child is an avid reader, then they can learn anything. Although both boys are extremely good readers, sometimes they lose their place when reading a physical book.
To eliminate some of that lost time and to assure that they're still "reading", I decided to try audiobooks. This was definitely a time saver for us. They could listen to books that they themselves picked out with me on the Audible app on our tablet or laptop.
After listening to several chapters of the book, I would have them record themselves on the laptop webcam giving an oral report of what they had learned. They also used this time to critique the book and presented these oral reports to their siblings.
When the time came to study poetry, I gave them a choice in how they presented their poem. One of the requirements for them was to partake in recitation. By requiring this, I could see if they actually did comprehend what they'd learned.
While one son used the laptop in the usual way to record his poem, his brother preferred to utilize the voice recorder on my cell phone. This worked out better for him as he somewhat prefers not to be in front of the camera. They actually looked forward to making these recordings weekly and it was definitely a favorite part of their schooling. I was amazed at how much more organized their thoughts and presentations were by recording them.
Just taking a different approach to them demonstrating what they knew turned out to be exactly what they needed.
When writing was necessary, we created interactive notebooks for this subject. These notebooks contained definitions, poems, stories, grammar terms and much more. I'd take pictures or make flip-thru videos of these notebooks using my digital camera. Having these pictures and videos gave us the materials that we need to create a digital scrapbook or portfolio. I plan to save all of these on a flash drive for permanent storage.
Last semester, I also signed my sons up for a virtual book club that took place on the Zoom app. This was such a great way for them to discuss a book that they'd been reading with other boys in their age group.
I love how they only met once a week on Fridays. At the end of the book club, they all had a final project to complete. This is an alternative to audiobooks that I may sign them up for again in the near future.
Science Learning
Based on our many past conversations, I'd say that one of my children's favorite subjects is science. Science typically requires a bit more planning or organization on my part. One of the main things we used this year is the virtual lab CD-ROMs that we received from the Howard Hughes Medical Institute.
These are available to order at no cost and were a wonderful addition to our homeschool. The bright colors and extremely detailed graphics are something that I highly recommend when teaching autistic children. The vividness actually helped with their focus and that was extremely important to me.
These labs are self-paced and can actually be used with or without additional lesson plans. Everything that we needed is included in the virtual lab. I think the surgery lab was their favorite part.
Once they complete a lab, they would use the drawing app to recreate things like the cell, the heart. They would label these drawings and save them. Being able to go back and let them use their saved drawings from the app was a wonderful way for them to go back and study their notes and sketches.
A few months ago, we created a virtual STEM camp for children to understand the scientific approach to baking. These STEM courses were presented to other homeschooled students through a digital LMS (Learning Management System) and my boys get to be a part of that classroom.
They learned the science behind baking and learned how to document their experience through digital photography and Google slides. They added creative voice-overs to their slides explaining each ingredient and how they used it in their baking. This approach was a step up from what we normally do. The interaction was wonderful.
As autistic homeschoolers, sometimes having group discussions about science can be a struggle, but this virtual group learning was amazing. It definitely boosted their confidence and social skills. It was one of the most amazing experiences that they could ever have that involves science.
Autism Resources for Math Instruction
As with many children with special learning needs, teaching the rules of math can sometimes be an issue. While we sometimes use workbooks and worksheets, I always look for extra resources for them to use independently while I may be working with another child.
On the search for something that they could use independently, I stumbled across Primary Games. Based on the name, my children assumed to be for younger kids based on the name. My sons loved this so much because there were several game styles for them to choose from. The interactive games were definitely some of their favorites.
The memory games were something that I had been wanting to find for them because that can assist with their recall of math facts and information. The rules and do and dont's of math are one of my children's biggest struggles when it comes to remembering some of those things. We used this site as a supplement whenever they were done with their usual book work.
Khan Academy is a site that we used sometimes just to review the lower level math. I like that the parent can set up an account and see exactly what their child is accomplishing. I like the simplicity of this site and how the videos aren't extremely long. One of the things I love most about it is that the information seems to be "written" on the screen and it makes my boys feel more connected to it as if it's being written on the whiteboard in front of them.
One thing that I created for math for them to use was OpenOffice slides with voice overs. Sometimes I would add these into Windows Movie Maker if I thought I possibly wanted to upload it online at a later date.
These voice -over slides are some of my favorite resources to create and use. I would type up the information that I wanted them to learn and then record my voice over it as if I was lecturing them face to face. I would actually give them problems in the slides to write down on their paper and complete.
One of my boys absolutely adores Legos, so we found a way to integrate Lego brick videos into his learning from the Youtube app. He loved completing the projects that he saw being created in the videos. This really helped him with his counting, dividing, and fractions. There are so many ways to use digital resources and technology when teaching and studying math.
Online Homeschool Options for Social Studies
Lastly, our family loves history and geography. There is so much information to take in and grasp in those subjects that we need to eliminate some of the unnecessary things and focus on what truly matters. I wanted my children to know what, where and why things happened.
My boys had a hard time if they didn't have a visual or timeline in front of them to see the dates of when a certain situation in history took place. One of my personal favorite resources that we used was The Great Courses app. We also have some of their DVD sets. I love this app because their courses are so informative and the professors are absolute experts in their field.
We could watch the videos about wars, the plague, the Bible, and more. They also have videos for almost any other field that you can think of.
Digital Unit Studies
One of the interesting ways that we step outside the box a little and teach history and geography is with unit studies. We love the idea of covering multiple subjects at once. In the past, we did a lot of oral discussions and drawings. I wanted something a little more in-depth. I wanted my children to learn about people and their culture and way of life. I knew that I needed to have a good visual representation of these things to help them grasp the information being presented in an easier manner.
Digital unit studies are something that we recently began to use and cannot say enough how much we love them. We love anything and everything ancient. So my boys voted on and decided that we will soon be using the Ancient Rome Online Unit Study. I love how I don't have to research and dig to see what materials I will need for any projects.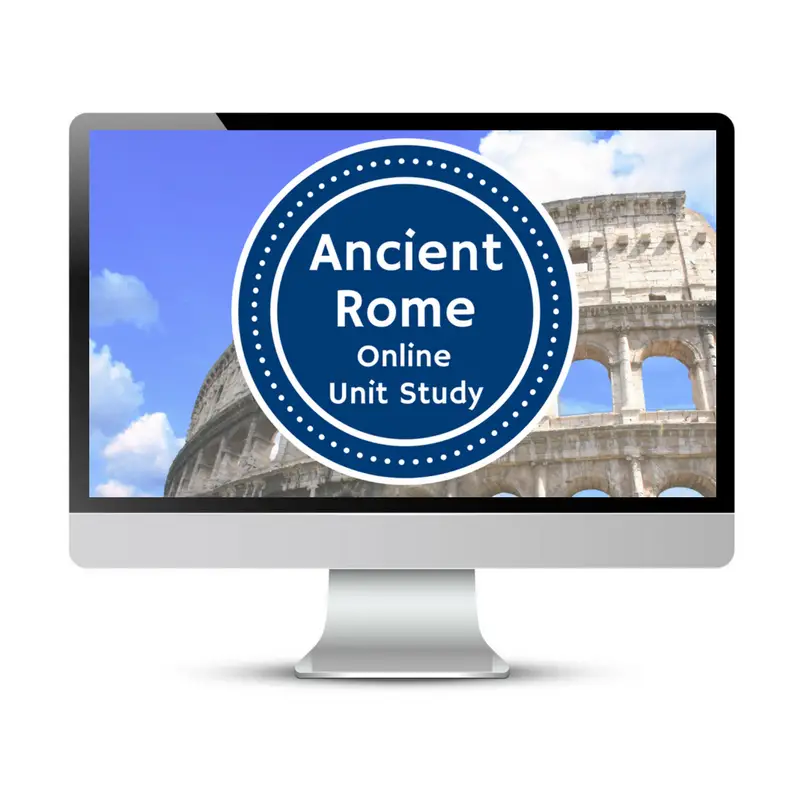 The study includes a list of items that you'll need to get for preparation for the projects. Also included are a movie and book lists. Having those available with the click of a button will be one less step that I have to take to find reading materials.
Not only does this study teach about specific events that took place, but it teaches about the people and their daily lives, their architecture, worldview and so much more. Everyone is super excited about the architecture portion of this unit study. They will make salt dough replicas of some of the places that they learn about and paint them once they're dry. We may even do a virtual trip to a building materials company.
My kids are planning to create their first Youtube video to show off their creations. I'm already amazed by their plan for this unit. With their sister's help, they want to create costumes similar to those worn by the ancients. I will be adding in extra resources for them to learn from. We will even study the textiles used to make the clothing worn during that era.
They plan to use the Virtual Reality app or the View-Master app to visit many of these ancient places. As a part of their final assignment for this unit, I'd like for them to create a compare and contrast chart on the way of life of the Ancients of Rome vs modern Rome. We will use Microsoft Office for this.
They may also choose to make an oral presentation using a digital chart that they've created on the drawing app on their tablet. This unit is going to be super amazing and I think I'm more excited about it than they are. I can't wait to see what they will create.
I believe in meeting a child where they are in their learning needs because from there we can nourish and encourage them by letting them know that although they have an ability in disguise, there is nothing they cannot learn.
My view and use of technology have definitely changed the way we homeschool. As each day goes by, I will seek more ways to find autism resources and grow in my quest to educate my children. I am confident that their knowledge and comprehension will only increase as technology continues to improve and change with each passing day.
Tell me – which of these strategies for teaching an autistic child will you try? What other tips can you share? Comment below

Maker Lab: 28 Super Cool Projects: Build * Invent * Create * Discover

STEM Starters for Kids Science Activity Book

STEAM Kids: 50+ Science / Technology / Engineering / Art / Math Hands-On Projects for Kids

The Everything STEM Handbook: Help Your Child Learn and Succeed in the Fields of Science, Technology, Engineering, and Math

STEM Starters for Kids Technology Activity Book

STEM Labs for Middle Grades, Grades 5 - 8

Related Posts
Want some techie homeschooling tips and inspiration delivered to your inbox? Sign up here for weekly-ish emails from me.
Techie Homeschool Mom is a participant in the Amazon Services LLC Associates Program, an affiliate advertising program designed to provide a means for sites to earn advertising fees by advertising and linking to Amazon.com. You can read my full affiliate disclosure HERE.